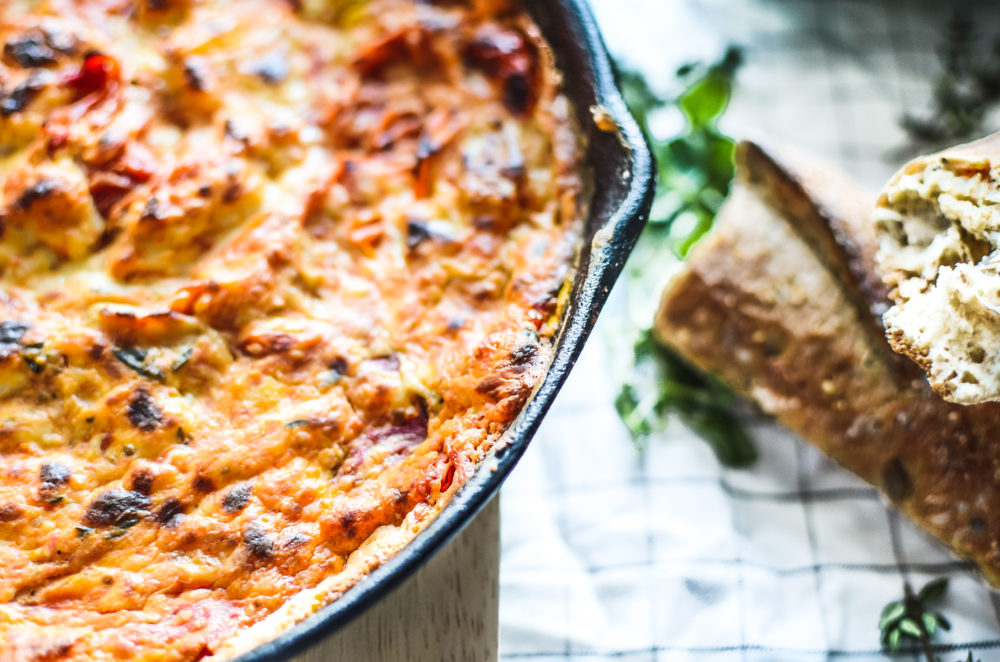 My roasted tomato dip is super easy! I'm not exaggerating, you literally roast some cherry or grape tomatoes (is there a difference?), add that to whipped cream cheese, mozzarella and parmesan and bake. That's it!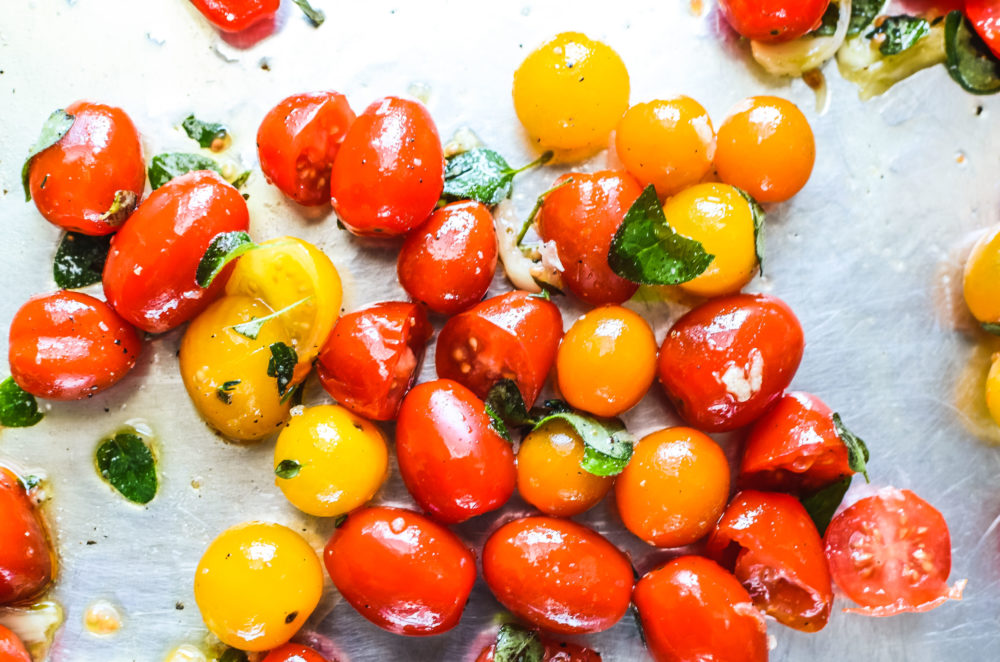 I made it this past weekend, shot it for this post and then had my parents over. It was so easy to reheat and was delicious! You could add green chilies, habanero or jalapeno to it if you wanted an added kick. I served it with crackers, but totally grab a crusty baguette or crudité.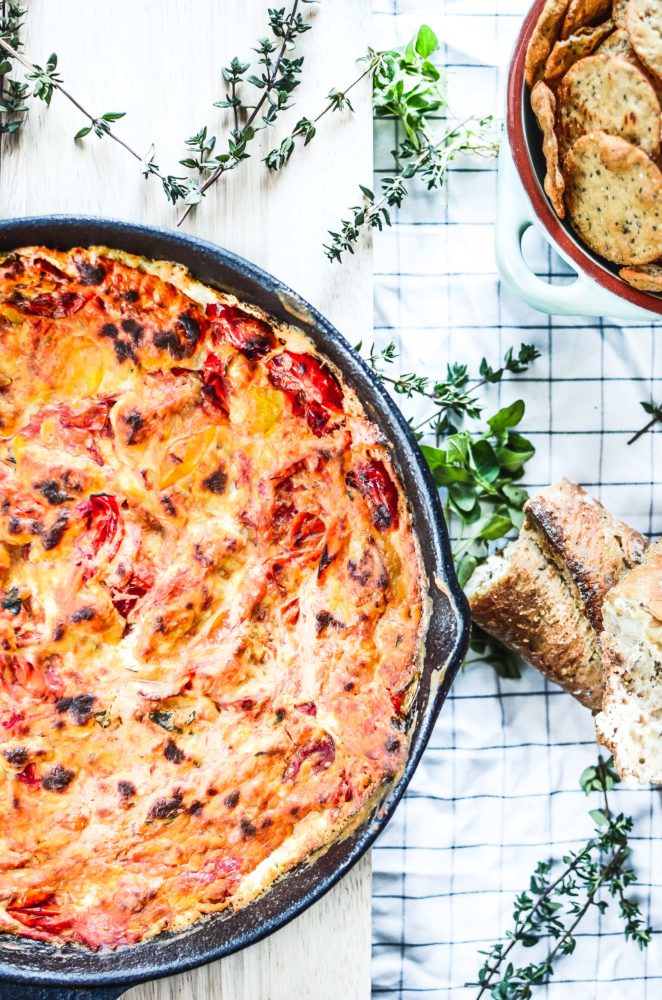 The tomatoes end up so flavourful and blend in with the cheese. I tossed them with some fresh herbs, EVOO and S&P. I like it simple and easy. Sometimes it's nice to not overcomplicate things.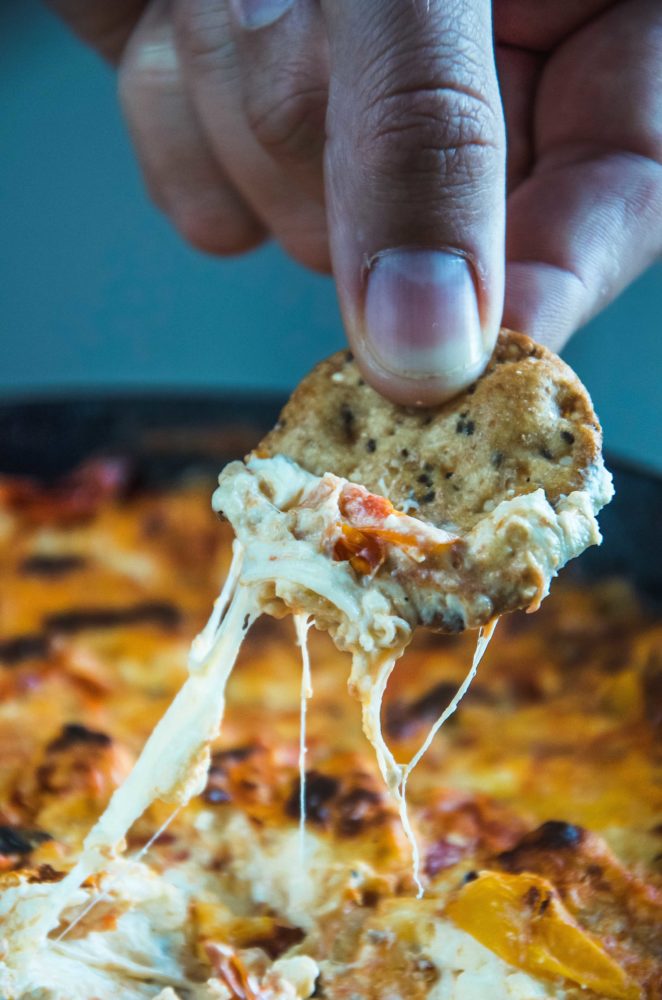 I'm going to make this again for the holiday season when friends come by, and really it can be made all year round. People like cheese, they like to dip stuff in cheese, eat that gooey cheese and go back again for another bite. So it's a no brainer to make and serve to your guests.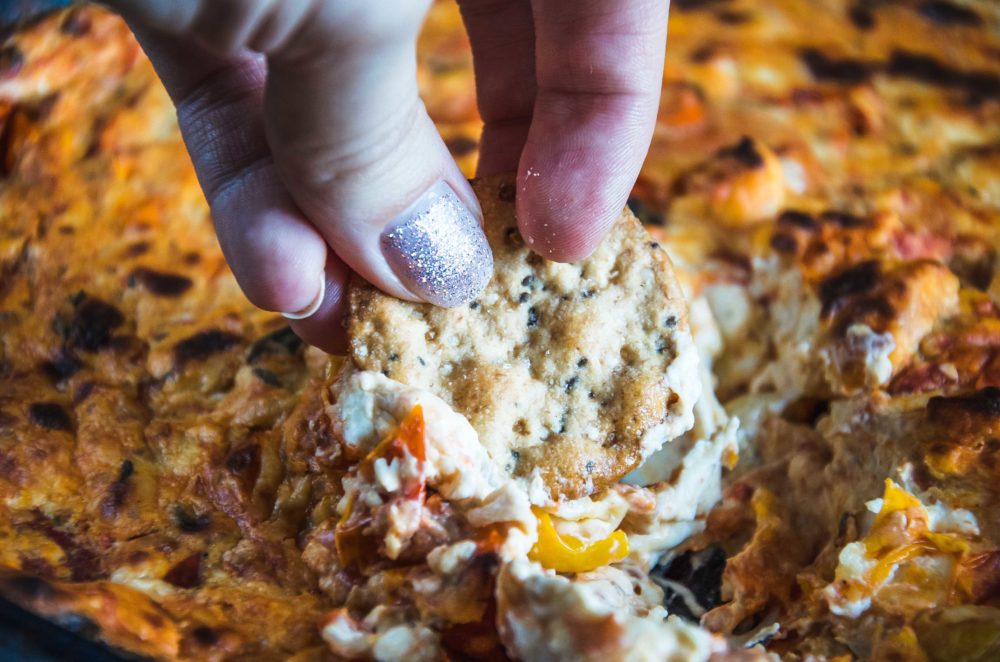 If you don't have a cast iron skillet, try this one. I bought mine from HomeSense, but you can easily find some good deals out there on the web. The skillet lets you get a nice crust on this dish, meat, veggies, desserts or hashes. It's really versatile and the more you season and use it, the better your food gets. No seriously, some people have skillets passed on through generations. Just don't wash it with soap and water!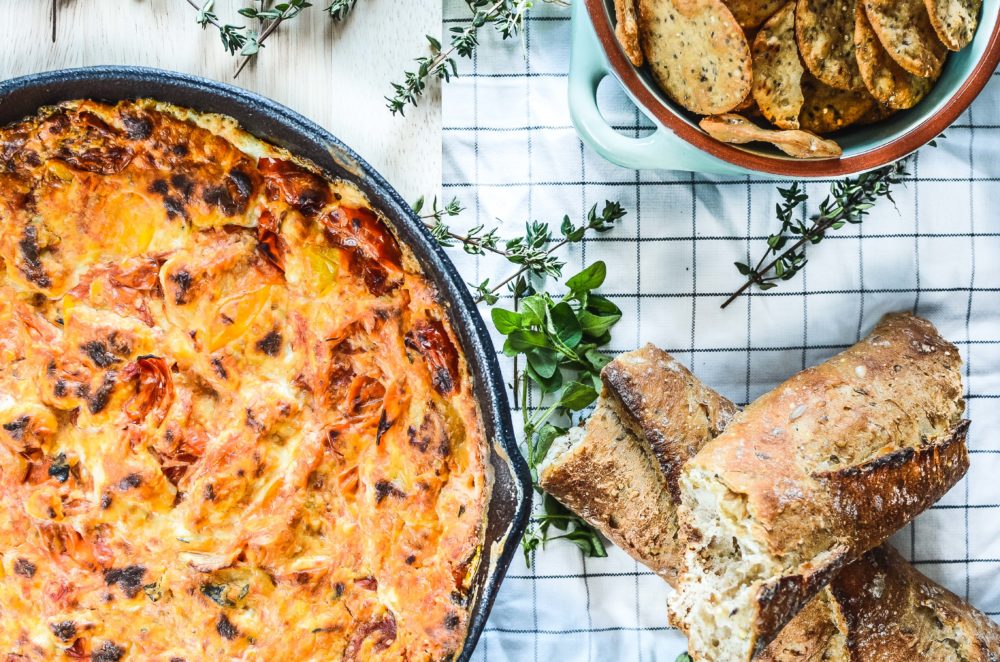 Enjoy! Besides my roasted tomato dip, what will you be serving up this holiday season? I'm also sharing a dessert and soup this month, so stay tuned for those!
Any tried and true recipes you make each year? Family recipes?
Tip: If hosting a party, use two 6-inch cast iron skillets and divide the dip between the two. Keep the second dip warm in a 200ºF oven to replace halfway through the party!
Ingredients
2 pints cherry or grape tomatoes, halved
6 cloves garlic, peeled & smashed
2 sprigs fresh oregano
2 sprigs fresh thyme
1/4 cup extra virgin olive oil
8 ounces whipped cream cheese, room temperature
1 cup grated mozzarella cheese
1/2 cup freshly grated parmesan cheese
Kosher salt and freshly ground black pepper
2 baguettes (sliced and lightly toasted) or tasty crackers
Instructions
Preheat oven to 450ºF. Line a baking sheet with aluminum foil.
In a large bowl, toss together the tomatoes, garlic, oregano, thyme, 1/4 cup olive oil, salt and pepper. Spread out evenly onto the prepared baking sheet.
Bake for 10-12 minutes or until tomatoes are slightly charred. Set aside to cool slightly.
In a large bowl, add the cream cheese and stir in the mozzarella and parmesan cheese.
Add the roasted tomato mixture to the cream cheese. Stir to evenly distribute the tomatoes.
Transfer to a 6-inch cast iron skillet. Bake for 15-18 minutes or until golden brown on top.
Remove from oven and allow to cool slightly before serving with toasted bread.
https://www.alifewellconsumed.com/easy-roasted-tomato-dip/