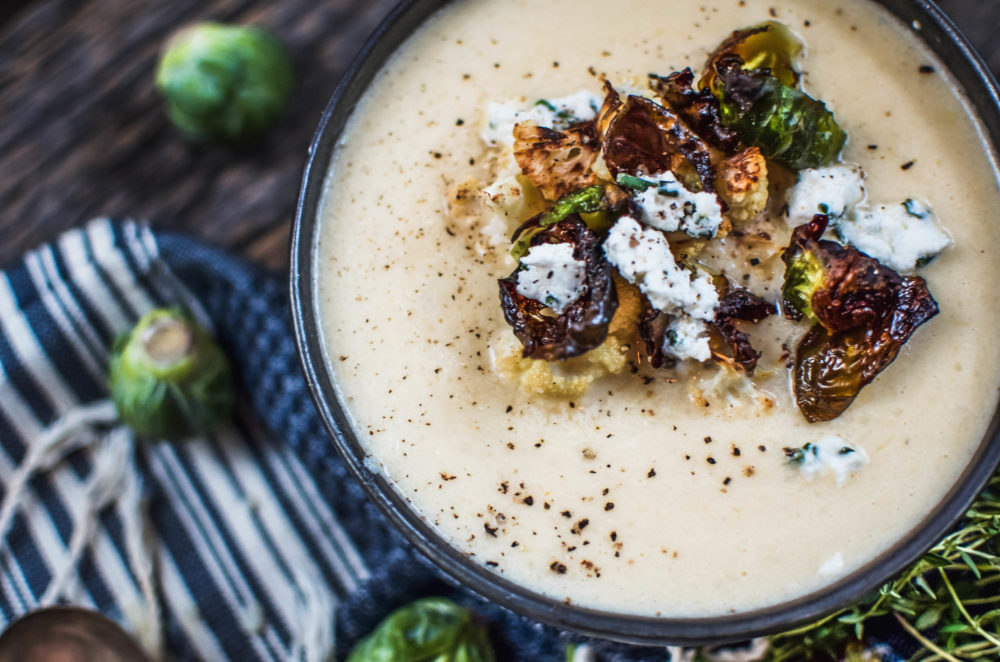 With the weather turning into crispy fall, I've been crazy warm soups. A delicious cauliflower soup has always been a favourite of Curtis and I. I actually love making cauliflower anything! Purees, soups, rice and I want to try to make a pizza dough too!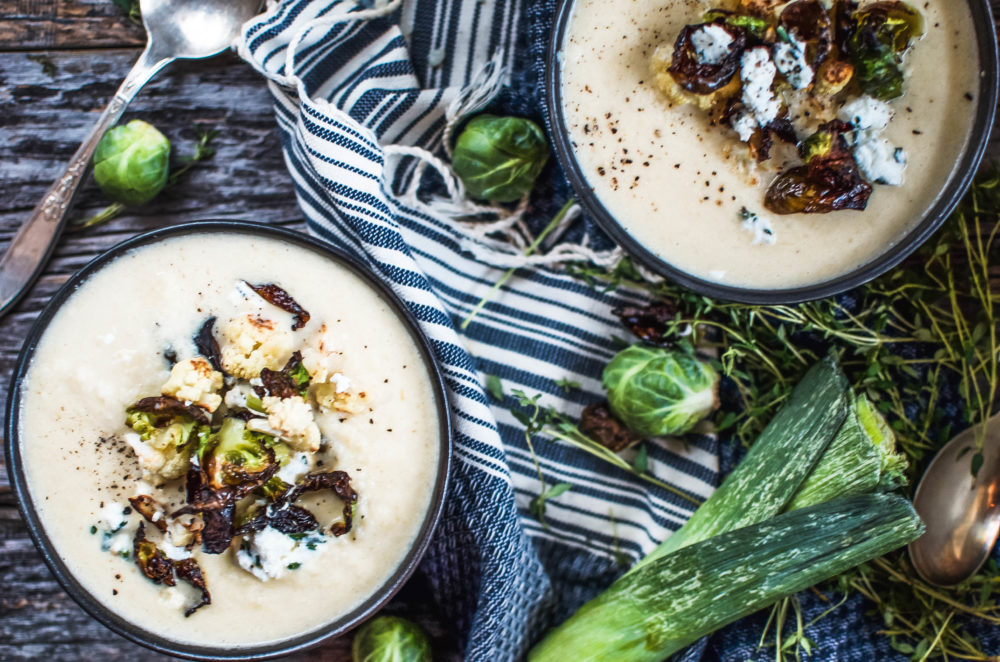 My nana makes an amazing cauliflower soup, I always look forward to when she sends it home with us or brings it out for lunch. It's comforting, thick and creamy. But I do like a more refined soup once in awhile. A little richer, heartier, creamy, with toppings! I love toppings on my soups, stews and chilis. I guess I am more of a texture person when it comes to my food.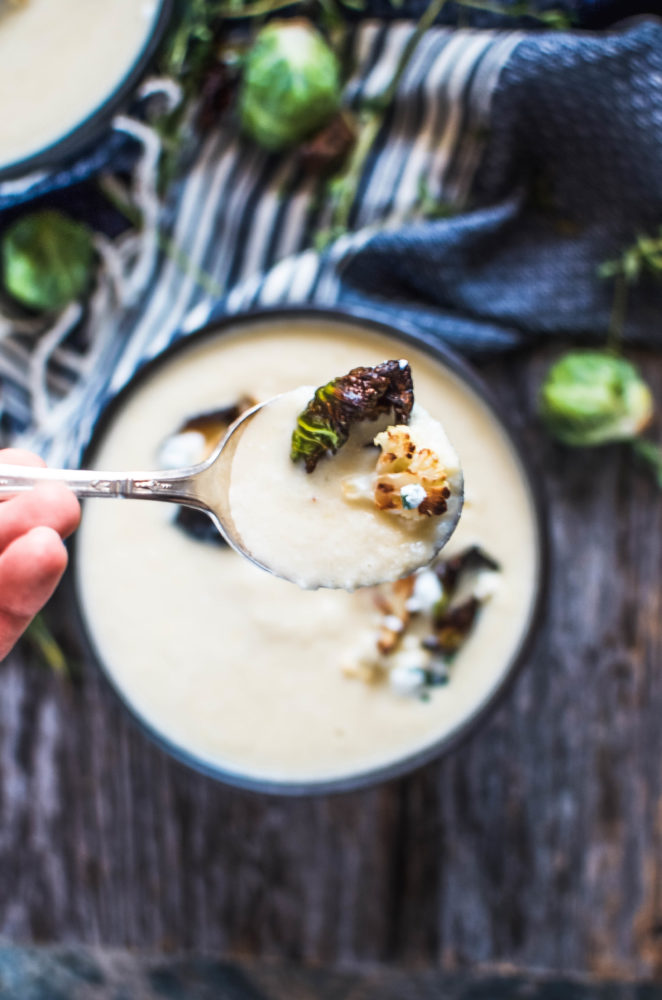 You could easily use these toppings for a potato soup! Because let's face it, goat cheese and starches are a match made in heaven. Right? I could eat goat cheese by the spoonful, spread on crackers, in a pasta sauce, the possibilities are endless. But if you aren't a fan of goat cheese, then substitute it for another soft cheese with that tang. Maybe feta or a milder goat cheese?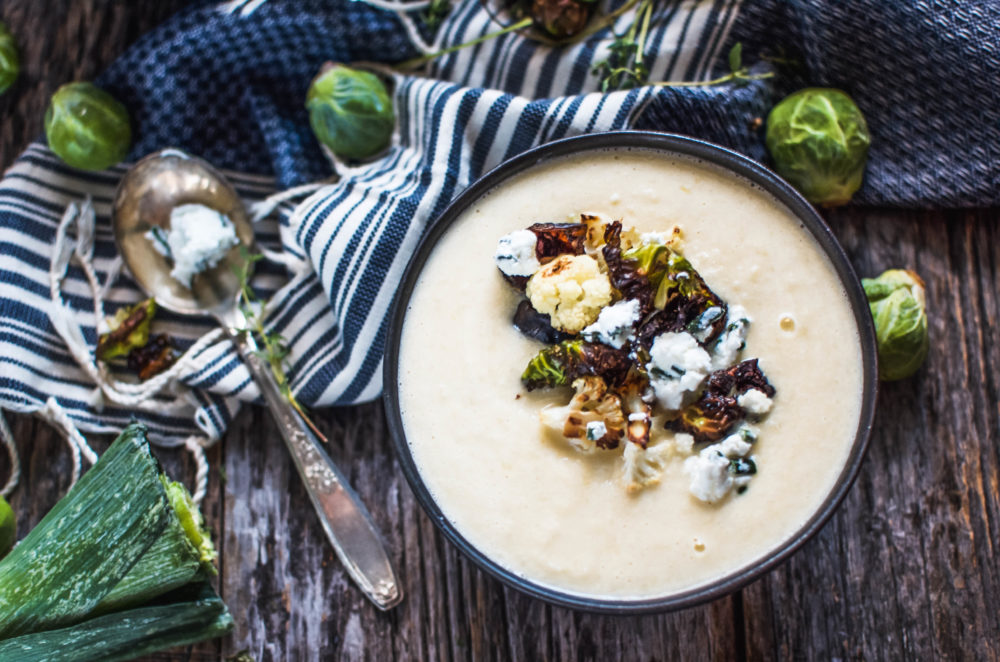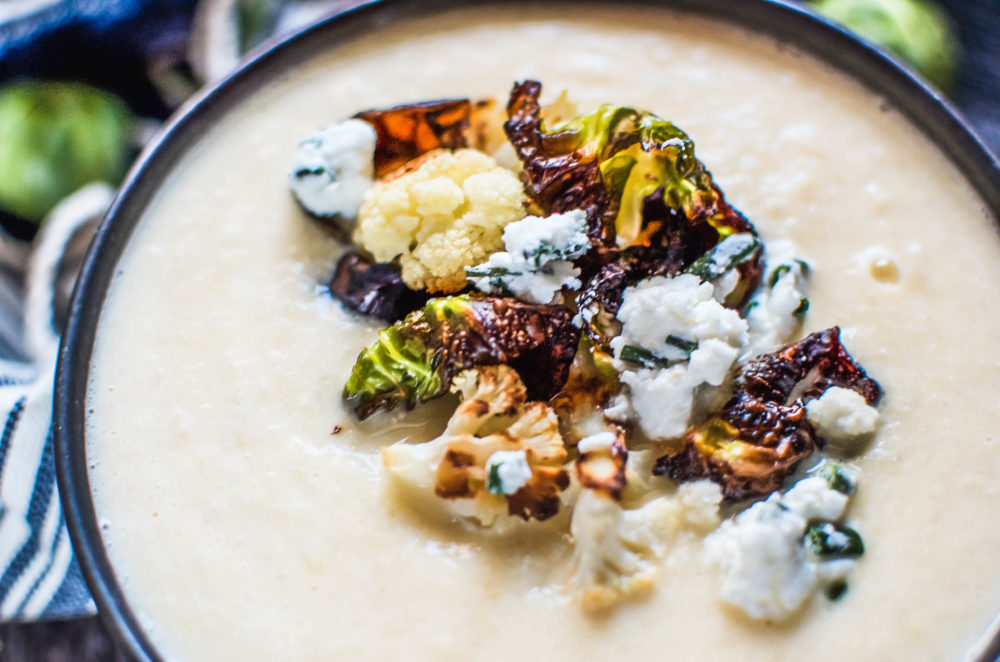 Since we are coming up to Canadian Thanksgiving and dreary weather for Vancouver (PNW!), soups become our best friend. We make a big pot of soup, portion it out and freeze most of it for easy weeknight meals or if our pantry and fridge are bare, well we have soup in the freezer!
Anyone else do this? I love freezer meals because some days you don't have time or energy to make something from scratch. I also do this with pasta sauces and I make my own enchilada sauce. That's always handy!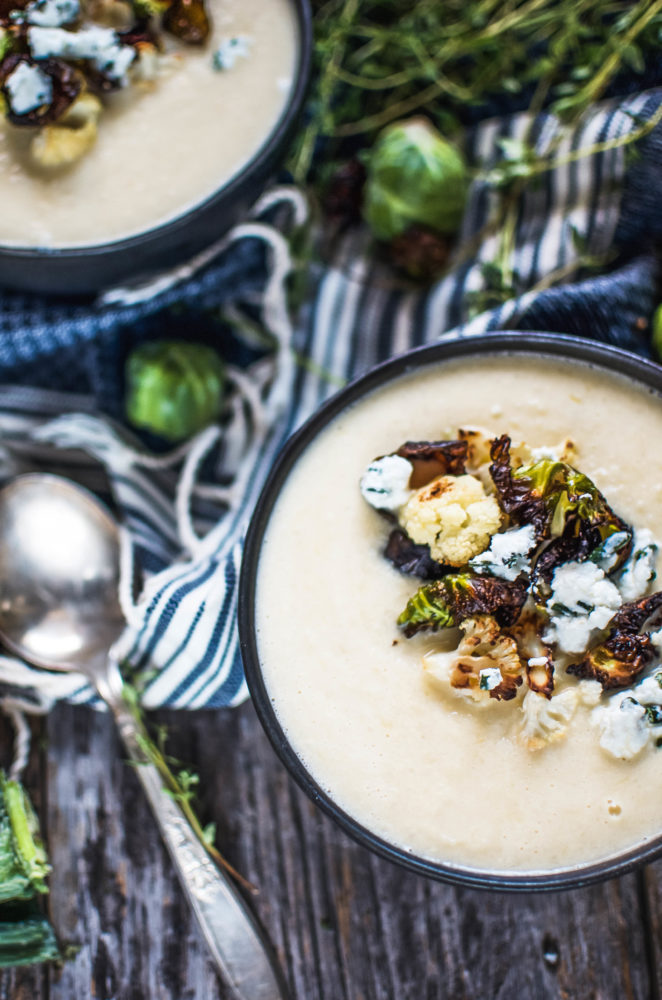 Enjoy this soup! It can sit in your fridge for I'd say 2 days before the cream starts to separate. You can always add the cream in on an individual basis that way it can last in the fridge longer. I'd suggest too if you are freezing any, to hold off on the cream. It won't freeze well.
Cauliflower Soup with Herbed Goat Cheese
A decadent, rich cauliflower soup topped with crispy Brussels sprout leaves, cauliflower florets and herbed goat cheese.
Ingredients
One 2 1.2 lb head of cauliflower, cored
1 medium leek, white and light green parts only, coarsely chopped
1/4 cup extra-virgin olive oil
1 large garlic clove, minced
kosher salt
1 large barking potato (russett), peeled and cut into 1-inch pieces
3/4 cup dry white wine
1 qt. chicken/vegetable stock (preferably low sodium)
3-5 thyme sprigs tied in bundle, plus 1 tsp freshly chopped
8-10 brussels sprouts, trimmed and separated into leaves
4 oz. cold fresh goat cheese, crumbled
2 tbsp. snipped chives
1.4 cup heavy cream
Instructions
Preheat the oven to 375.
Cut one-fourth of the cauliflower into 1/2-inch florets. Coarsely chop the rest.
In a large saucepan, heat 2tbsp of the olive oil. Add the leek, garlic and pinch of salt and cook over moderate heat.
Stir occasionally, until softened, usually 5 minutes.
Stir in the potato and cauliflower, then add the wine and cook over high heat until it's reduced by half, about 4 minutes.
Add the stock and thyme bundle and bring to a boil.
Reduce the heat to low and simmer, stirring occasionally, until tender, about 30 minutes.
Discard the thyme bundle.
While base is cooking, grab a large rimmed baking sheet. Separately, toss the cauliflower florets and brussels sprout leaves with 1 tbsp each of olive oil and season with salt.
Roast for 15-18 minutes, stirring halfway through. Roast until lightly browned and tender.
In a small bowl, mix the goat cheese, chives and chopped thyme.
In a blender, puree the soup in 2-3 batches until very smooth. Remember to start at a low speed!
Return the soup to the saucepan and stir in the cream.
Rewarm over moderate heat, adding water if it starts to thicken. Season with salt.
Ladle into your bowls and tops with the roasted brussels sprout leaves and cauliflower florets.
Sprinkle the yummy herbed goat cheese and serve hot.
Notes
When roasting the cauliflower and brussels sprouts, put each on a different side of the baking sheet to avoid burning one or the other. They each bake at different speeds.
Start on a low speed with the blender.
https://www.alifewellconsumed.com/cauliflower-soup-herbed-goat-cheese/
Don't forget to try out my latest Fall recipes: Mushroom and Black Rice Salad + Sweet Potato Turkey Chili