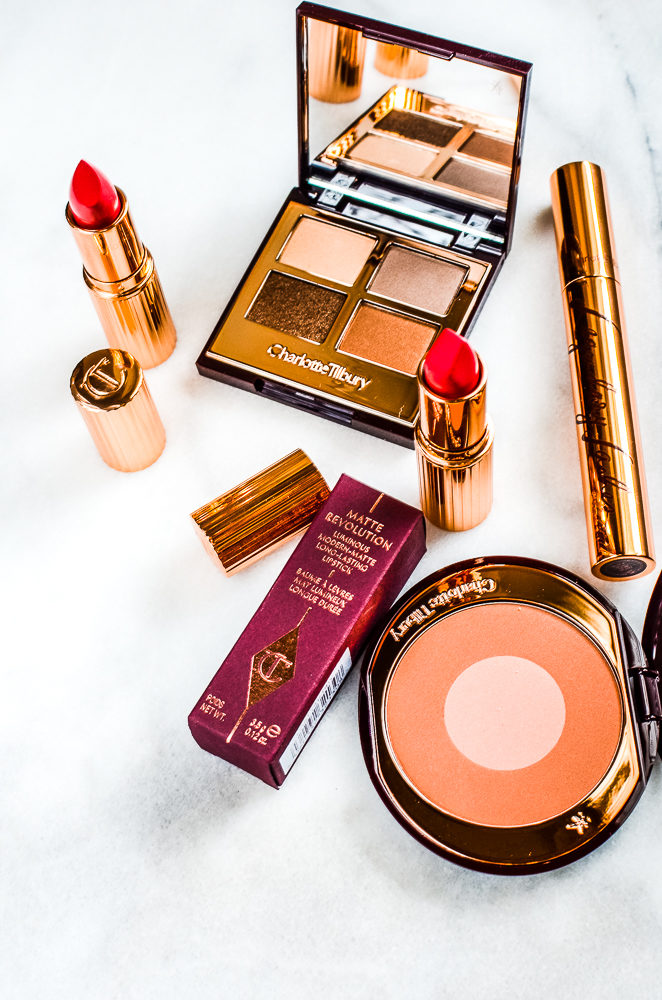 Love to glam up your makeup routine from time to time? Do you appreciate pretty packaging like myself? Well Charlotte Tilbury has you covered in both departments!
I was lucky enough to have been sent some of her products to try out. I have used her foundation and eyeliners before, but not the rest of her collection. So needless to say I was excited!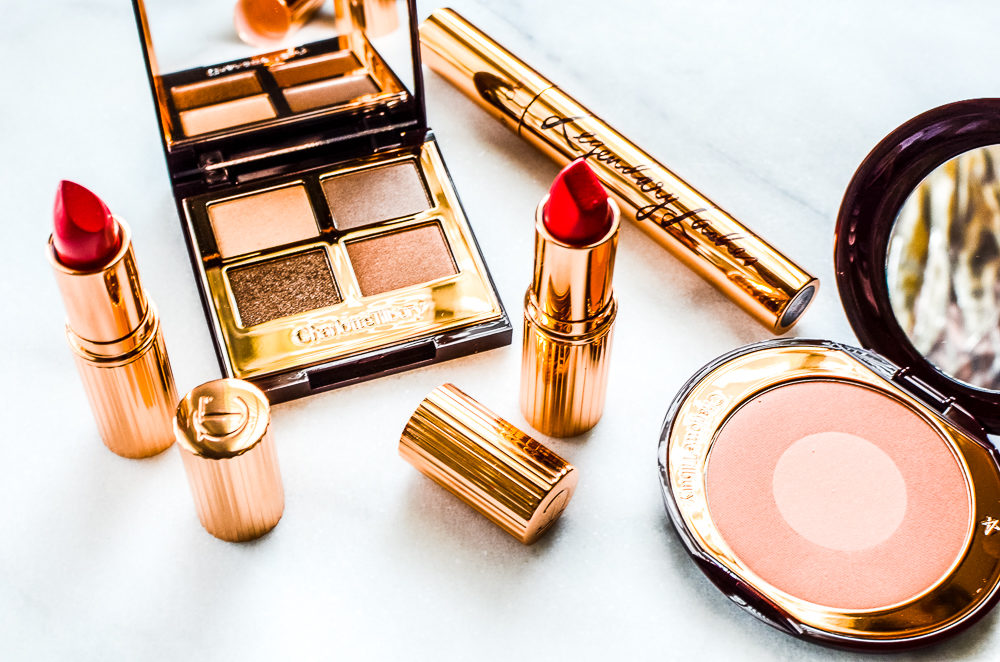 The first glance is how pretty the packaging is with all the gold accents. Very old-school glam! If you have seen her section in a department store, it's very eye-catching and fun. I'm always drawn to it!
She is also an inspiration in how she was a renowned makeup artist to founder of her skincare and makeup brand! Not too many people can say that! Her brand is all about easy to choose, easy to use products: makeup made easy. They've sourced the most couture formulas and put them in ready-to-wear formats. It's a win for the consumer in both price + quality!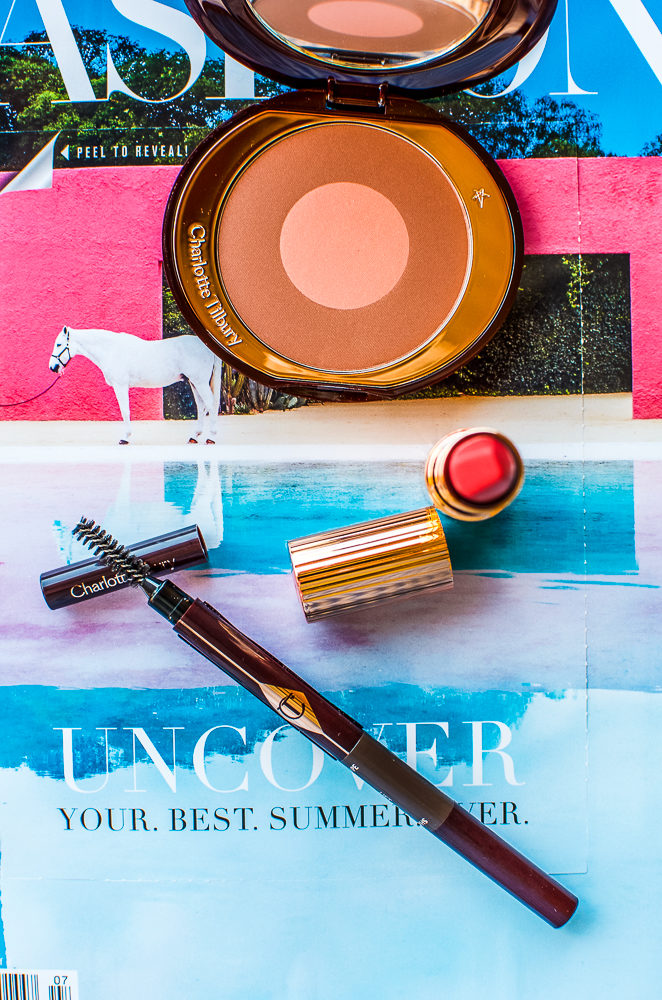 And…
Charlotte Tilbury is a cruelty-free company. They don't test finished products or ingredients on animals, and neither do their suppliers. Their products are not sold in mainland China.
6 Charlotte Tilbury Makeup Products to Try This Summer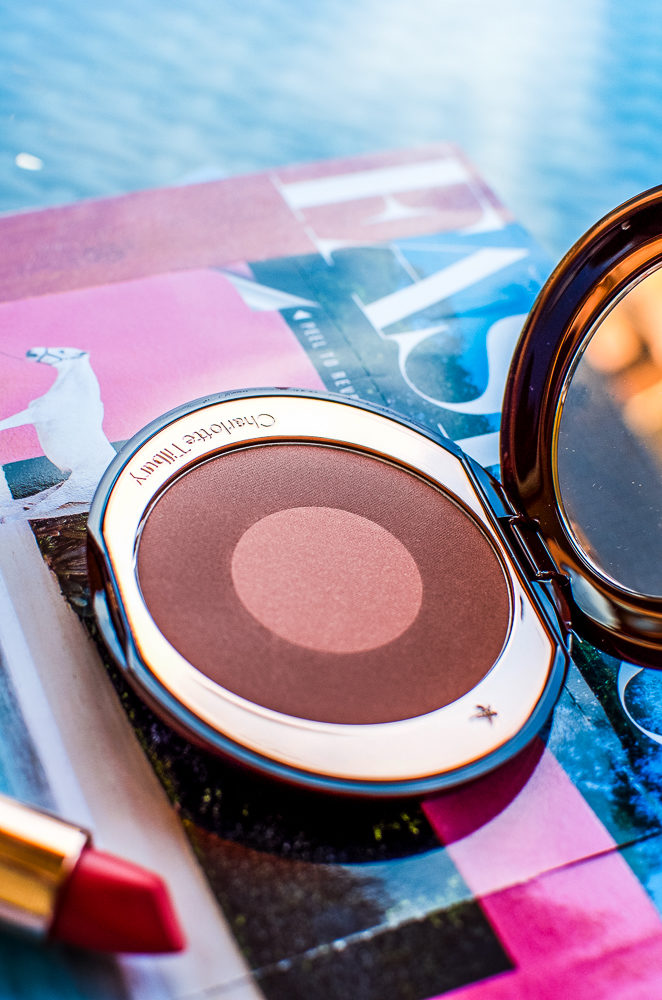 I'm all about the bronzer and I love pigmented bronzers that give you a lot of coverage for little product. This one from Charlotte Tilbury is both a bronzer and a blush. I put a sweep on my blush brush and that's all I need. You can layer it to how much colour you want on your face, but being so fair-skinned I don't need that much.
A collection of 6 'Swish & Pop' shades represents the 6 shades of love, from 'First Love' to 'Ecstasy' to 'Sex on Fire'.  This product is paraben free.
Like all of Charlotte's blushes, It comes with an outer ring of colour that you're supposed to "swish" onto your cheekbones, and an inner circle of darker colour that you're supposed to "pop" onto the apples of your cheeks. Applied to the cheeks, they're plenty pigmented, so go easy with the blush brush, and you'll end up with a beautiful, glowy flush on the cheeks.  It's made out of colour-rich pigments that are rolled into finely crushed pearls to smooth & buff your skin for perfect blendability & brilliant colour uniformity.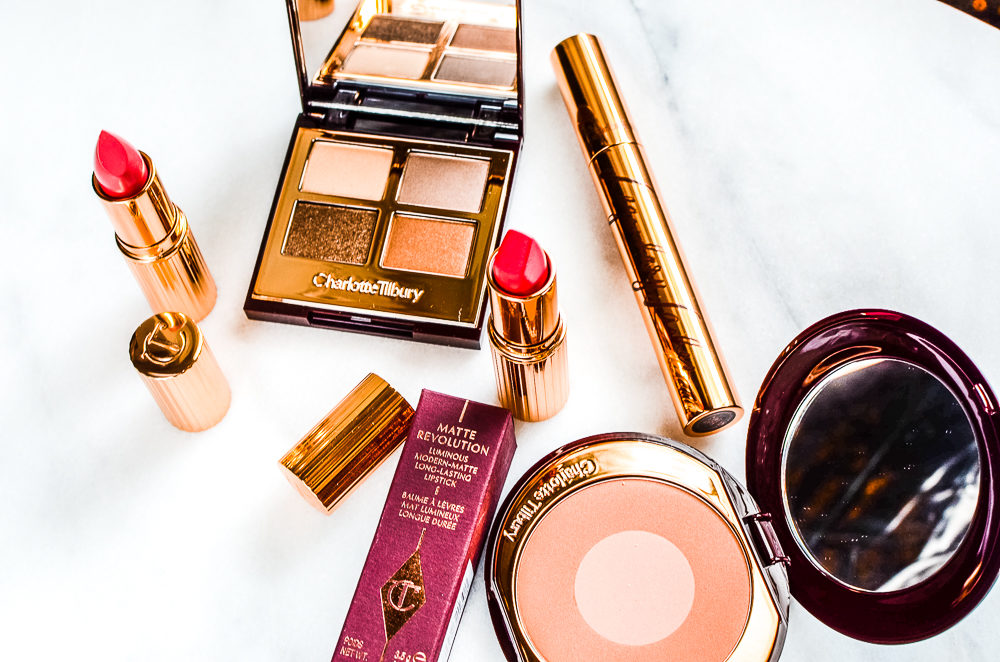 Love the Legendary Lashes mascara! I have the black vinyl colour and it really accentuates my eyes. It produces enough volume and colour onto your lashes for that instant pop. It has Marine Glycogen that stimulates hair follicle growth and proliferation of keratin cells and nourishing Tamanu Oil protects and strengthens your lashes.
The mascara contains an innovative, multi-bristle brush has a collection of differing size bristles so that every single lash is caught and coated for separated, elongated lashes. No CLUMPS! Gives you that Hollywood effect!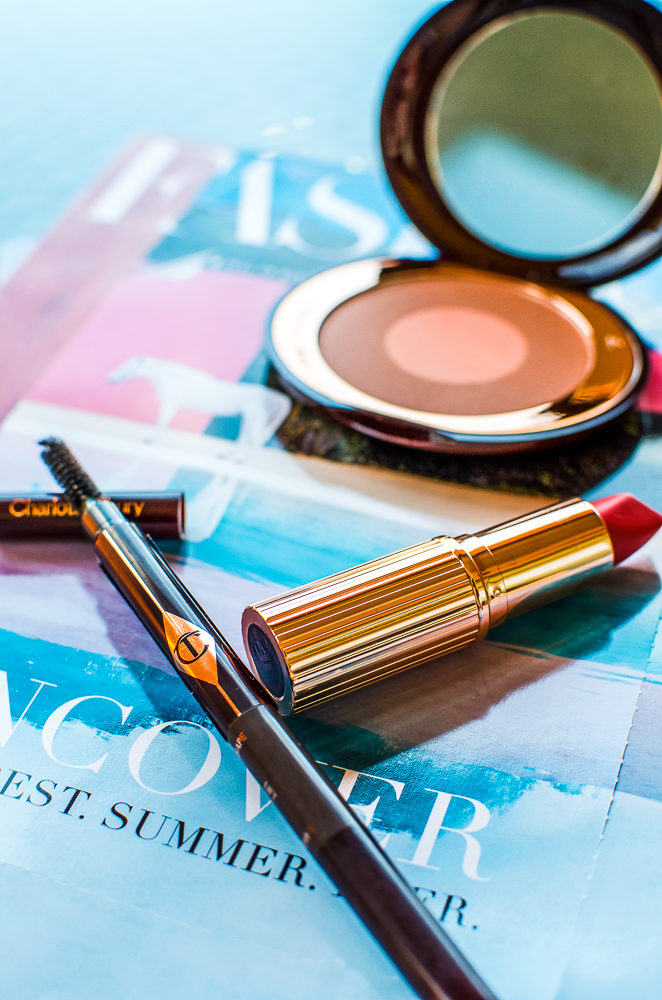 *Product purchased by myself
I picked up the brow wand after my Anastasia Brow Wiz broke yet again. This does not disappointment. Easy to apply, has three functions and price is comparable. Brow Lift is a three-in-one eyebrow pencil that offers a slightly squared applicator tip for precise application, as well as a brush end for smoothing and blending.
SHAPE using the brush to groom and eliminate excess colour
LIFT using the highlighter under the brow arch for an instant lift
SHADE with the triangular-shaped cream-pencil to define and shape the brow
The pencil itself is a triangular shape allowing you to create naturally full brows by outlining your brows with the narrow end and filling in with the wider end.
The formula is very well done. Not too waxy, creamy or powdery. It sits somewhere perfectly in the middle. The spoolie on the opposite end is a cylinder shape.
Tucked away in the center of the pencil is a lightly shimmered shadow-stick highlighter which can be added to the brow bone to complete your look. This wouldn't be my first choice for brow bone highlight as it has a bit more shimmer than I personally prefer but I can certainly appreciate the addition and could see it being handy on the go.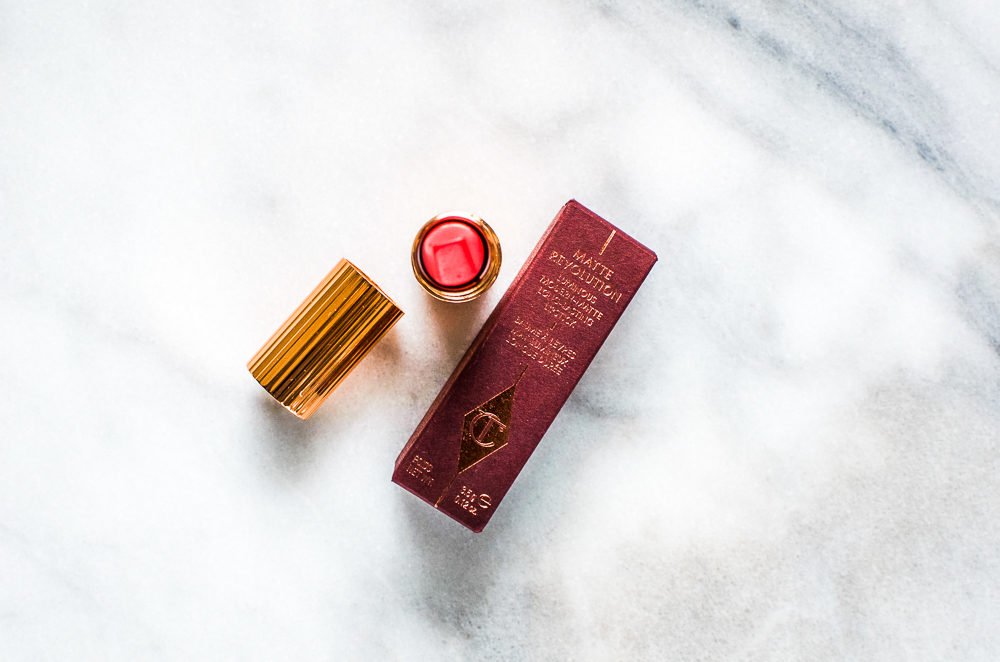 This is perfect shade for summer and my Palm Springs trip coming up! The colour just pops on my fair skin and is an instant winner with many of my summer outfits. I can see myself wearing this into the fall season with my knits on those dreary days.
And for you festival goers, this hydrating warm coral lipstick is perfect for festivals & completing your summer makeup look. The Lipstick Tree extracts help to protect your lips from UV damage, fighting oxidative stress so that lips are left soothed, soft & hydrated. This lipstick is paraben-free.
Matte Revolution Lipstick // Lost Cherry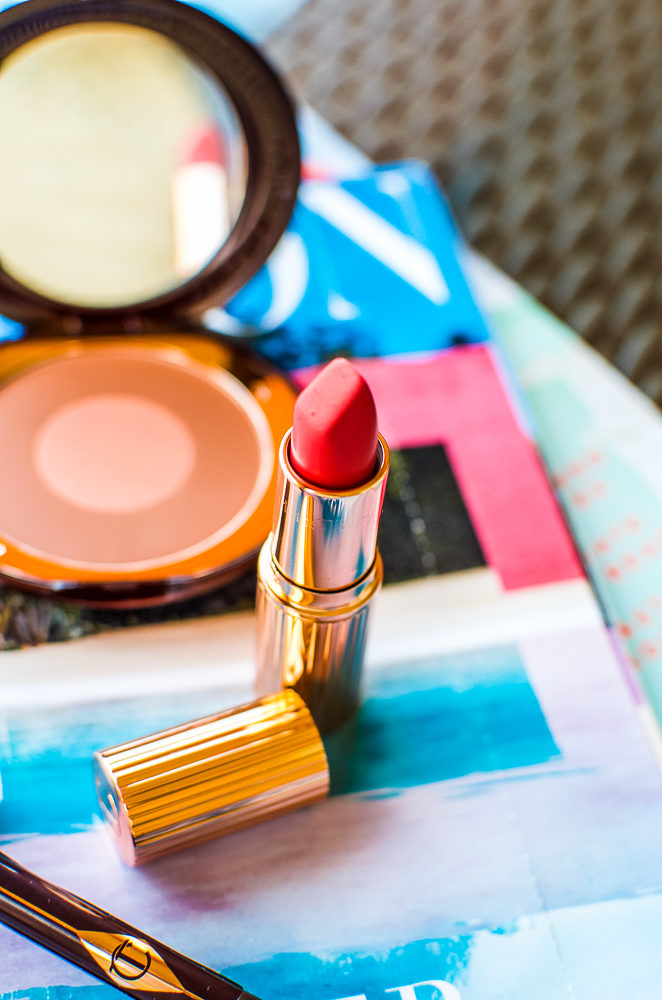 The Matte Revolution formula is a "luminous modern matte" that promises long-lasting, hydrating, buildable colour with lipstick tree and orchid flower extract. It's available in 10 shades, and it definitely holds up to its claims: it's easy to build, and it wears very well for a matte lipstick.
Though they look like soft mattes, they feel as hydrating as an opaque cream lipstick. I get 3-6 hours of wear with these lipsticks, depending on how much eating and drinking I do; like the other night, I shared a pasta dish + salad for dinner and it didn't budge. I really like the Charlotte Tilbury Matte Revolution formula, which is as hydrating and comfortable to wear as a great creme-finish lipstick. This is also a paraben free lipstick.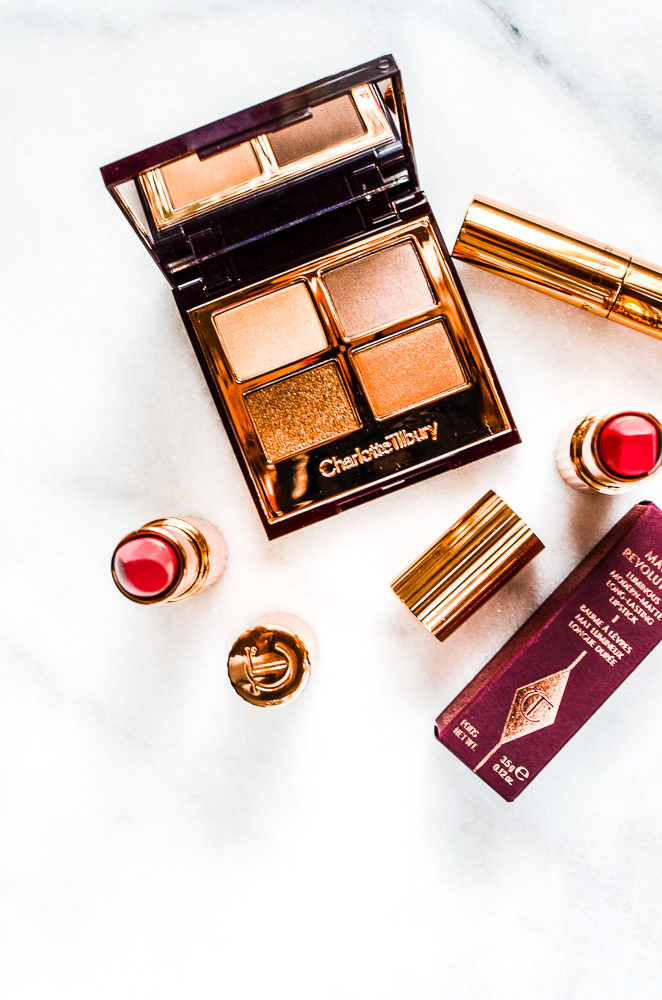 On the website there is a breakdown of different ways (+video!) to wear the Charlotte Tilbury palettes, which I think is amazing for amateurs like myself, but I also love that she's designed them to have all four shades completely work with each other. You can pick any single, two, three or four colours from the quad and have them work together, which is surprisingly not as common as you would think. I know I have large palettes that will have at least 3-4 colours I don't touch.
It's clear that plenty of thought and swatching has gone into the design. I also love that the compact is all about the product and no space is wasted on a crappy applicator or brush. For a cosmetic item of this caliber, quality and cost, tossing in a cheap sponge or scratchy all too tiny brush would have been a bit of an insult.
Also check out my Summer Beauty Essentials, including my new favourite tanner and priming moisturizer.
Shop the Post

What do you think of Charlotte Tilbury's products? Have you tried them? Do you like them? Have you developed an unhealthy obsession like me? Let me know in the comments!
The makeup was provided by Charlotte Tilbury. All opinions are of my own.