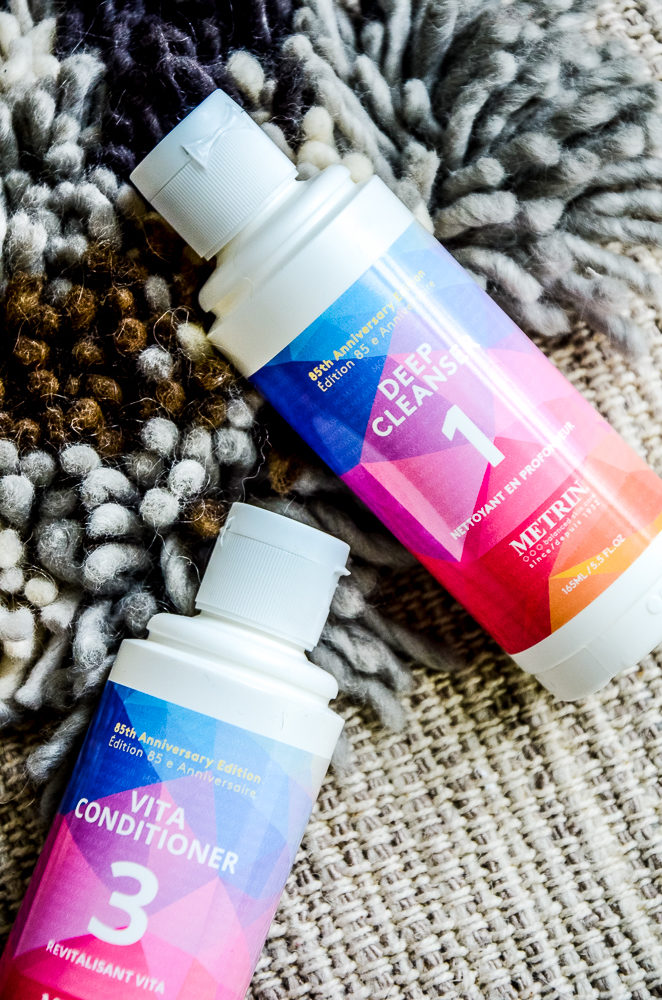 I'm excited to share this giveaway from Metrin Skincare! Not only is the skincare system great, but they are also a Canadian brand and I love supporting local and Canadian brands!
You can see more of why Metrin works here. I admit, before they reached out, I wasn't aware of them. I think in this day and age and Instagram, there are so many brands and products, that tried and true brands get lost. Especially Canadian brands! They always get the short end of the stick when it comes to "air time". It's a pet peeve of mine..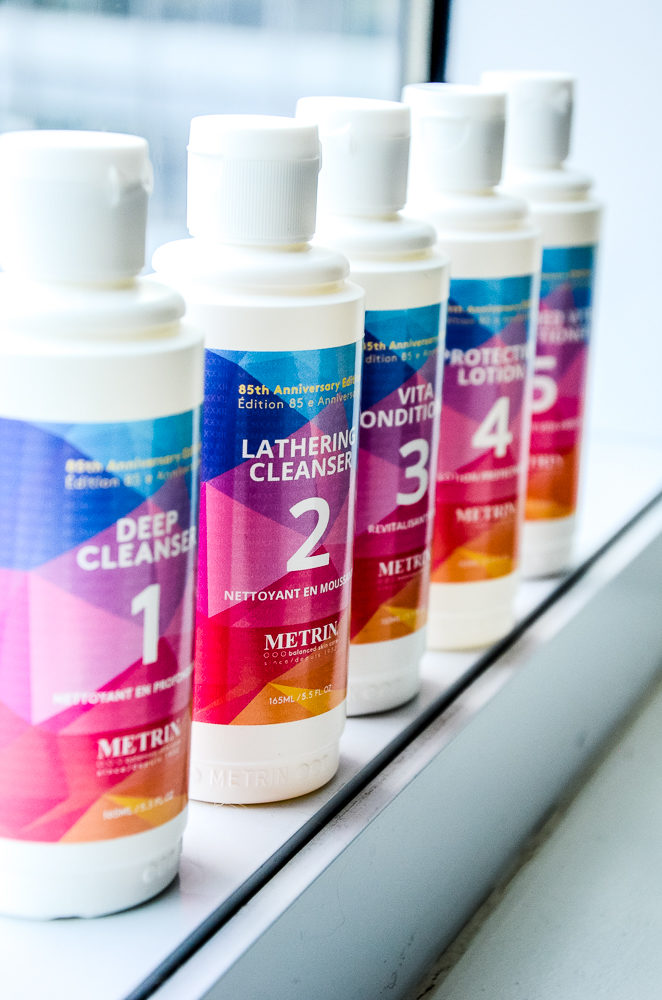 What's special about Metrin?
formulated without fragrances, dyes, or gluten
not tested on animals
safe/effective for all women of all ages
Canadian!
an 85-year-old, independent brand based in Vancouver with products proudly made and distributed in BC
have an unconditional, money-back 6 Month Promise on first-time purchases of our full-size Skincare System.
I used their system when we returned from NYC. It's a twice-daily complete routine for women of all ages, skin types, and skin concerns. Unlike other companies, they don't use trendy ingredients and their formulation has been the same since 1932.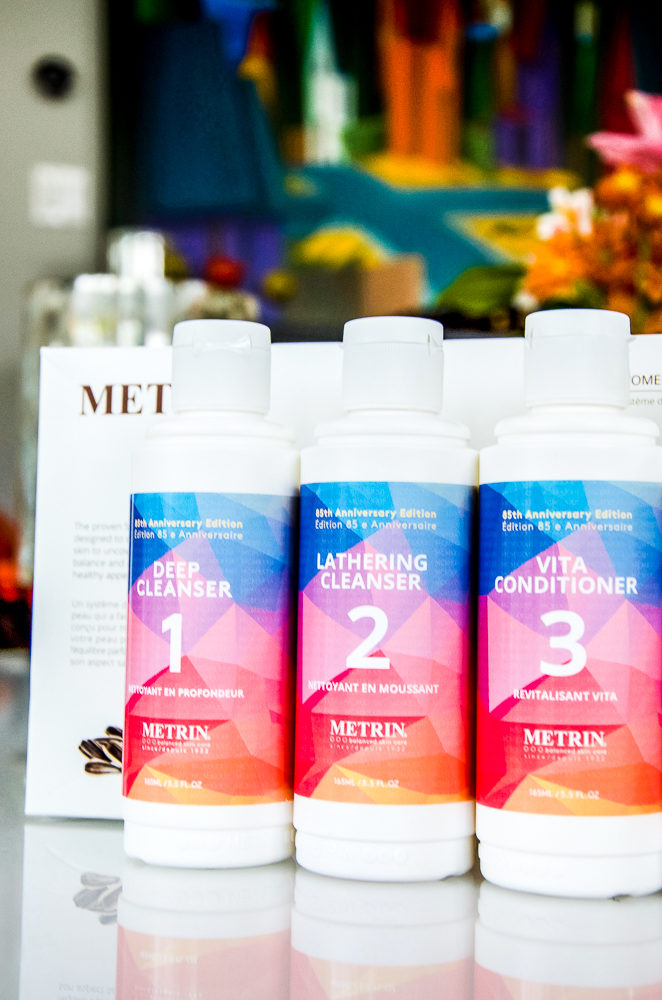 The Five Steps in Each System
Step 1 – Deep Cleanser
Step 2 – Lathering Cleanser
Step 3 – Vita Conditioner
Step 4 – Protective Lotion
Step 5 – Enriched Vita Conditioner
It is supposed to work in harmony with your skin's natural processes while cleansing, nourishing, and protecting. I noticed after two weeks that my skin glowed a little more than usual and felt soft and ready for winter. I didn't go a full month, because I did get a peel done and had to wait a week till I could go back to my normal routine. But I'm excited to get back to it, I have also been testing out other products and need to get back into a consistent phase again.
You don't need very much of the products, a little bit goes a long way. After all they are supposed to last you six months. I'd say 1/4 of a pump is enough!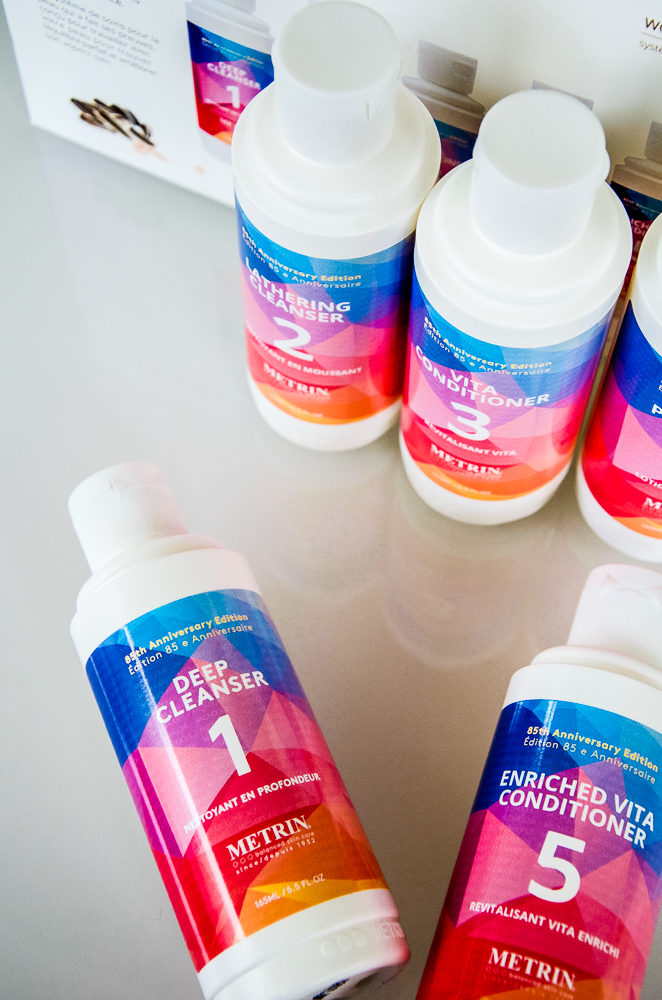 What else is awesome about Metrin is that they offer a 6 month promise. What is that? They will give you your money-back on first-time purchases of their full-size systems. That's pretty awesome! You never know what your skin will react to and nothing is worse than not being able to return a barely used product.
To celebrate their 85th anniversary, they launched the #metrinforall beauty campaign to showcase their diverse beautiful customers!
So the giveaway!
I'm excited to share that Metrin is giving away a full-size skincare system to one of my lucky readers!
To Win
1. Follow Me + Metrin on Instagram
2. Like the post + leave a comment including the hashtags #metrinforall #metrinskincare
That's it! Good luck everyone!