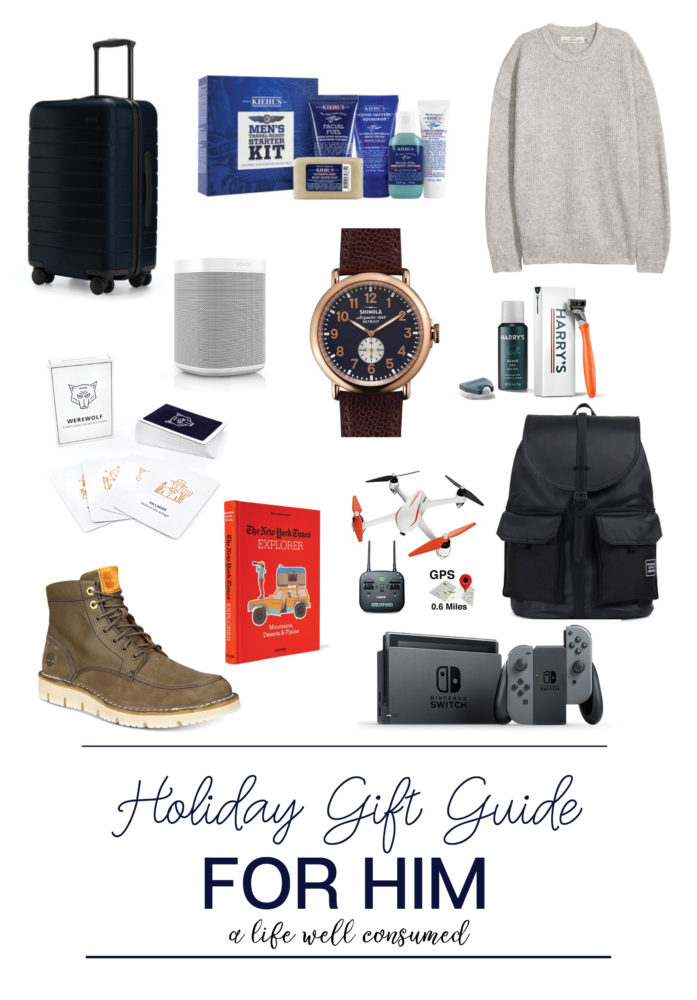 Up next in the holiday gift guide series for 2017 is the gift guide for him! I'm always searching this category personally every year, with having to buy gifts for my husband, brother, dad, friends, I'm always on the lookout for something cool. I love to buy Curtis one fun gift and something practical. His birthday also falls on December 27, so I also gift him something fun for that. We do stockings too, and I'm always loading his with socks, underwear (what is with men and not throwing their ratty ones away?) and some treats.
So here's my little roundup of some different gifts to gift those men in your life. They could always use at least something on this list! I'm also releasing a foodie and stocking stuffers gift guides later this week. Stay tuned for those loaded with more gift ideas! And a few of these items in this list are on sale!!

You can see last year's gift guides here. Some items are still for sale or you can find similar things out there. Tell me what do you always gift the men in your life? I know some people have traditions like PJs, books or a food item. Love to hear them!

Holiday Gift Guide for Him
1. Away Suitcase
2. Kiehl's Men's Starter Kit
3. Shinola Runwell Watch
4. Werewolf Party Game
5. SONOS One
6. Herschel Supply Co. Dawson Studio Collection Backpack
7. Harry's Men's Travel Kit
8. Taschen The NYT Explorer – Mountains, Deserts & Plains
9. The Chili Lab Homemade Hot Sauce Kit
10. Drone with GPS
11. Nintendo Switch
12. Timberland Westmore Boot
2017 Holiday Gift Guides
For Her
For Foodie
The Beauty Obsessed
Great Stocking Stuffers
Shop the Post