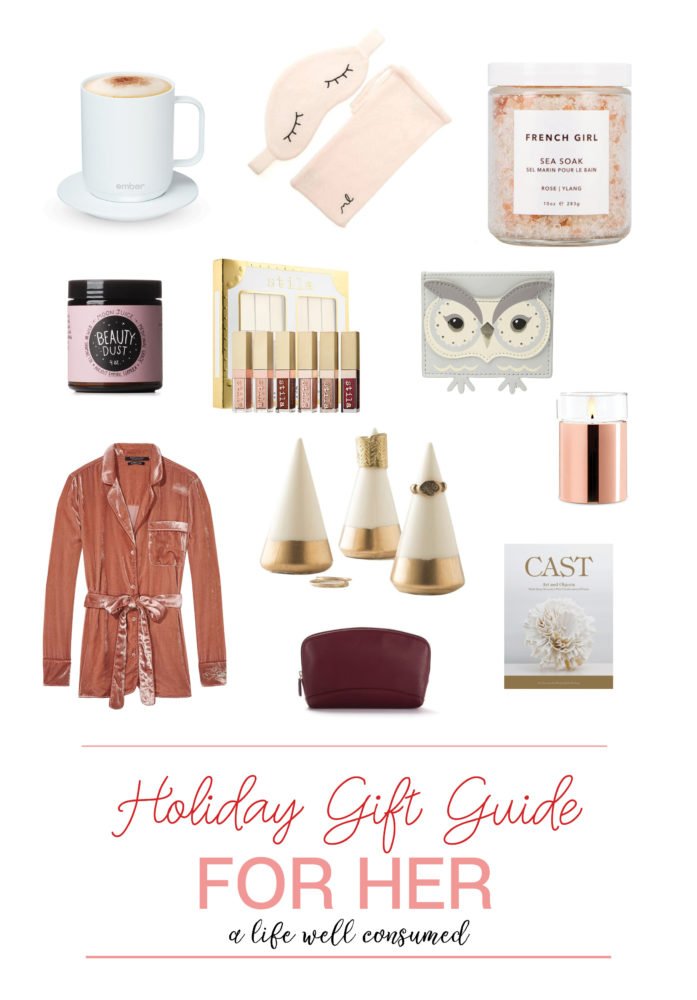 I love the holiday season! Not for the gifts or anything like that (doesn't hurt) but all of the holiday themed events, trees lit up, holiday cocktails at a hotel bar, mugs of hot chocolate and holiday themed movies. And all the food, let's be real haha. I love the chocolates and sweets, but I really love all the savoury dishes, pot pies, stuffing, mashed potatoes loaded with butter and so it goes on… So anyways, I also love sharing my holiday gift guide series. Nothing is better than gifting someone something that they love. Am I right?
First up, my holiday gift guide for her. That special woman in your life, a friend, your mom, sister, wife, girlfriend, coworker and the list goes on. Treat them to something nice, something they may not buy themselves. I love an indulgent gift, doesn't have to be expensive, just something you may normally second guess. Like fancy bath salts or a decadent chocolate bar… These few items are just inspiration or suggestions for those on your list. Hope that you do spot something on it to gift someone!
You can see last year's gift guides here. Some items are still for sale or you can find similar things out there. Tell me who is on your holiday gift list? Who is the hardest person to shop for?
Holiday Gift Guide for Her
1. Ember Ceramic Mug
2. Morgan Lane Sleepy Lids Cashmere Mask Set
3. French Girl Sea Soak
4. Moon Juice Beauty Dust
5. STILA Glitter & Glow Eye Shadow Set
6. Kate Spade New York Starbright Owl Leather Card Holder
7. Scotch and Soda Velvet Pyjama Shirt
8. Schoolhouse Electric Ceramic Ring Holder
9. Lights.com Surreal Flame Candle
10. Leatherology Large Cosmetic Bag
11. Cast Art and Objects Book
2017 Holiday Gift Guides
For Him
For Foodie
The Beauty Obsessed
Great Stocking Stuffers