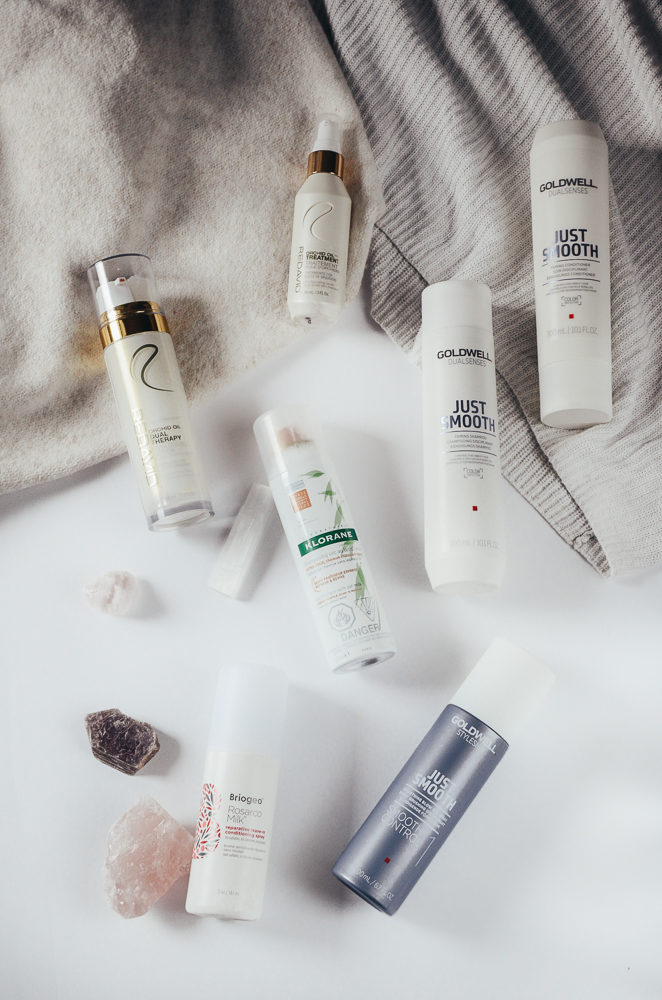 I've been meaning to post this for a while now, but it's been a crazy last two months! I quite my job, started a digital marketing agency and now am self-employed. But enough about that, let's talk about my favourite hair products, shall we…
So anyways, I have fine ass hair, I have to work for volume, and when it's humid it becomes frizzy AF. It does have a little natural wave, I'll give it that haha.
When I do find products that help combat the frizz, give me volume, shine and repairs, I want to share them with everyone.
I had to narrow them down, there's probably a couple of honourable mentions, but I'll share those maybe down the road. For now, I'm just going to share my everyday loves, the ones I use almost daily which I believe should be the ones I share first. Am I right?
Without further ado, here are my favourite six hair products that have changed my life, or really just my hair. Hahah.
The 6 Hair Products That Changed My Life
This is a cult classic, I love using this in between washes and it doesn't weigh down my hair. Its ultra-fine powder cleans hair, eliminates dirt, oil and odors and adds volume and texture to hair. Bonus is that it's hypoallergenic and vegan. And why I love the oat milk is that oat is known for its high content in sugars, lipids and vitamins, clinically shown to soothe and protect hair.
2. Redavid Orchid Oil Dual Therapy

I was sent this along with the shampoo, conditioner and oil treatment. I loved the whole line, really made my hair soft, manageable and smells amazing. I use this daily along with the oil treatment for my ends.
This is meant for curly hair or damaged hair, I started using it after the summer and noticed an improvement to my hair. It moisturizes and repairs dry and damaged hair, mending split ends, eliminating tangles and amplifying shine. There are two parts: Repair + Shine. Repair: Perfect for repairing damage caused by over processing and punishing environments. It is loaded with nutrient rich botanical ingredients to restore moisture. Shine:
Seals the hair structure, reducing frizziness and fly aways. Orchid Oil's unique moisture balancing properties improve hair elasticity and suppleness.
Both parts are specially formulated with Dynagen-R™ to build internal strength, increasing body and fullness.
Besides smelling amazing, this doesn't make my hair greasy, leaves my ends soft and a little goes a long way. I've had this bottle for months and haven't ran out yet. Probably helps that I don't wash my hair everyday. If you do have curly hair, you can apply it all over and it doesn't weigh your hair down.
So besides combating frizz and leaving in moisture this also shields from heat and UV rays. It is fortified with a unique blend of rosehip, argan, and coconut oils, this milky and 96 percent naturally-derived complex effectively restores moisture levels and softness. And.. this product is free of gluten, silicones, DEA, and artificial dyes. It is vegan-friendly, cruelty-free, and safe for color-treated, karatin-treated, and relaxed hair.
This is the first step to taming my frizz. I adore this line, it really does what it says, keeps my hair just smooth. The conditioner is enriched with kukui nut oil and active ingredients that moisturize the hair. Both products also leave a lovely shine to my hair.
I don't apply this each time, only when I am blow-drying my hair. It really helps protect it and another depth of smoothing. It's not sticky and helps speed up drying time.
You can also check out the hair styling products your stylist swears by.
Shop the Post