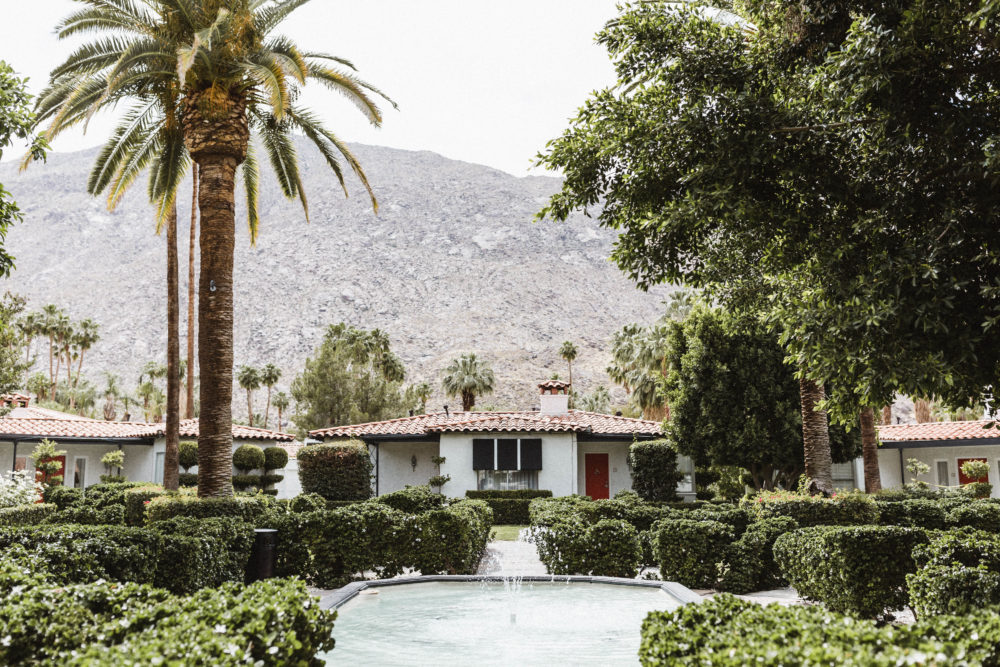 Our Palm Springs wedding day started off with Curtis and I waking up together and grabbing breakfast by the pool. We're not traditional in that sense of spending the night away and it was nice to relax that morning together. I even went for a dip in the pool!
Leading up, some people kept asking if we were nervous. I didn't feel nervous at all about the wedding. Curtis and I have been together for 9 years and met in high school. I knew he was going to show up (haha!) and that we should just really enjoy the day and take it all in. To us, we wanted to celebrate our love with our family and friends in one of our favourite cities. And be able to eat and dance outside, with no mosquitoes or rain. Or well at least for myself.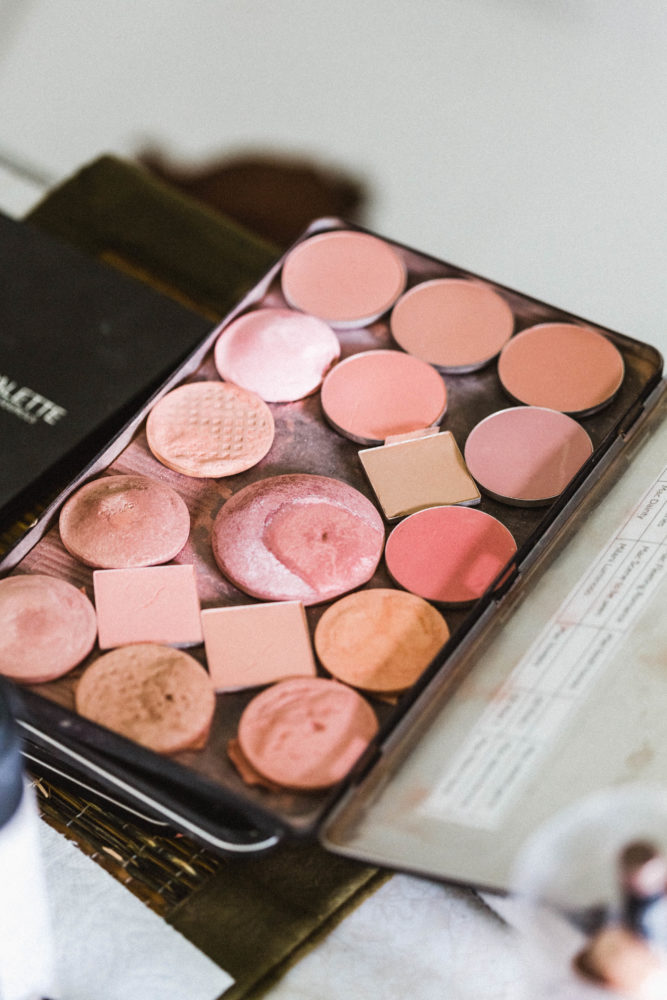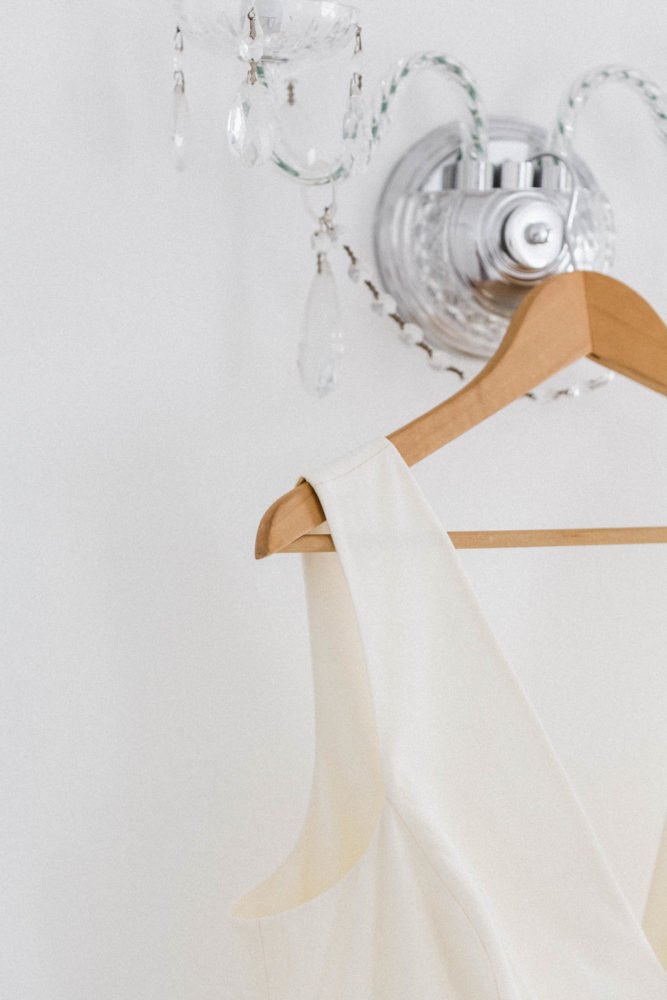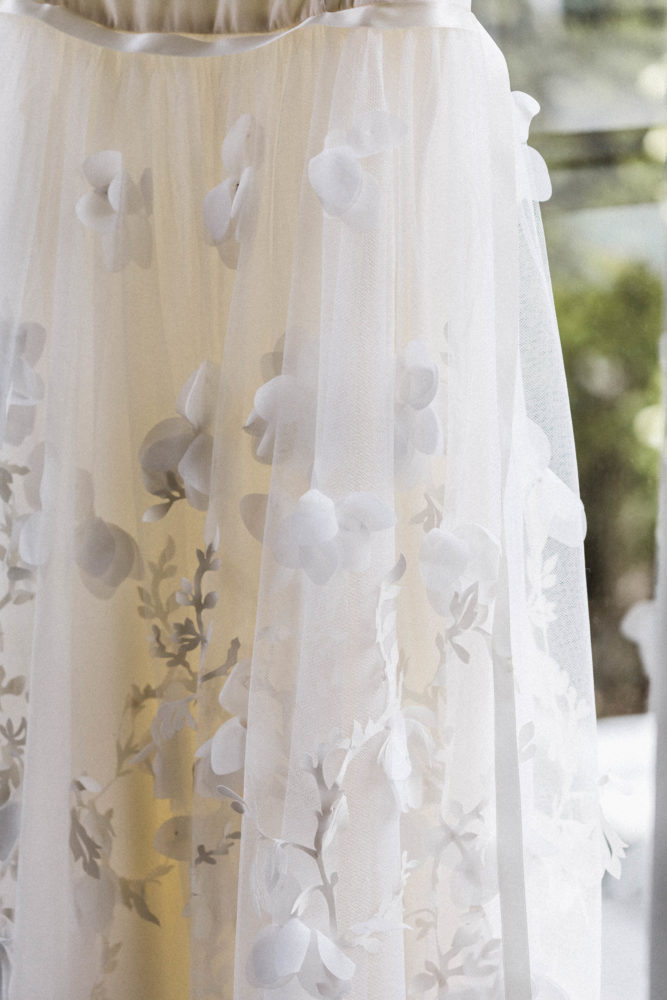 While my bridal party (sister and my cousin Claudia + Clarissa my brothers gf) were starting to get ready, I showered and prepped in our room and slowly made my way over to my sister's bungalow. We had lunch brought over, an amazing charcuterie board and champagne. My friends dropped by and I was able to use an eye mask and break in my heels a bit more (such a great look hah) The boys watched soccer and went swimming for a bit.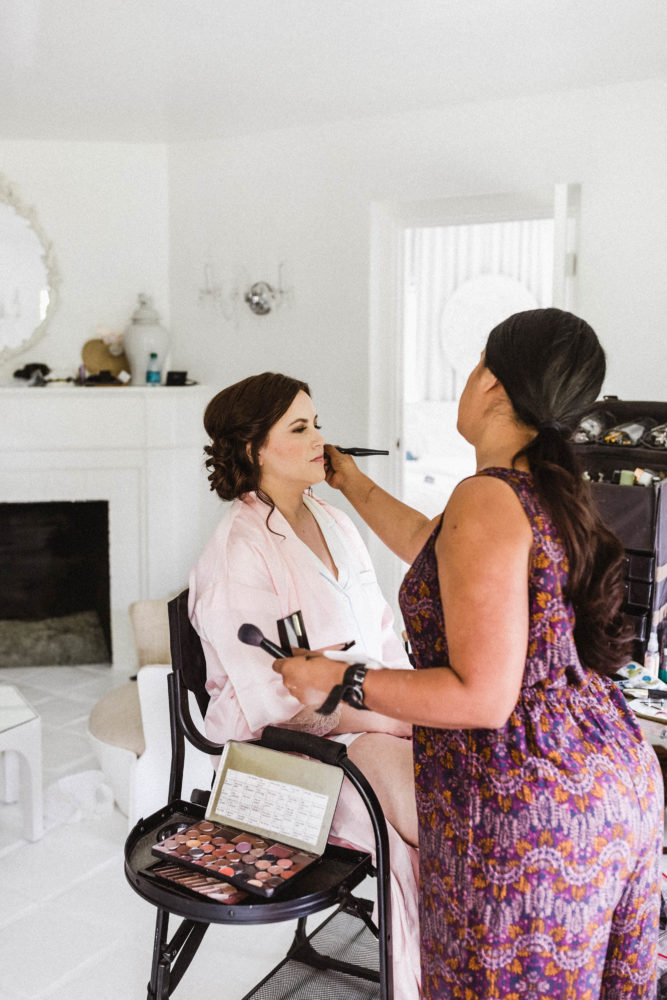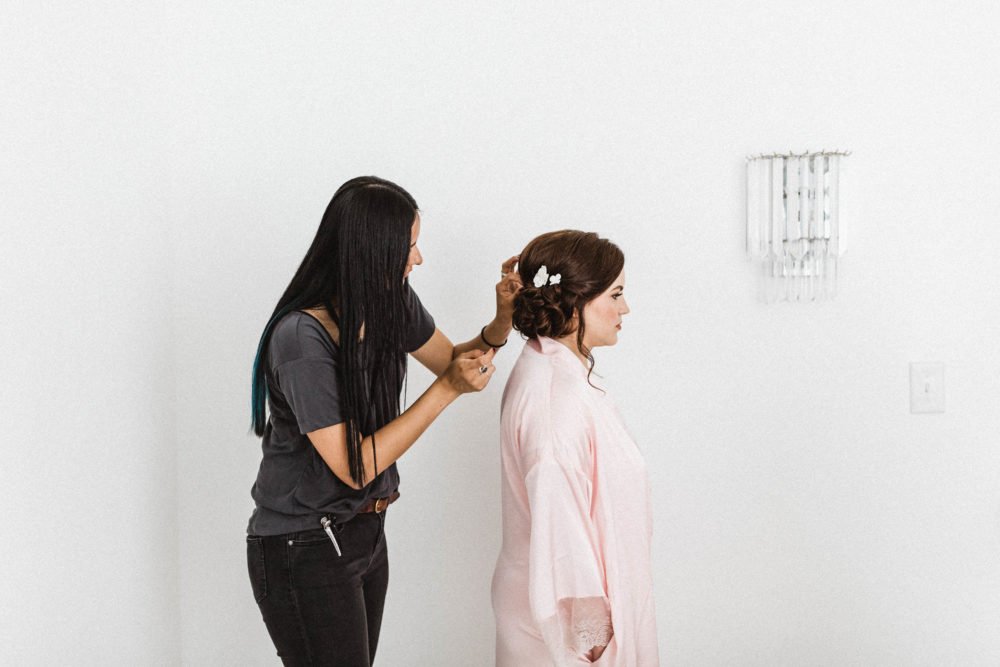 A big shout out to my amazing makeup artist and hair extraordinaire! Both women (Nancy and Marilyn) were really super nice and made our visions come true! Even when I forgot to get my hair extensions trimmed before coming down. Whoops!! I wanted a more glow-y, natural look and Nancy achieved it!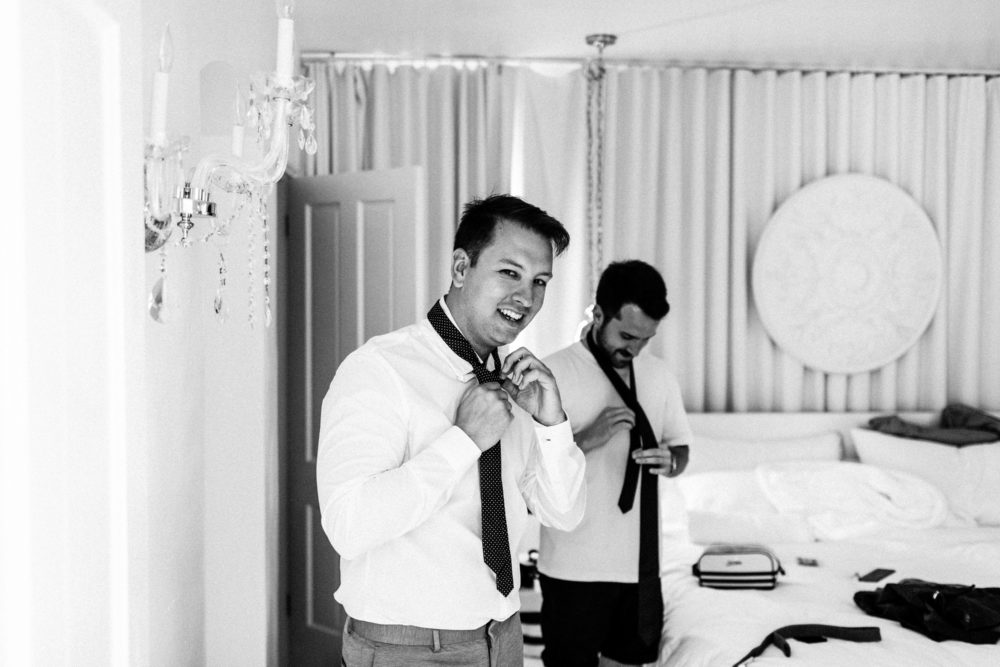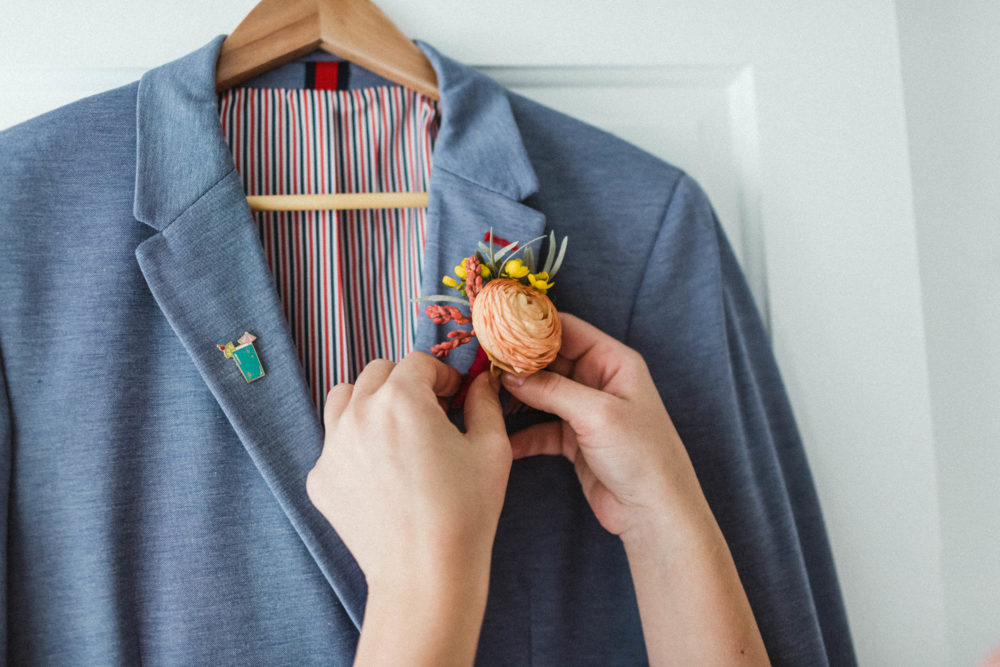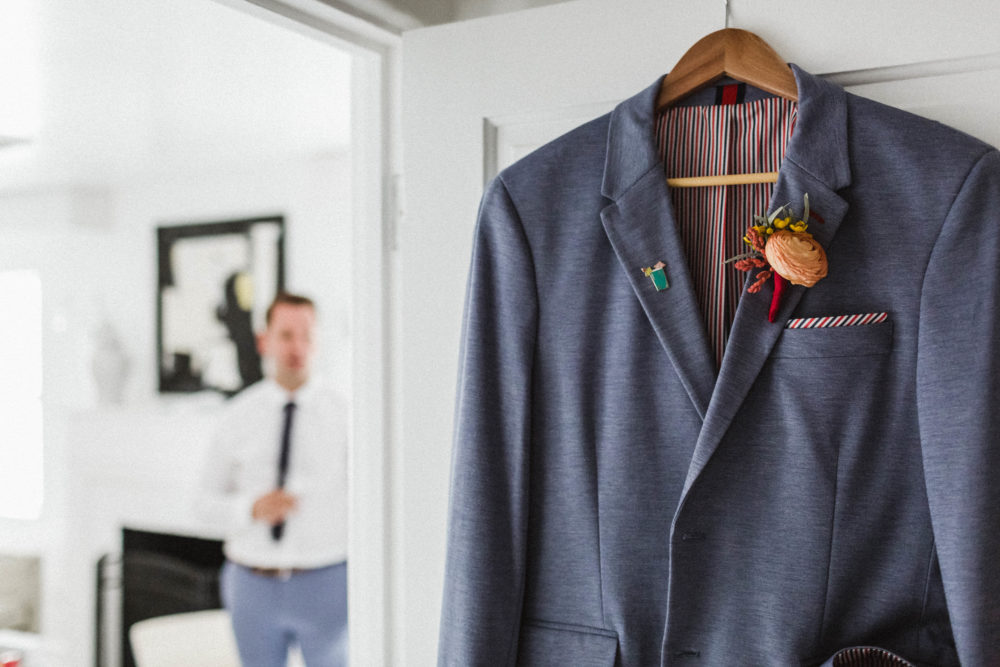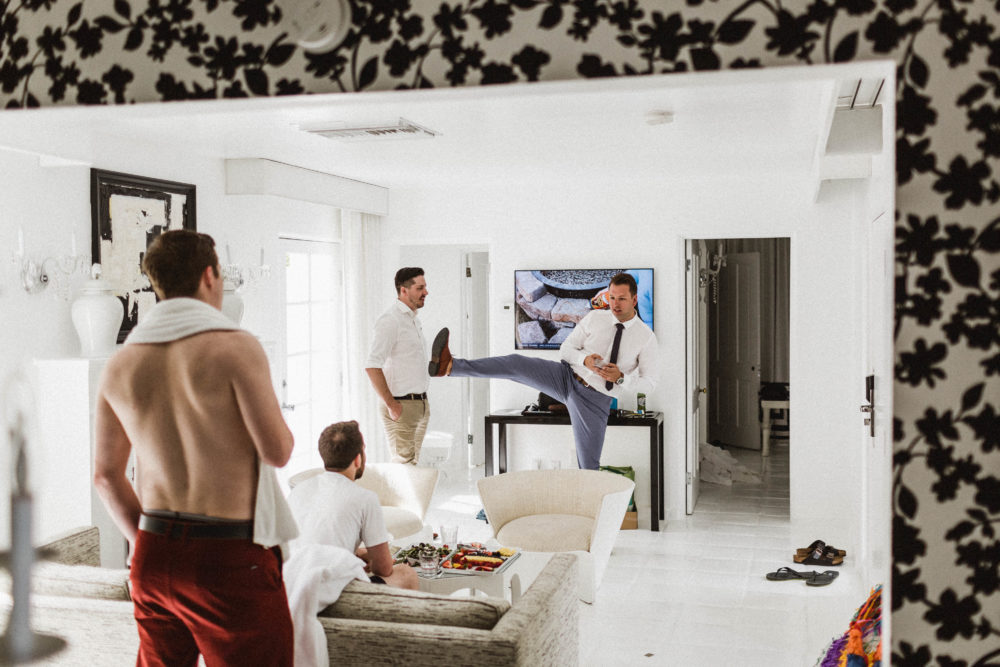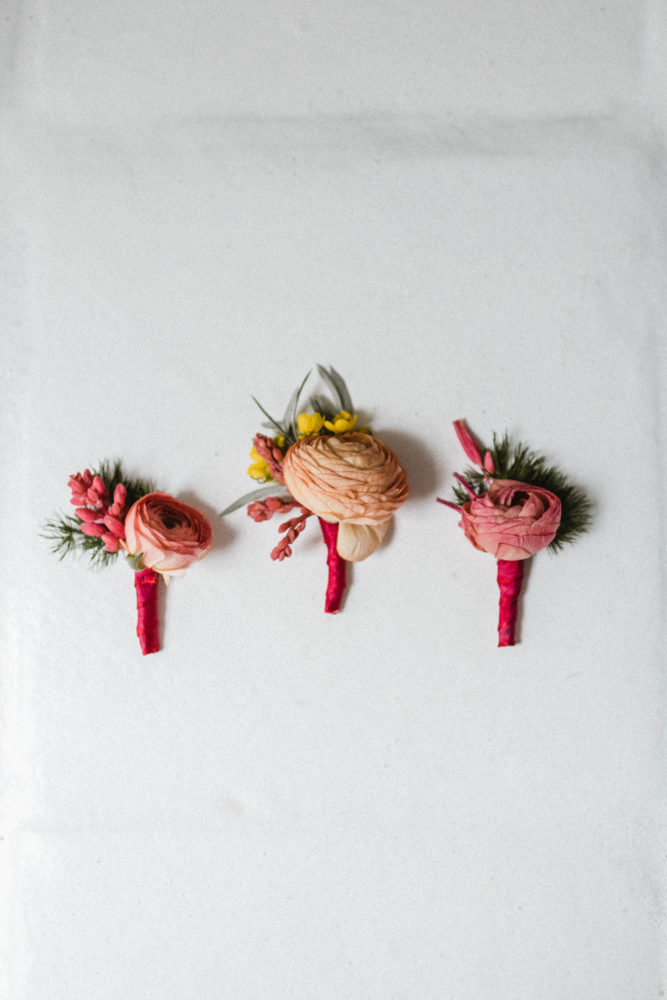 Our photographer and husband (Bear) arrived and started to take photos. I found Sarah on Instagram along with all of my vendors. The power of the gram! She is amazing! They made us feel relaxed and focused on candid shots. We liked how candid her photos were and not staged. I wanted an authentic representation of our day and Sarah delivered in spades. Plus her husband Bear is the nicest man and the boys really enjoyed having him around.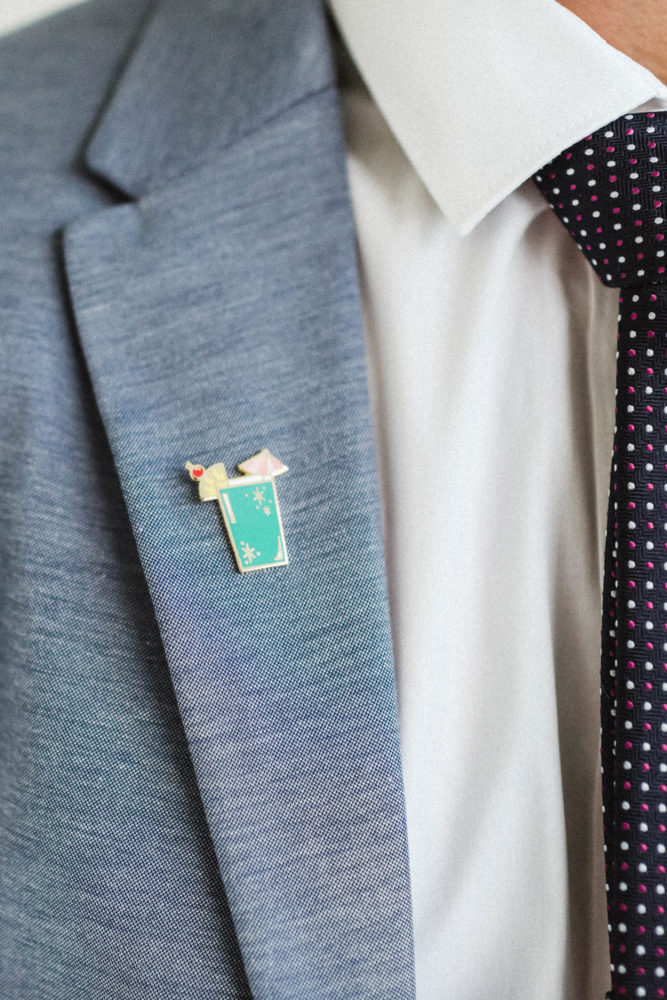 I also got all the groomsmen and fathers enamel pins for their lapels. I think they were a hit with the guys!
You may have also seen her photos of Juliana Houghes wedding! Yes that's right, she shot her wedding this summer. Boy did I luck out!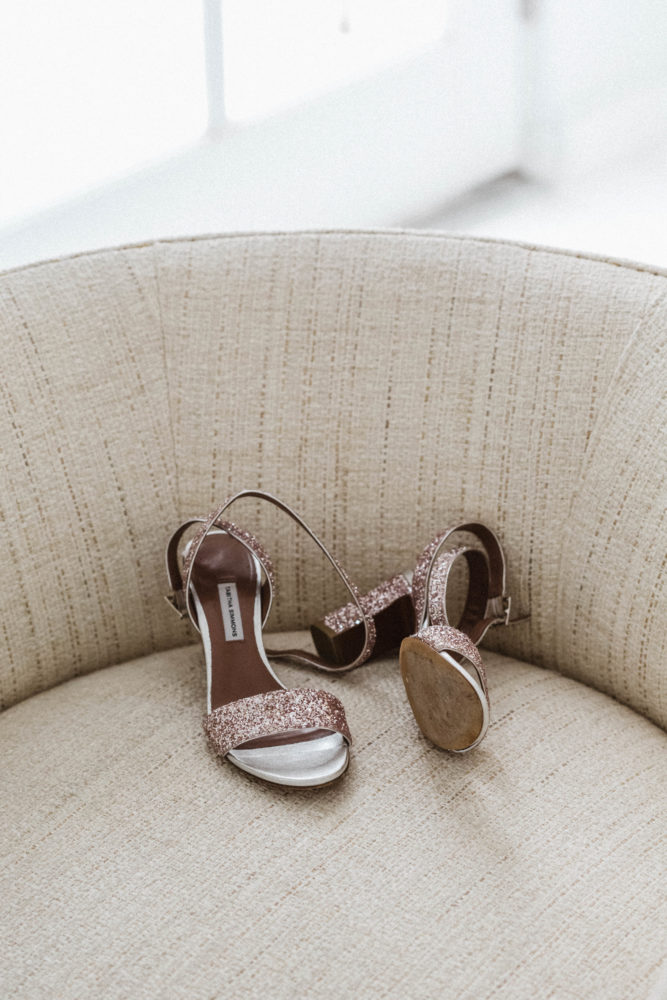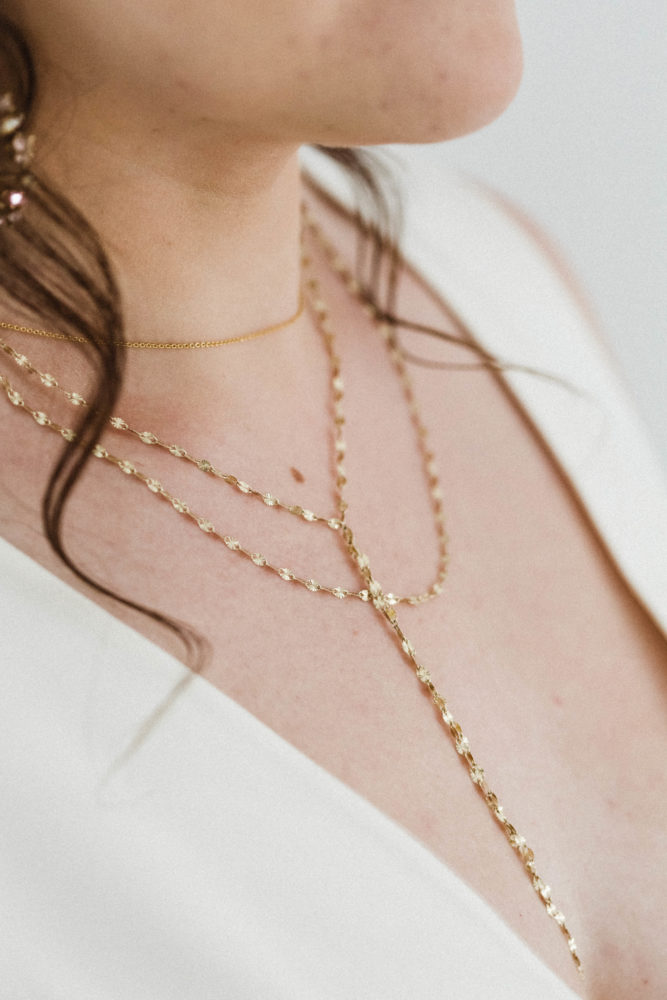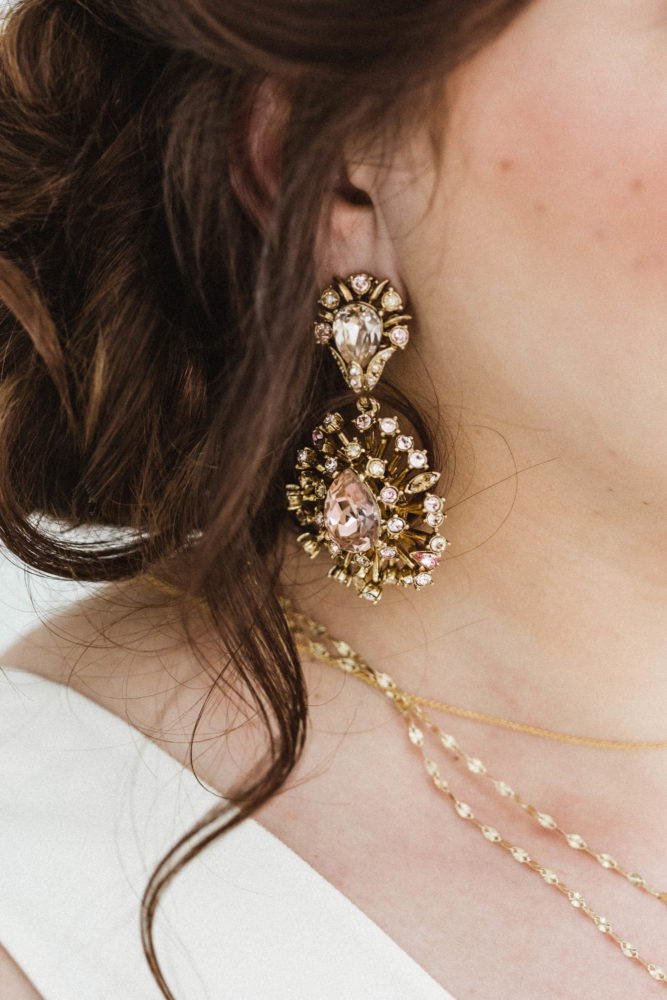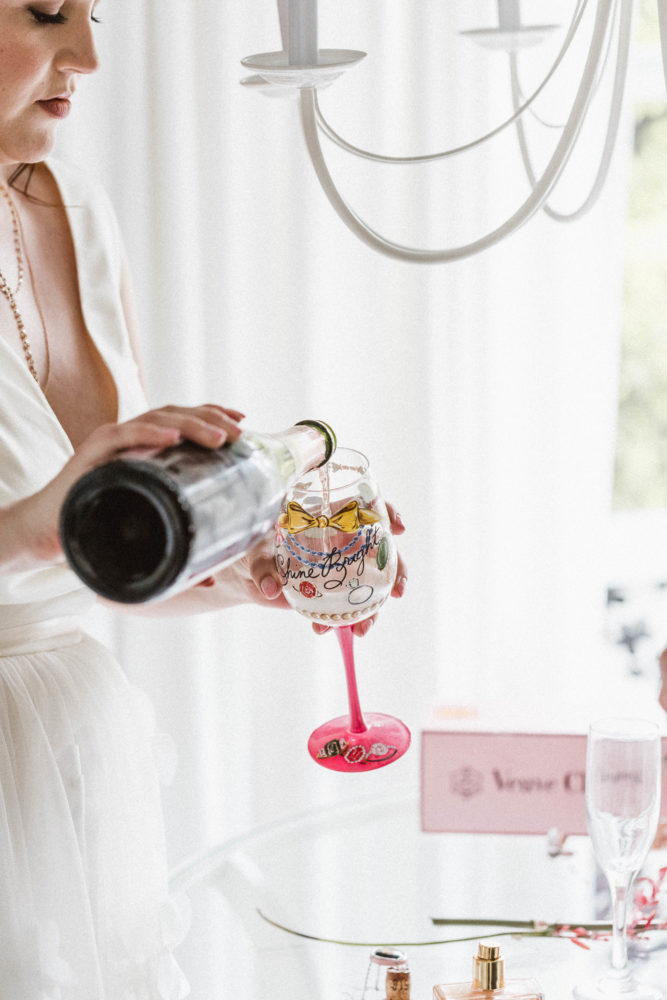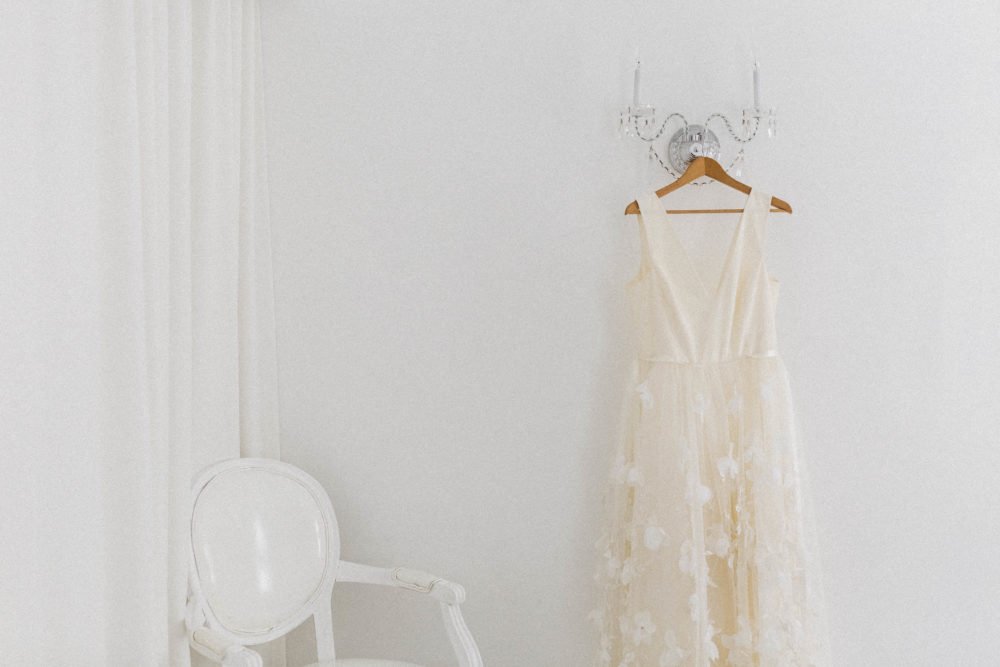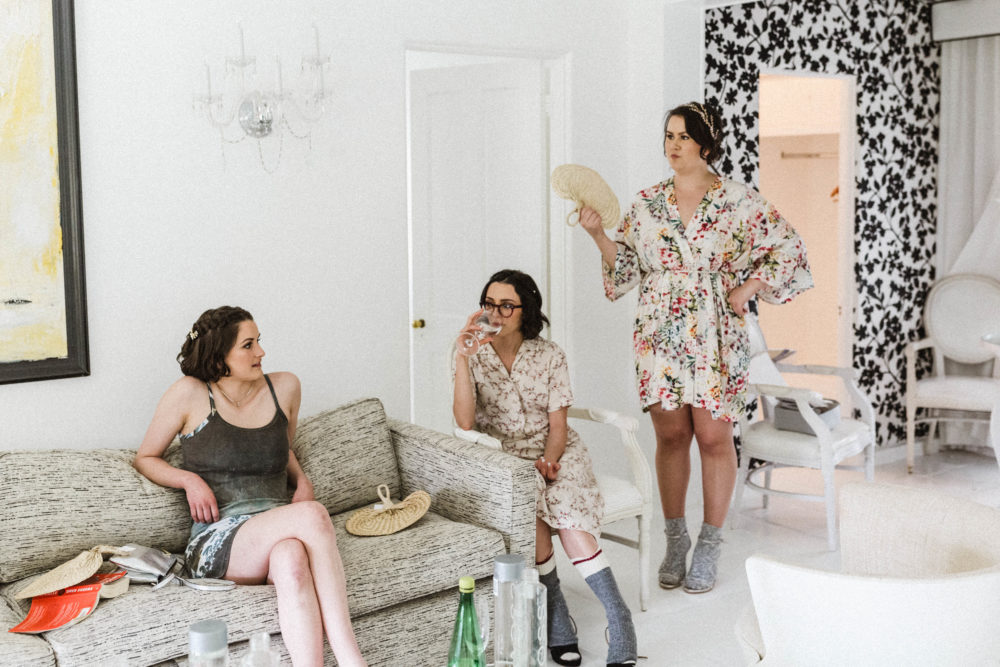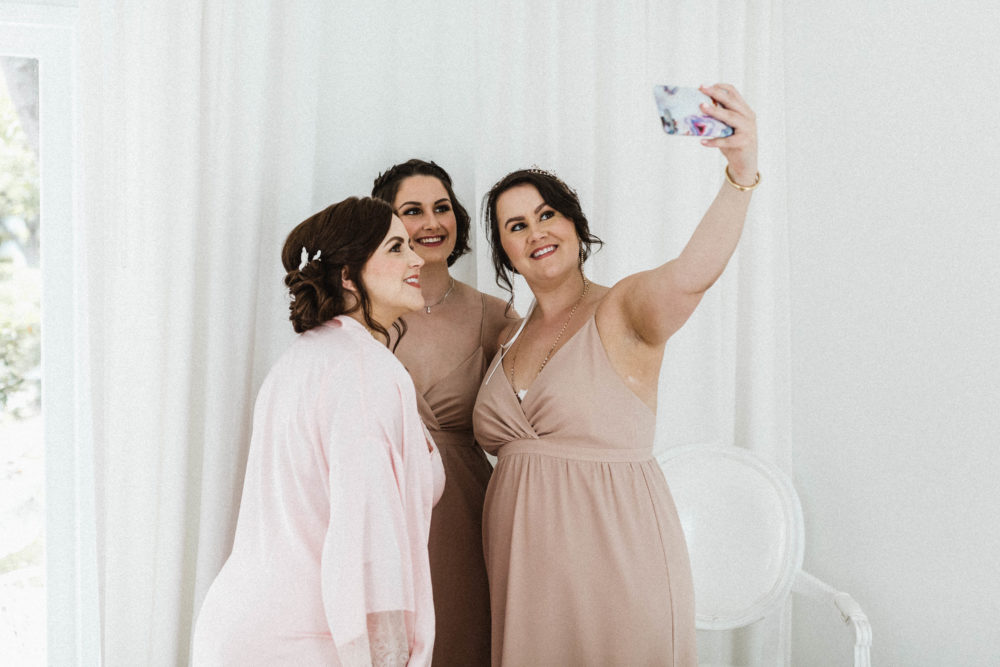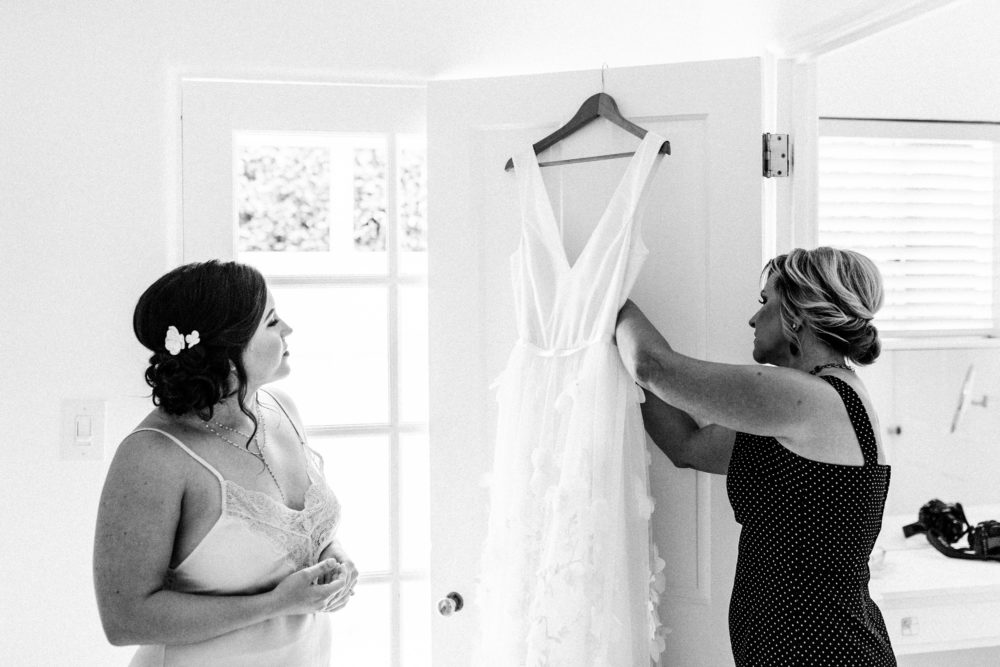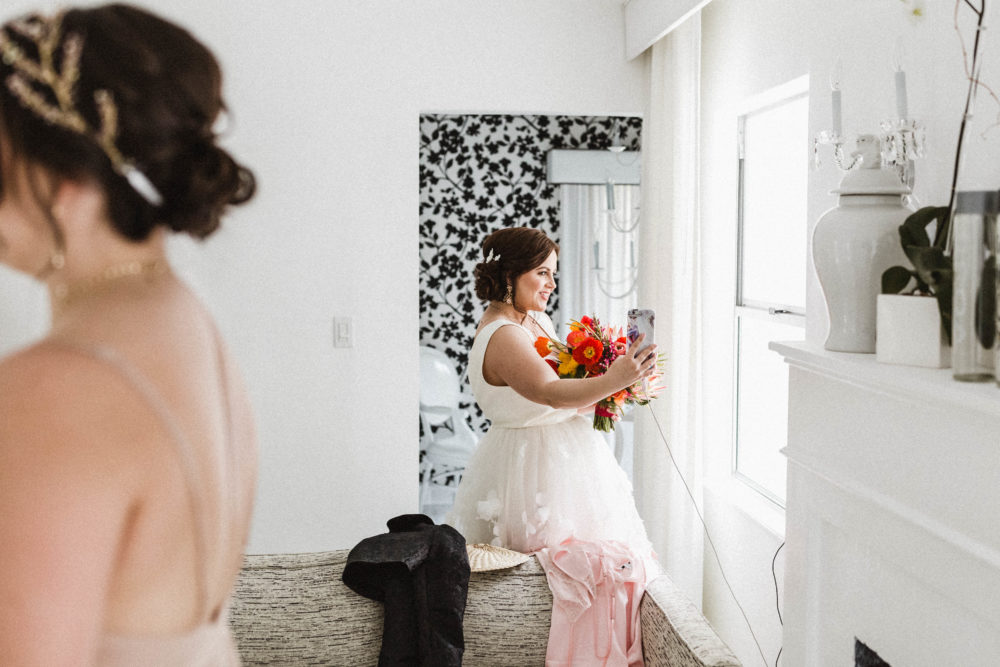 When we were all done getting prepped, we ventured over to my mom's bungalow because the lighting was better in there and a little more private. The boys were right next to my siblings bungalow and poor Curtis has to shield his face walking by haha. I started to get my dress on and finalize my accessories. My mom popped champagne and we were able to relax a bit before photos.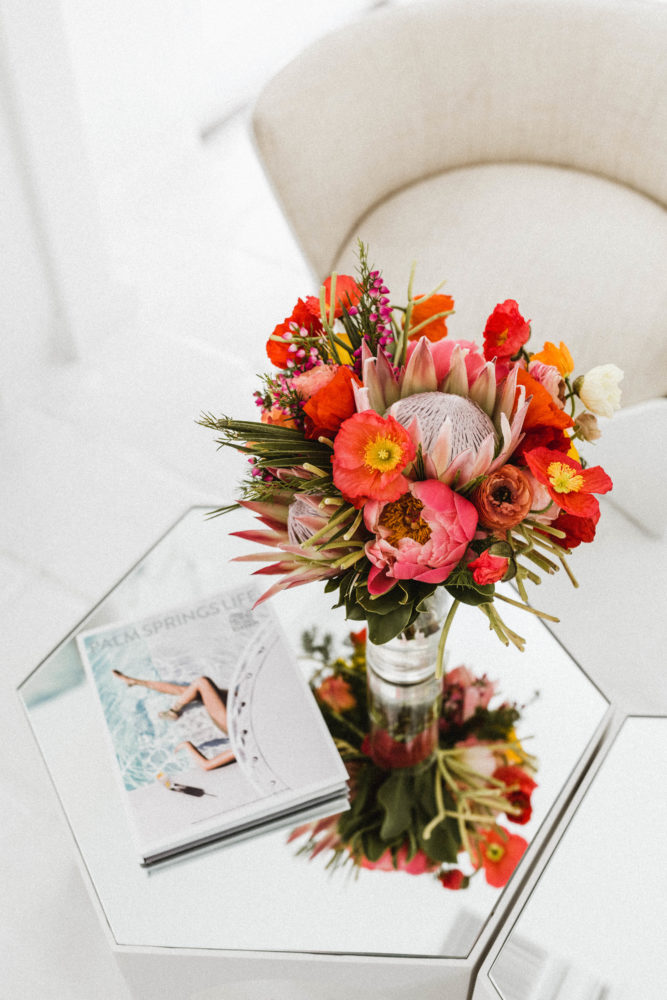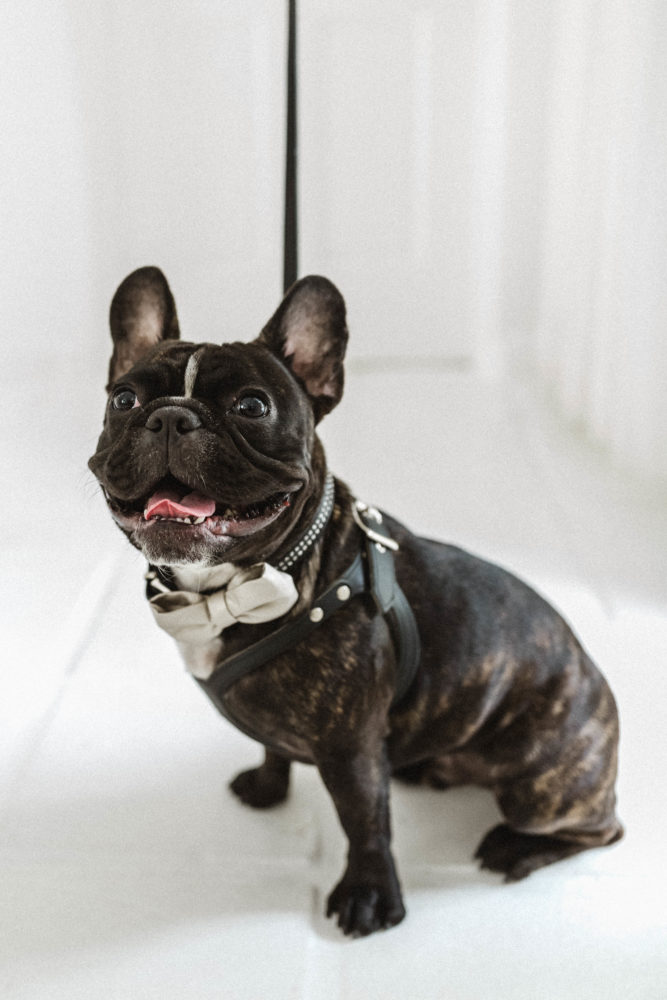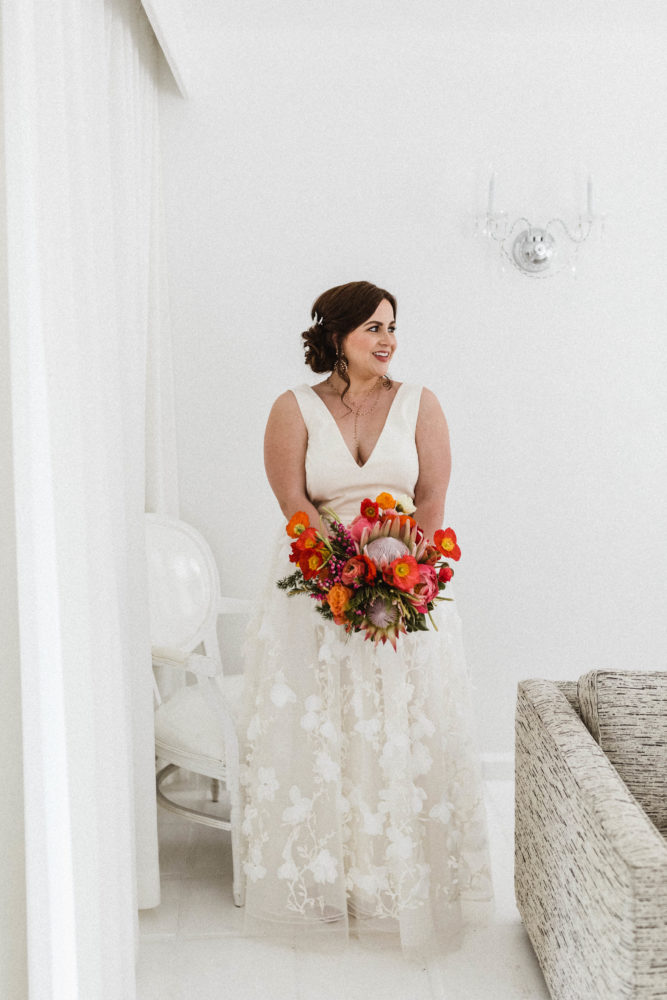 Sarah took photos of myself with my parents, siblings and Oscar made appearances in most photos haha. Look at that face! Funny story, we actually locked ourselves out of the room for a few minutes. I think I saw Chelsea and Tatiana sweat a little over that one (our wedding coordinators)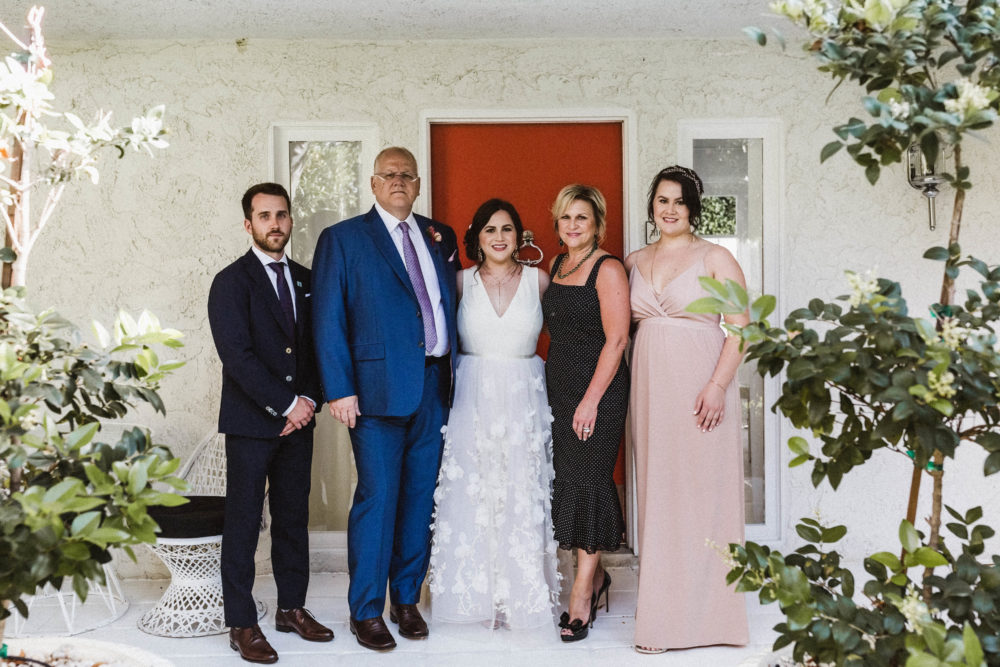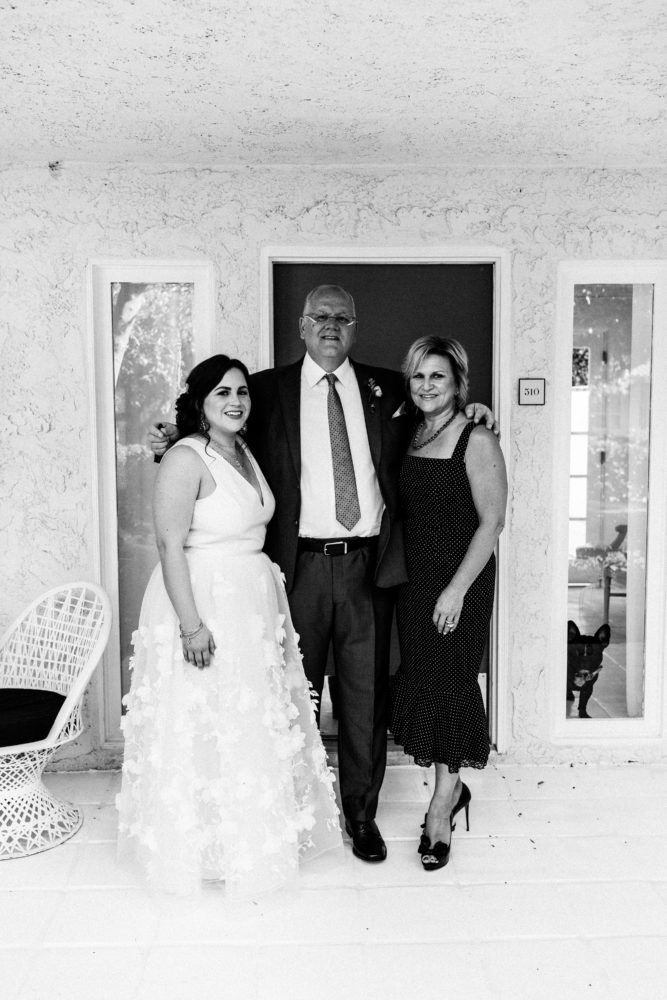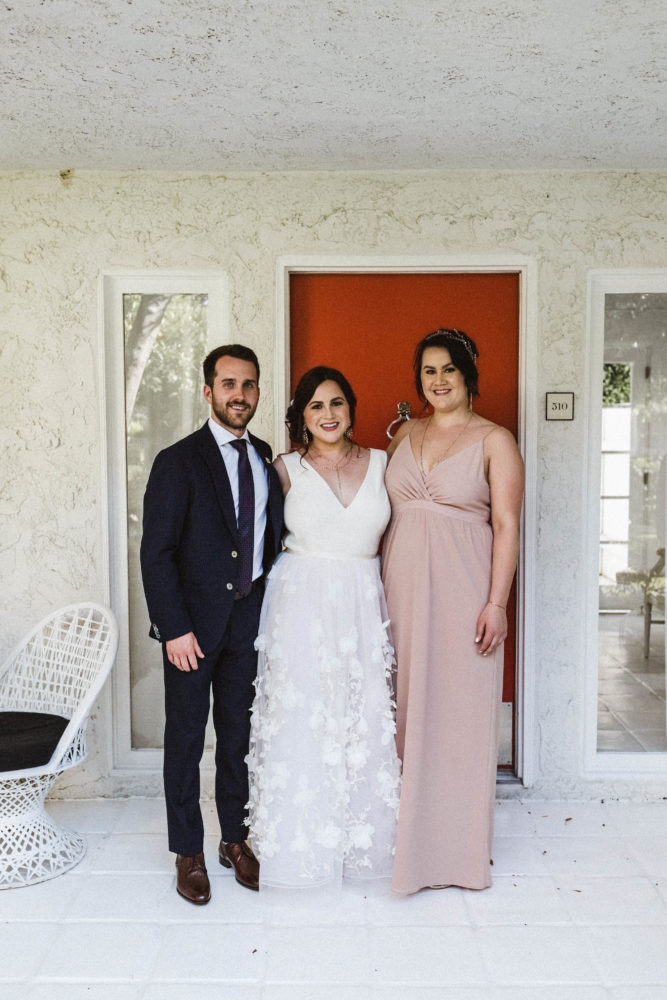 And then it was time! The sun was starting to set, we walked over to the entrance of the courtyard. We accidentally walked around the corner to the sidewalk and Curtis saw a glance of me in my dress before walking up the aisle. It was such a magical moment, I walked down with my dad and it felt like I was gliding to Florence and the Machine "Cosmic Love". We said our short vows, kissed (Curtis went for an ass grab, sorry dad!) and walked back up the aisle to The Cure "Mint Car" and our guests blowing bubbles at us. Married.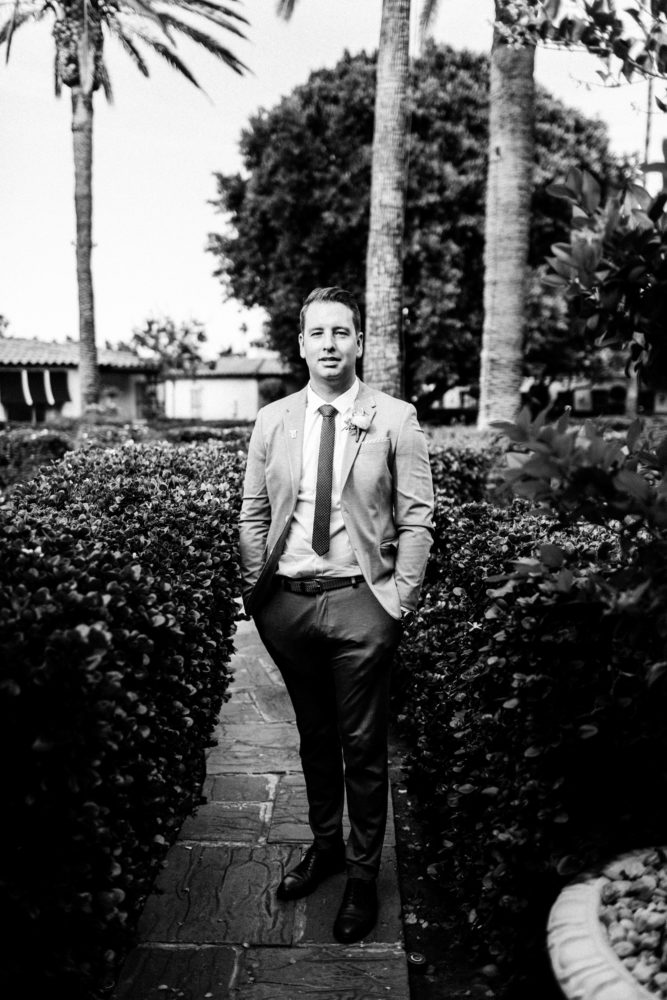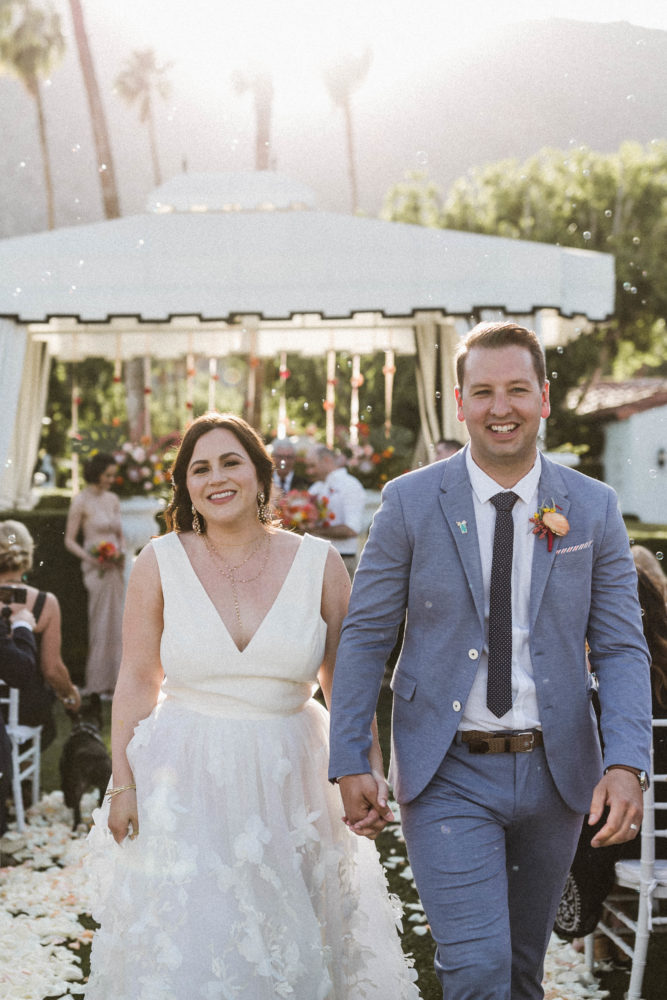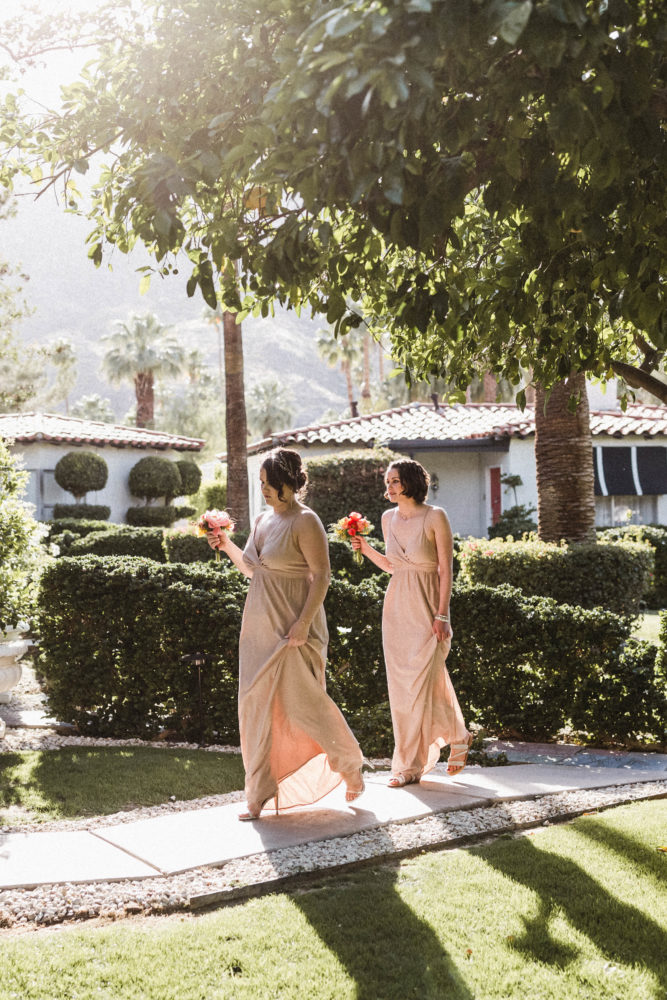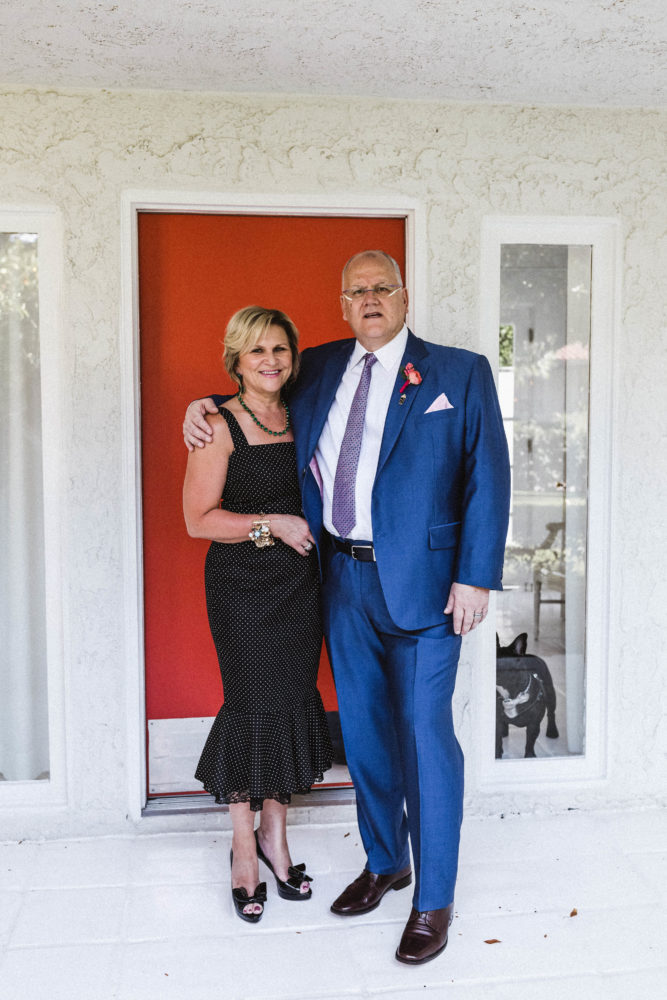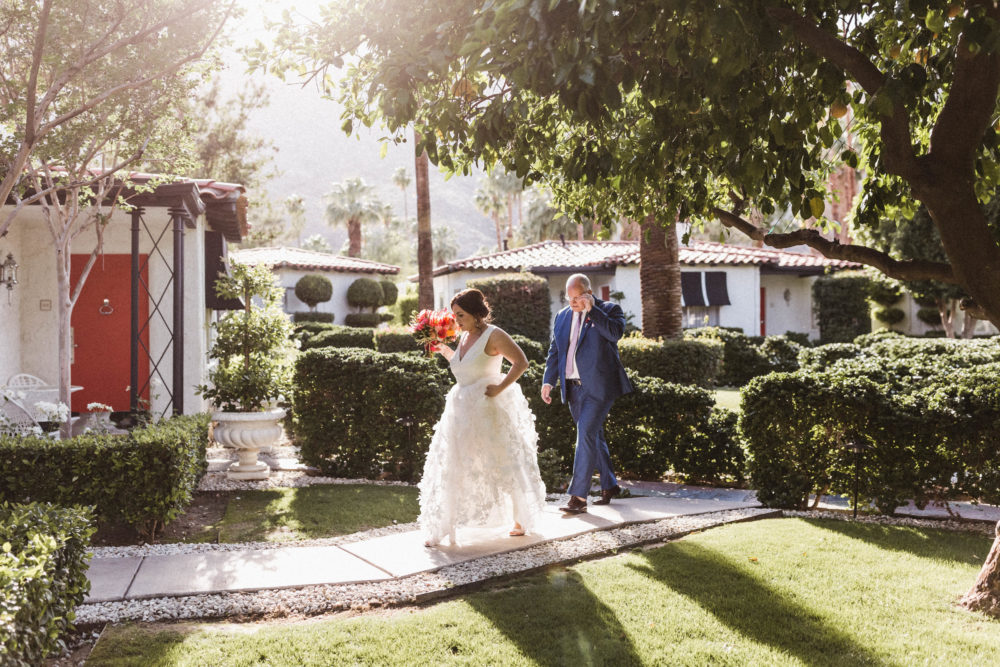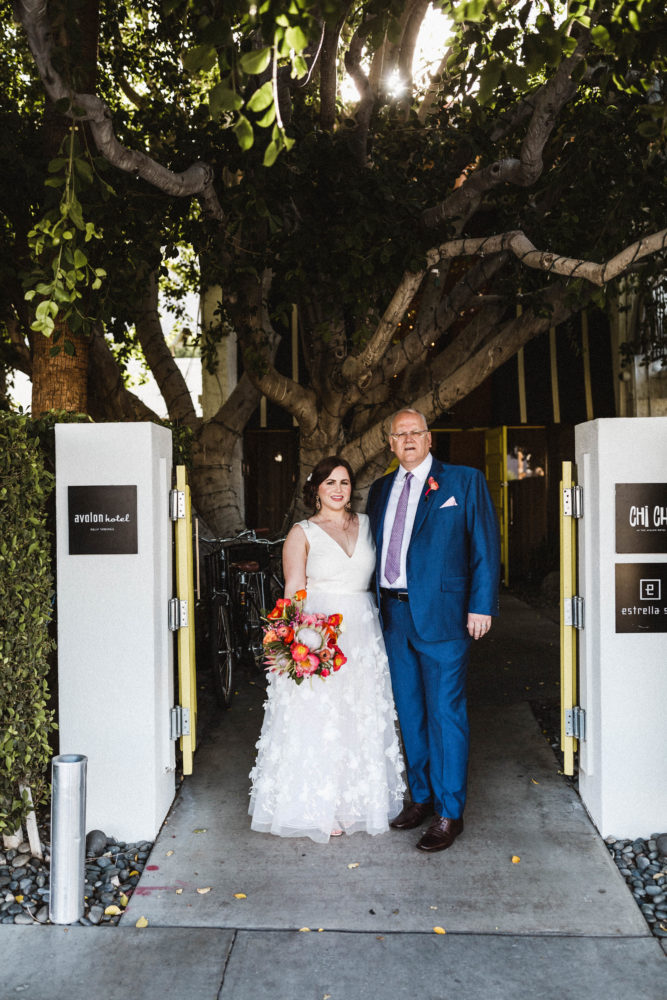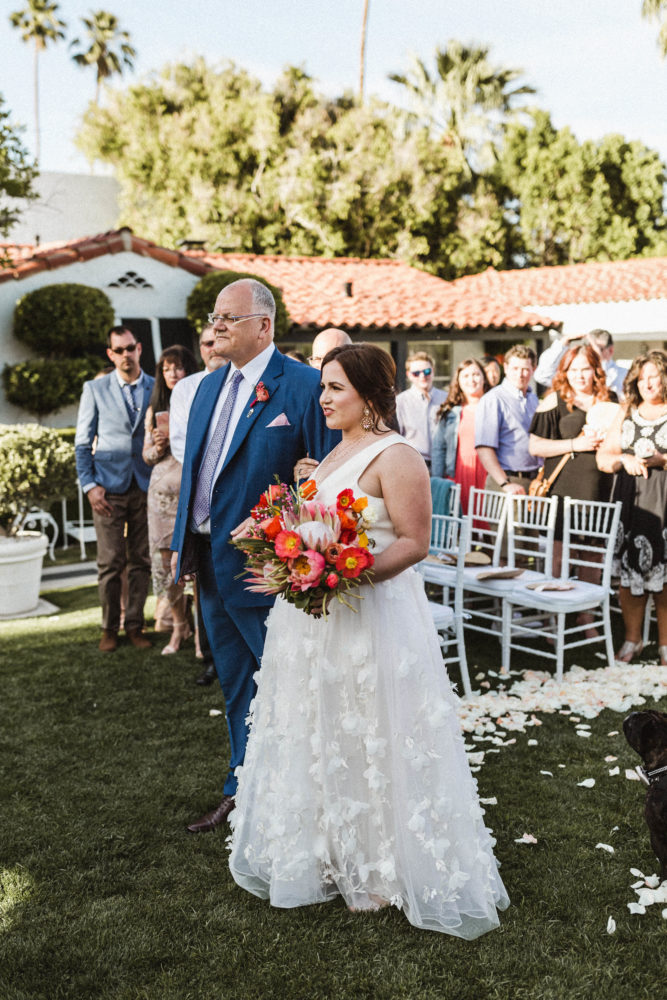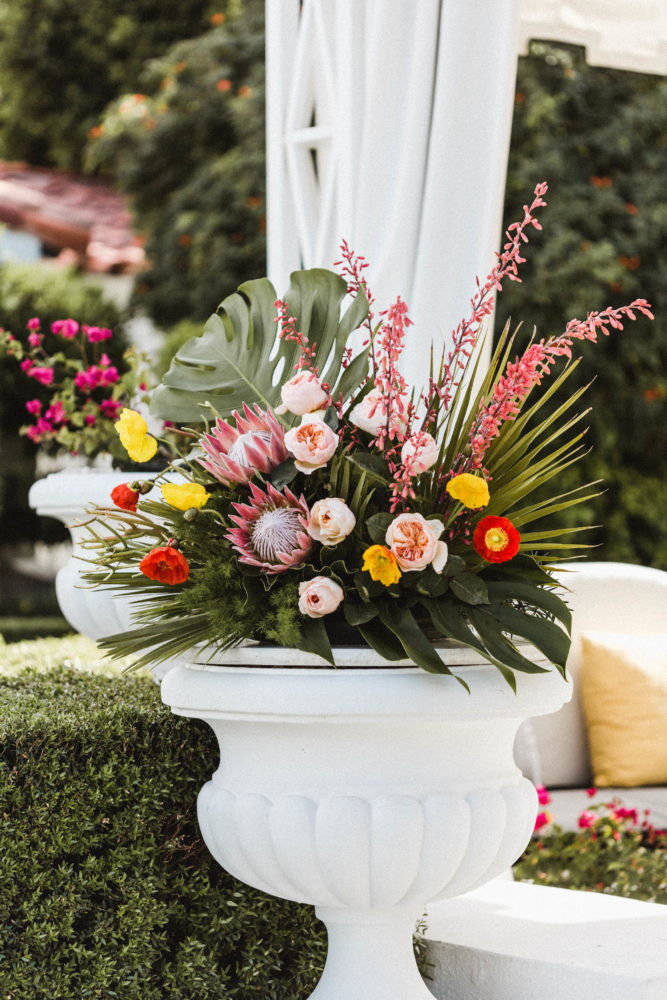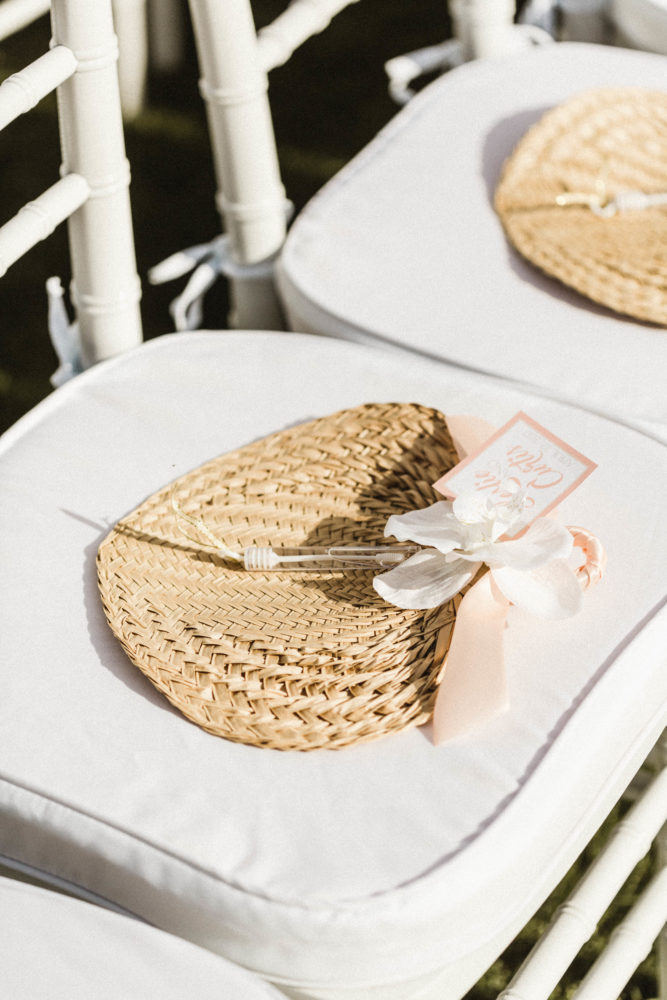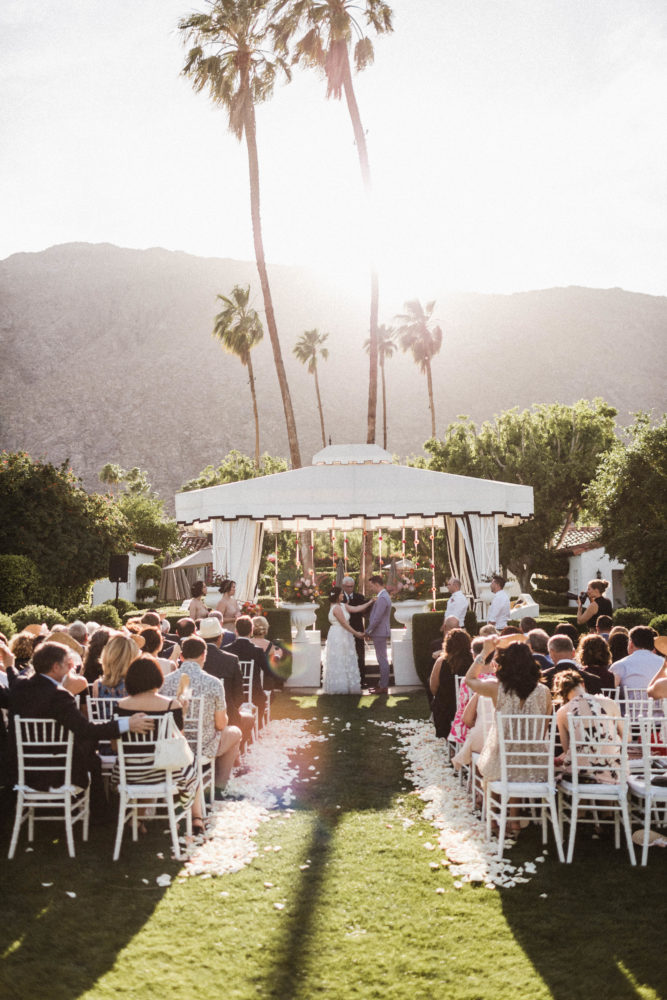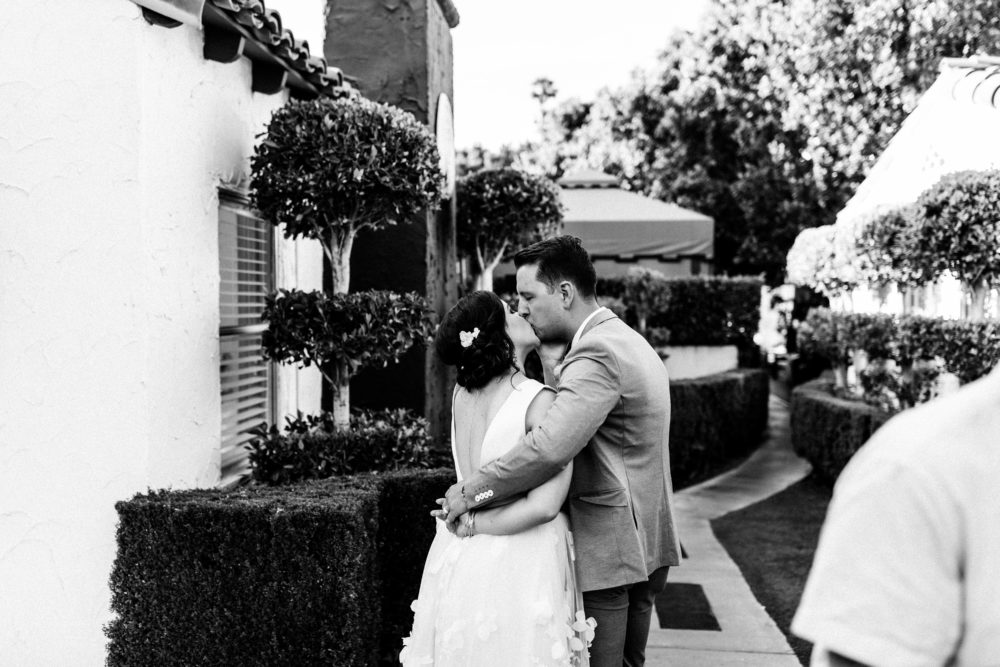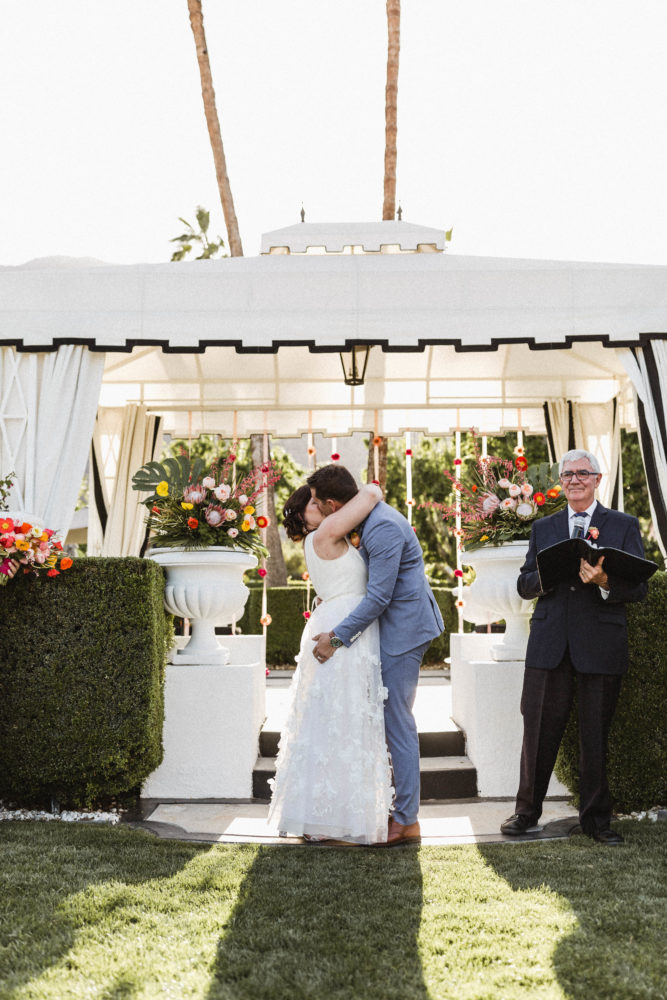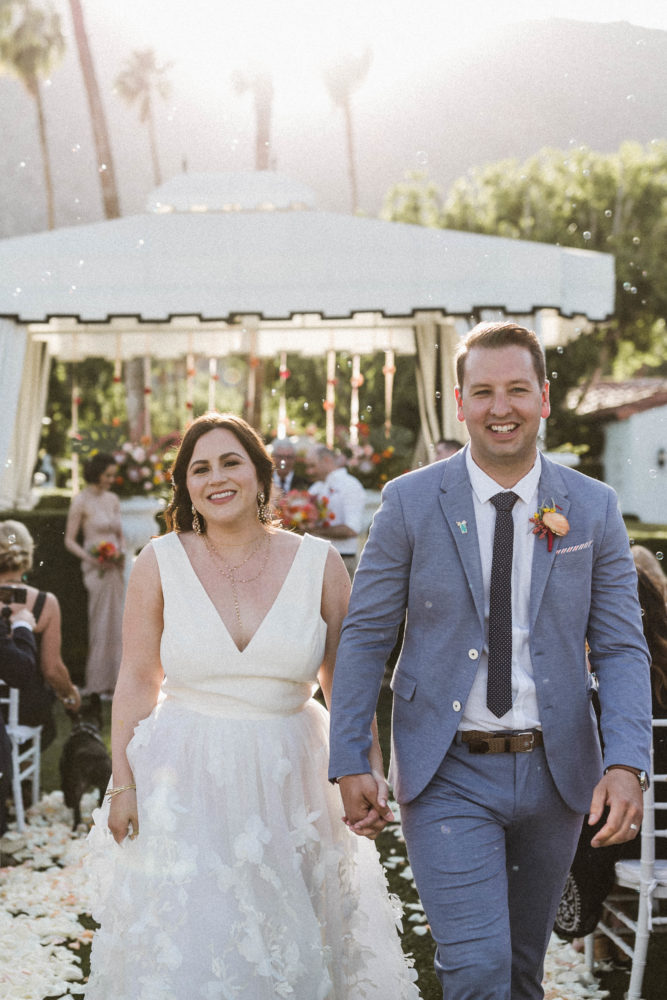 Afterwards we grabbed champagne, chatted with our guests for a few minutes and then went and shot with Sarah while people enjoyed the cocktail hour. The light was perfect, we were both in that post-wedded high and danced in the street. Can't wait to get a couple of those printed and framed. Just look at my bouquet! I wish I could have kept that forever, it was just gorgeous! I have no clue about anything with flowers and kinda gave Luna a horrible description of what I wanted, but she just showed up with an amazing, amazing bouquet!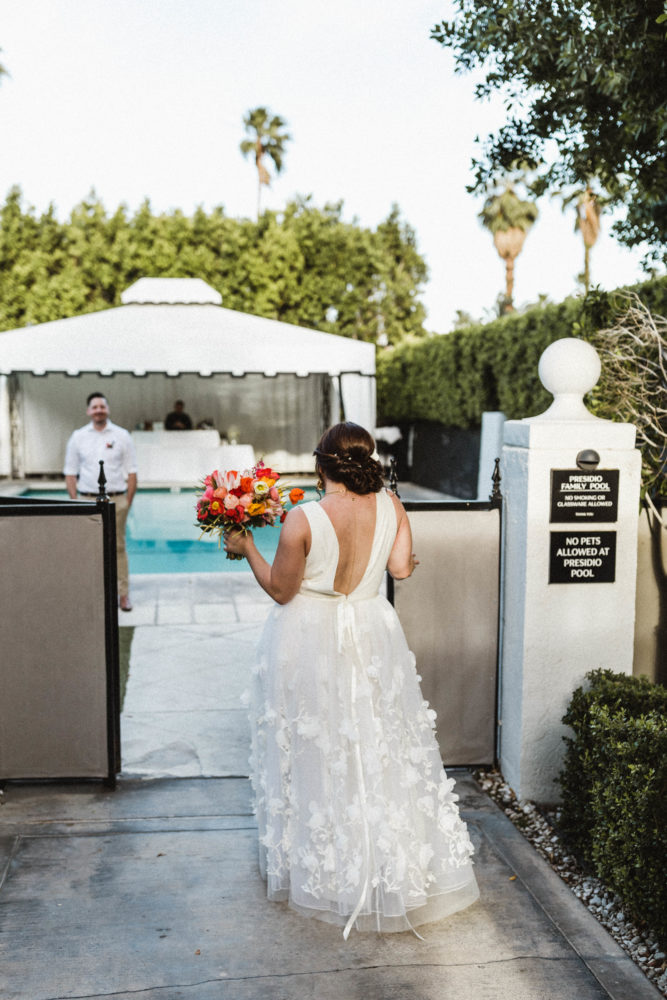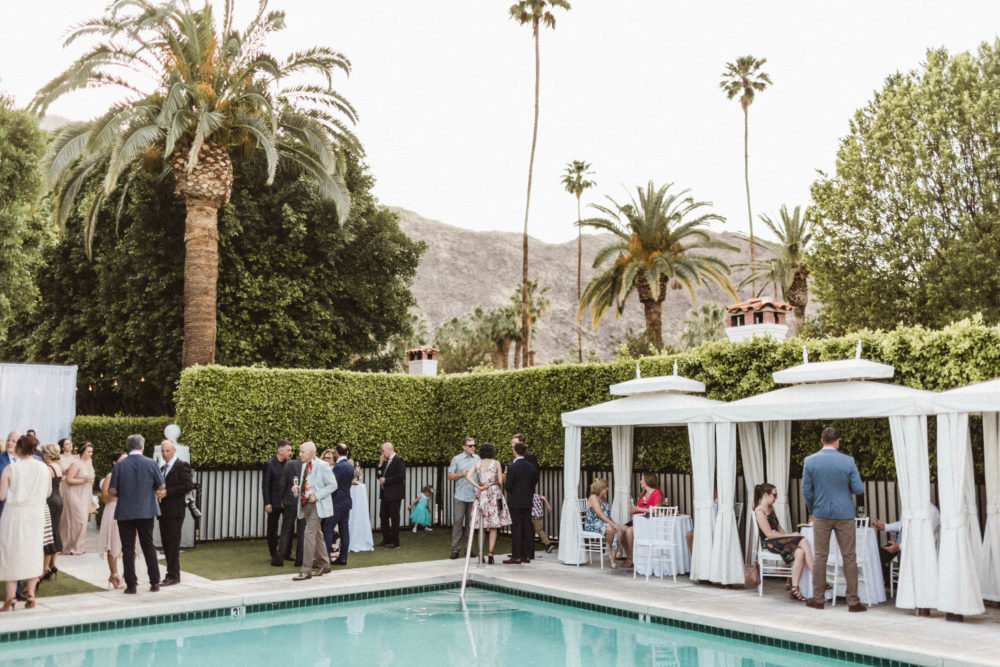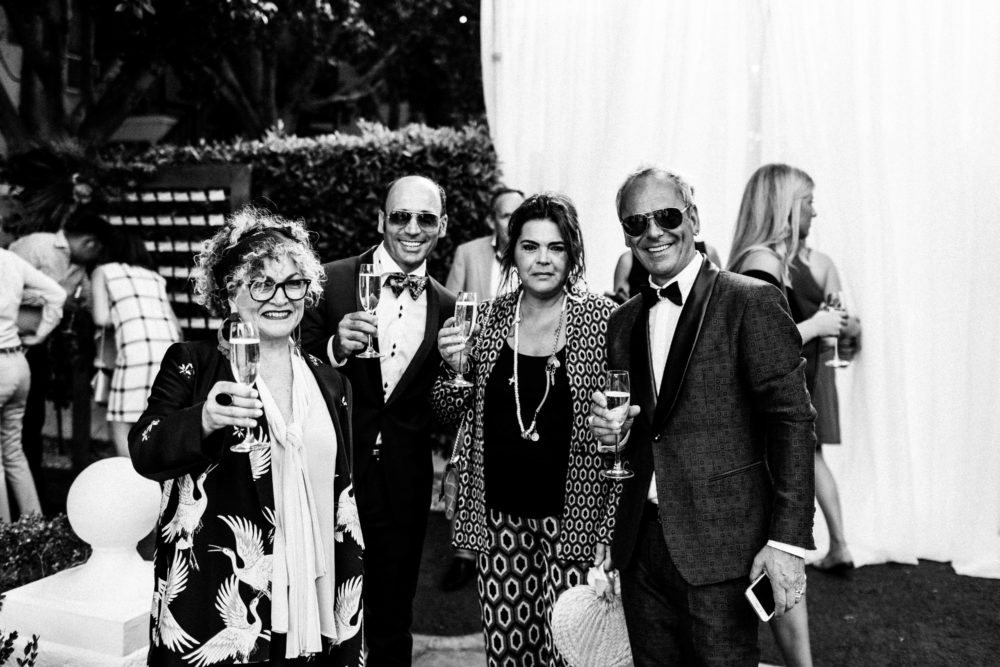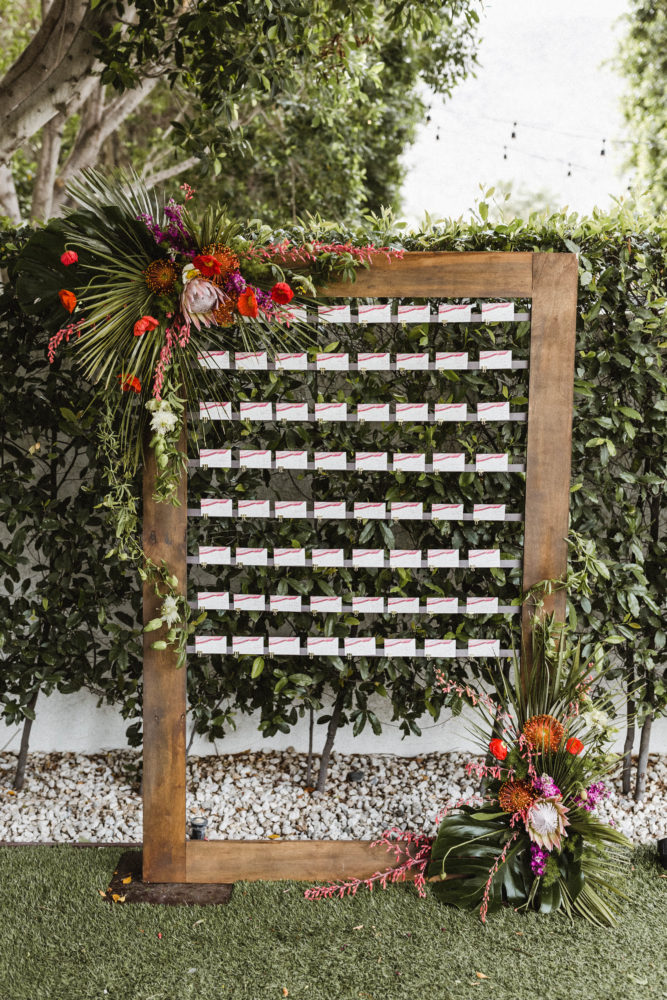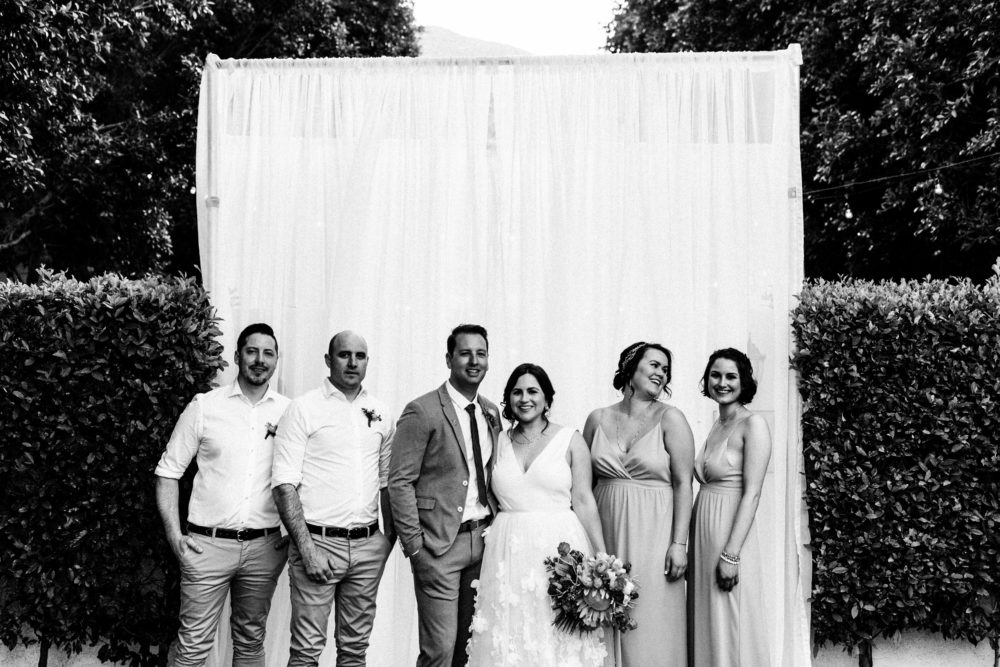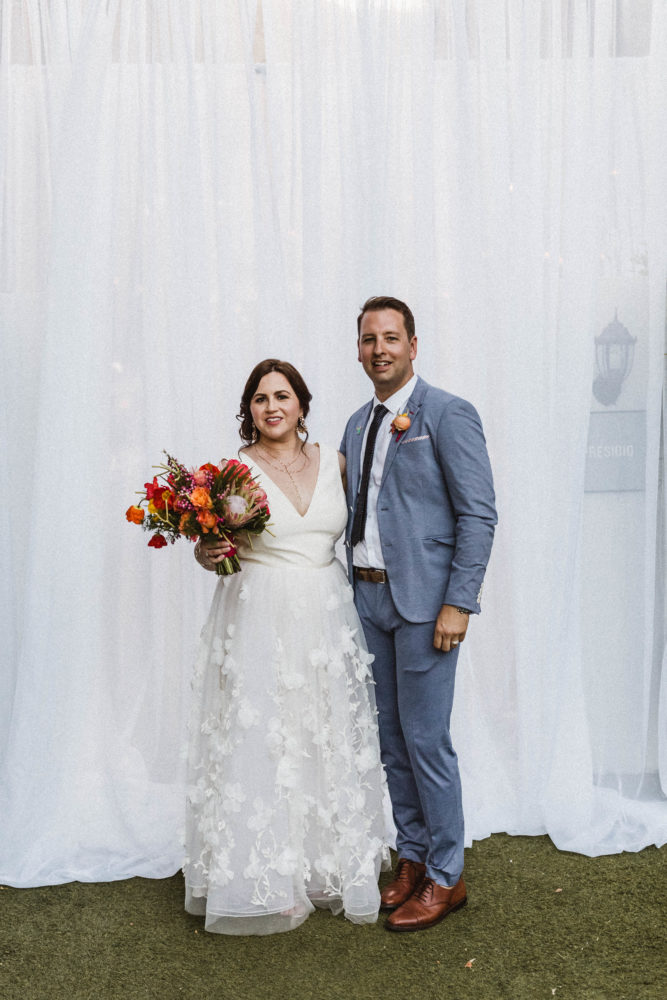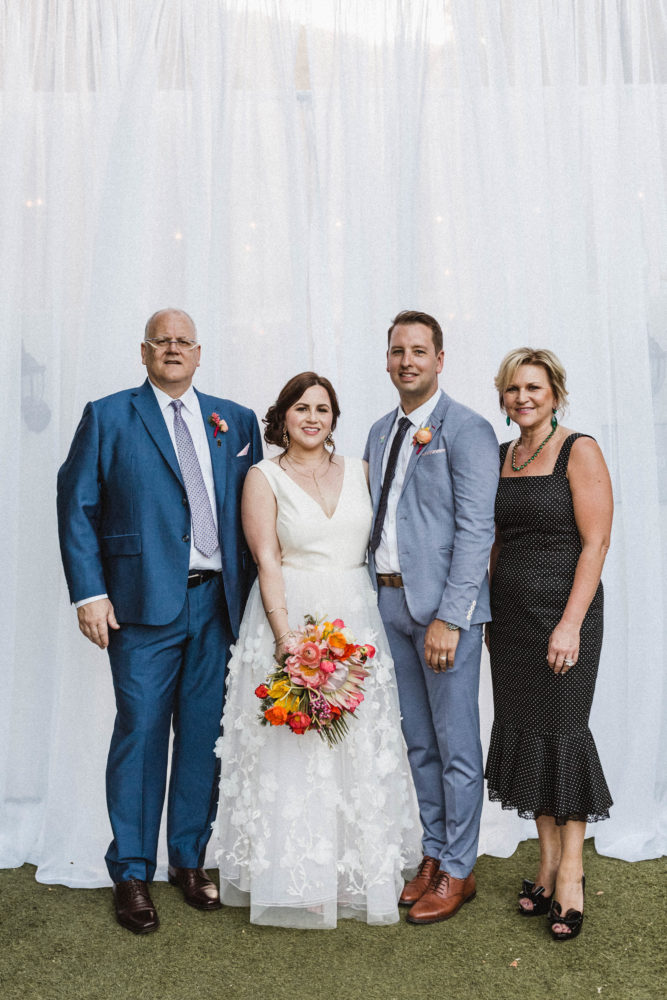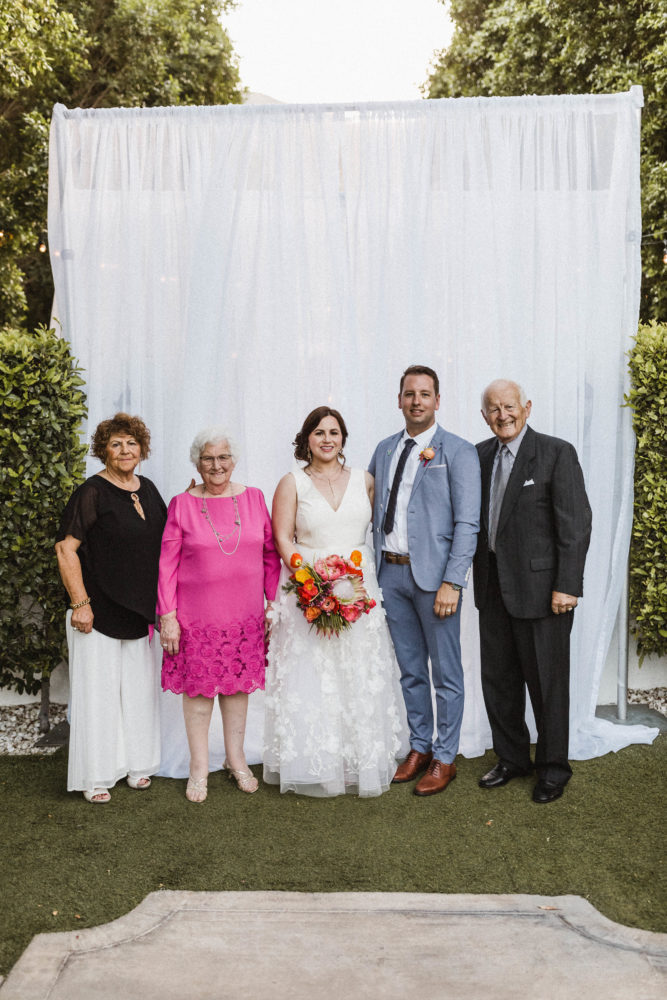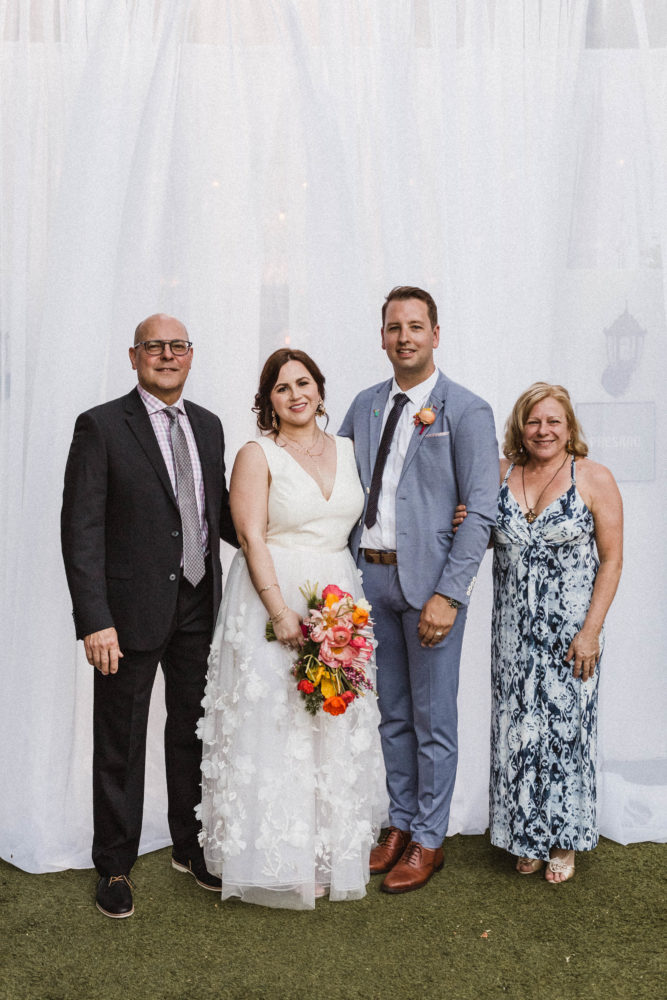 Our guests enjoyed cocktails, champagne and our hors d'oeuvres. Corn Esquites, Palm Sugar Glazed Pork Belly Skewer, Sesame Crusted Ahi were passed around. So delicious! I had ours saved for us at the table at reception, I don't fool around, I wanted the small bites I chose!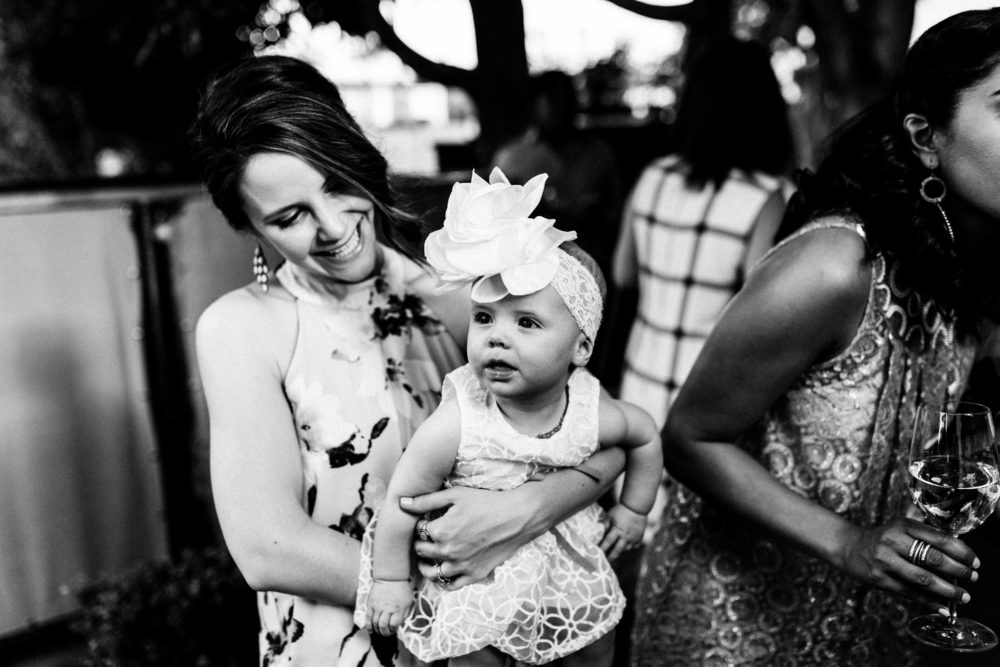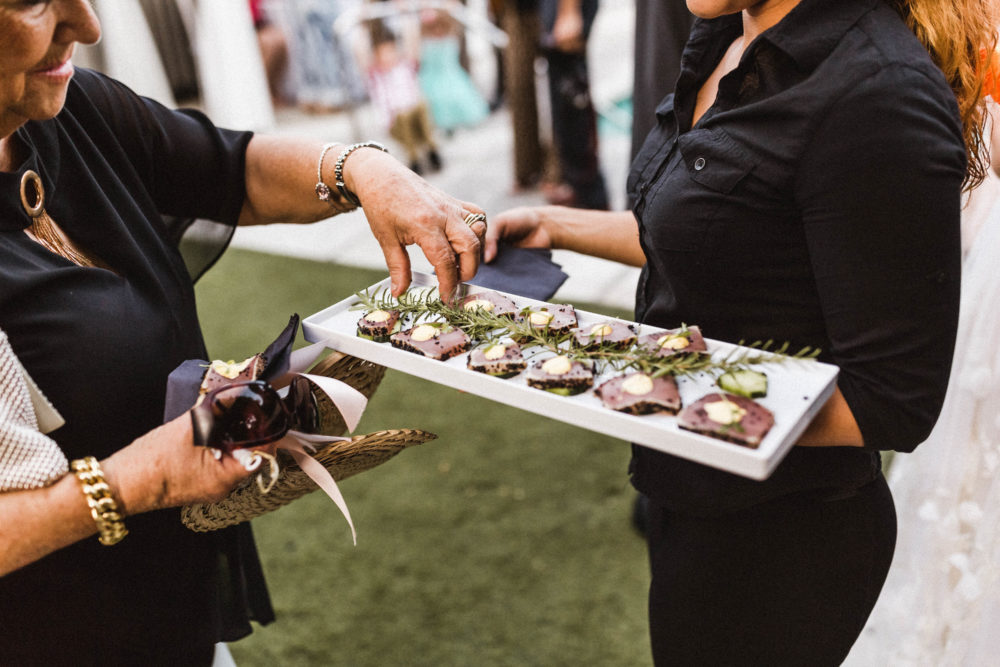 Our entrance into the reception was beautiful coming through the curtain to the lit area to Alabama Shakes "I Found You". Luna, our did an amazing job! It was everything we both could have asked for. We were both so grateful that our guests came from all over to celebrate with us! I even had cousins who flew in from Australia, who before the wedding, I have never met in my life. The power of Facebook! My family from Scotland, London, Italy, all of BC, our friends and Curtis family came down. In the end, it was such a fun group to celebrate with!
It was so hard to narrow down photos for these posts! OMG I just wish I could share alll of them. Hope you do enjoy the ones I did share of our Palm Springs wedding 🙂
All photos shared in this post are by Sarah Falugo. Please do not share these without her permission. I will share a post just of our personal photos and ones by our family and friends from the day later on. 
Stay tuned for our photoshoot and the reception next! Did you see the week before the wedding in last week's post? Part 1 of our Palm Springs wedding is here. I'll also be sharing later on, probably January, tips and what I did to prepare for our wedding. Let's just say Pinterest was a big part of the planning process.

Our Palm Springs Wedding Vendors and Details
Venue: The Avalon Hotel
Day-Of Coordinators/Event Styling: Lucky Day Events Co.
Photography: Sarah Falugo
Florals and Decor: Arrangements Floral and Party Design
Event Rentals: Signature Party Rentals
Officiant: Richard
Band: Lucky Devils Band
Cake: Over the Rainbow Desserts
Dress: Union Bridal – Alexandra Grecco
Hair Accessories: Luna Bea at Union Bridal
Earrings, Necklace and Bracelet: Oscar de la Renta, Lana Jewelry, Alexis Bittar
Shoes: Tabitha Simons
Makeup and Hair: Nancy Z Beauty
Floral Silk Robes: The Bay
Bridesmaids Dresses: Park and Fifth Clothing Co.