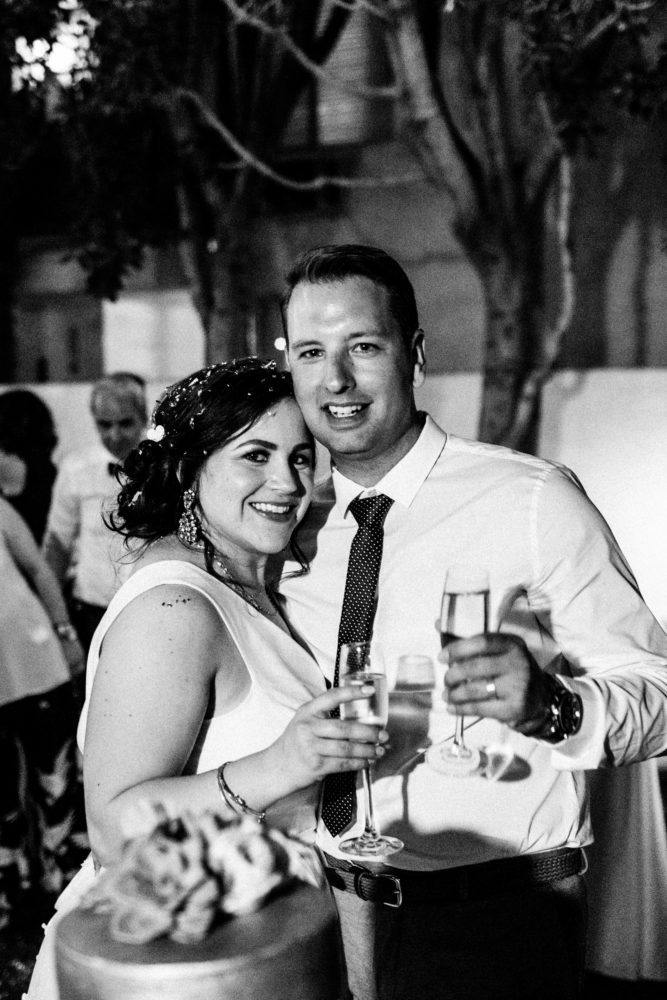 Here we are, nearing the end of our Palm Springs wedding series. The reception! The part of the night where we all have fun, eating, drinking, dancing and chatting away.
We entered the space after cocktail hour to our guests and the song "I found you" by Alabama Shakes. I loved that we were able to do everything outdoors! From our ceremony to the reception, and not have to worry about weather or bugs. Noone needed to wear a sweater or coat, and no mosquito spray was required. It was perfect~! If you can, or looking for a fun destination wedding, I highly suggesting having a Palm Springs wedding. Besides having an outdoor ceremony and reception, you and your guests will have a relaxing, fun time in the city! Tiki bars, trips to Joshua Tree, pool hangs, mid-century everything and those desert sunsets.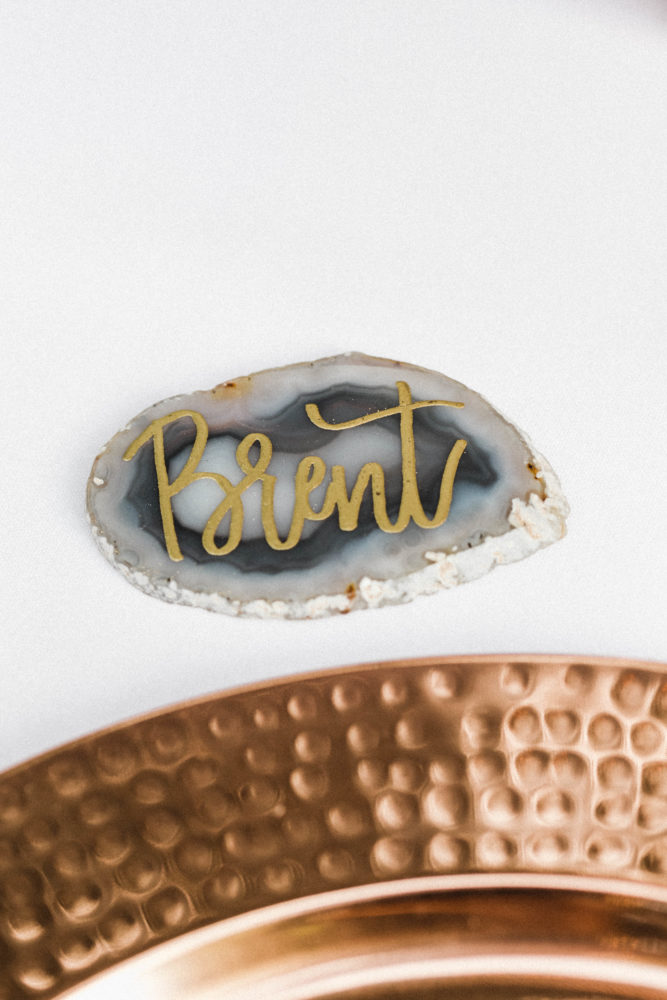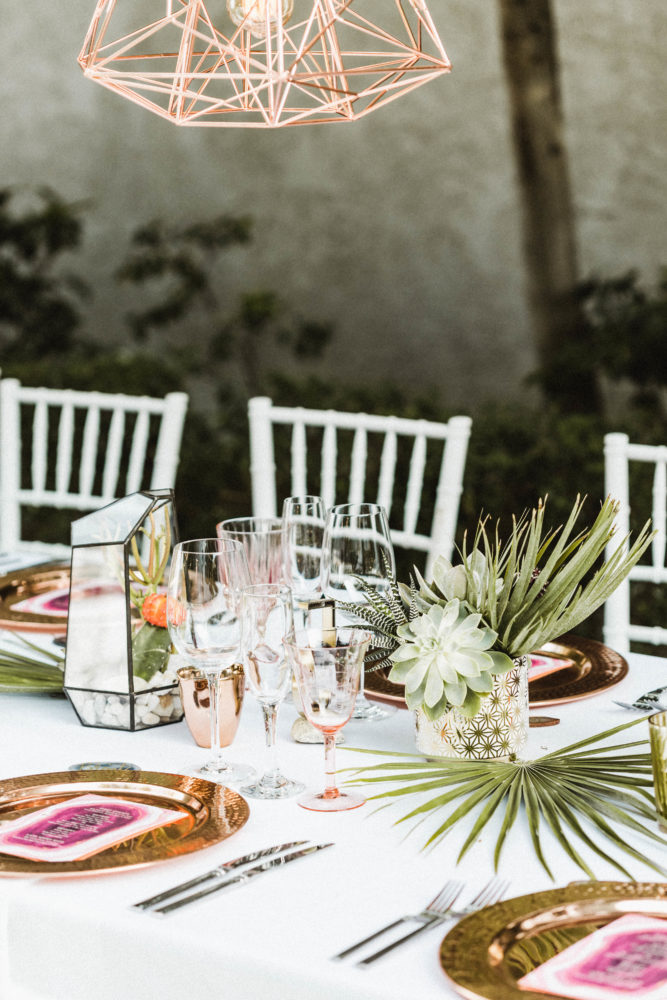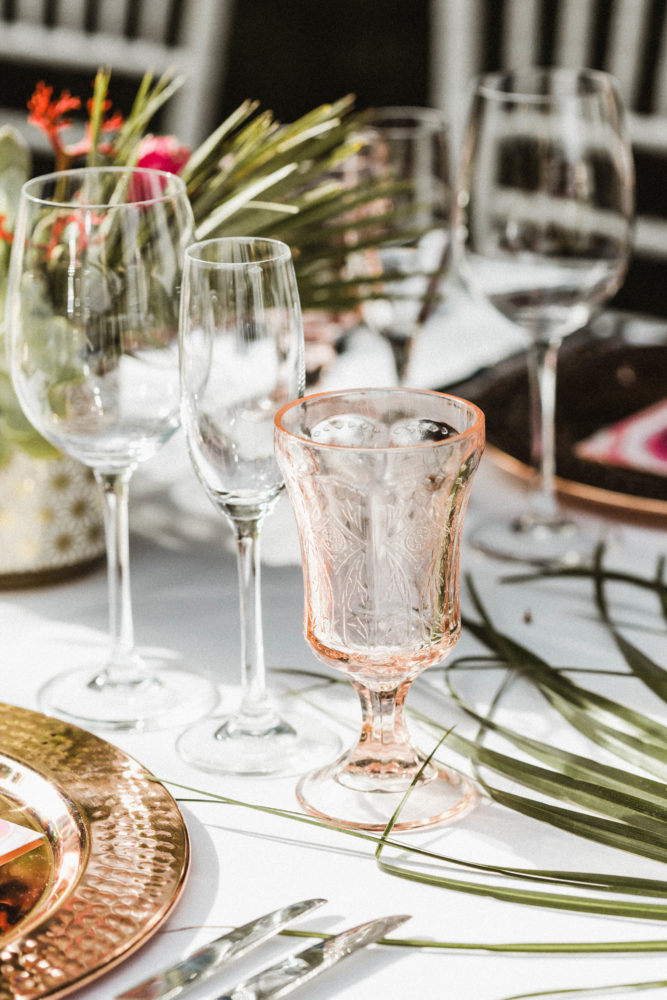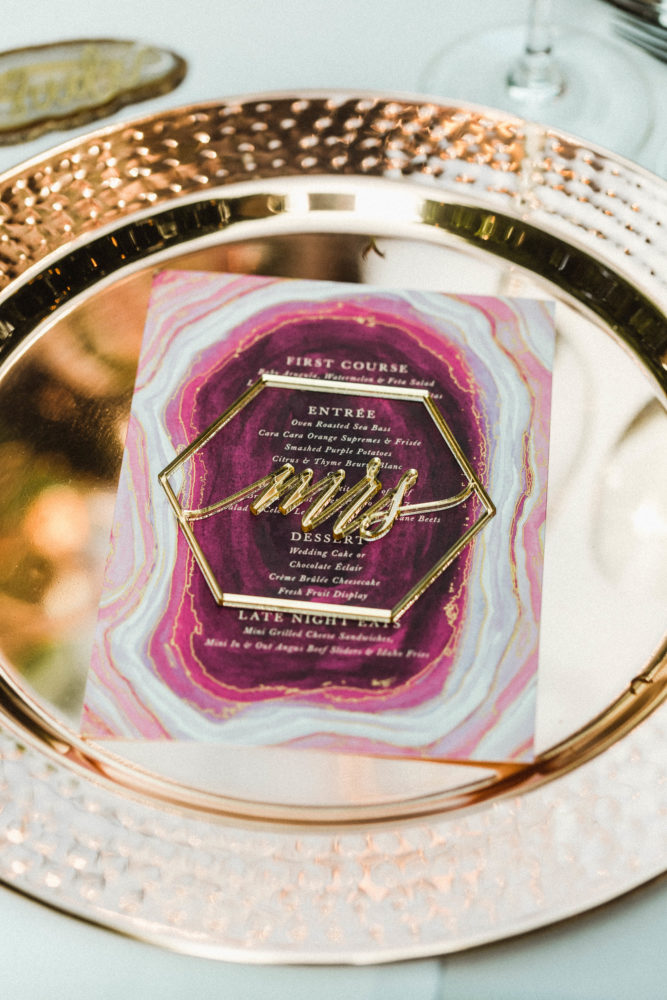 The décor was gorgeous, Luna did such a fantastic job! I love the use of the floral to the rose gold accessories and our menus (I take credit for those haha). The pendant lighting and the string lights just really made the space pop. We were both so pleased.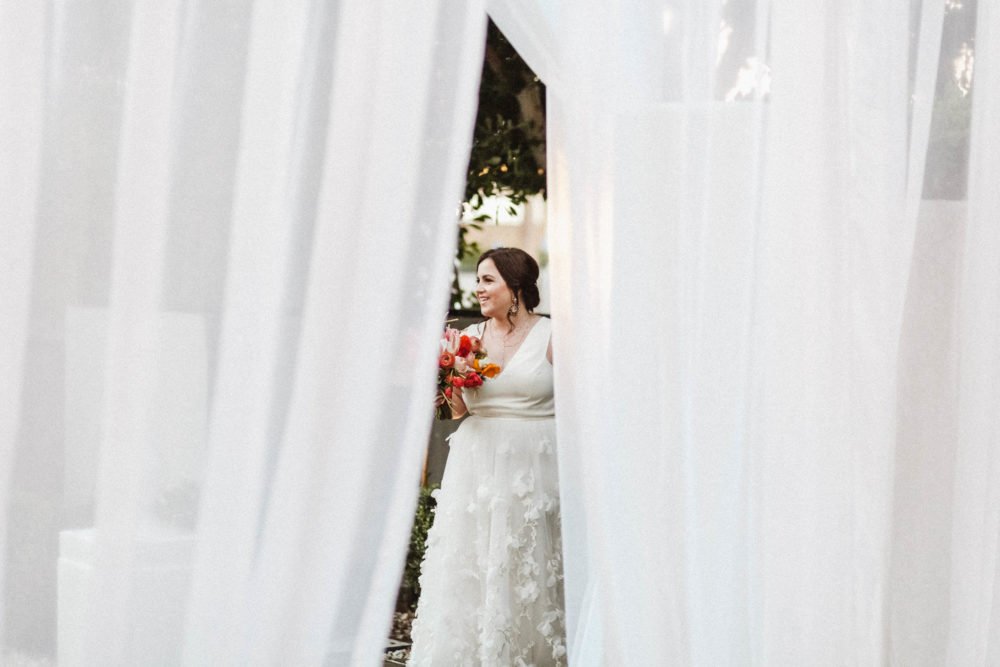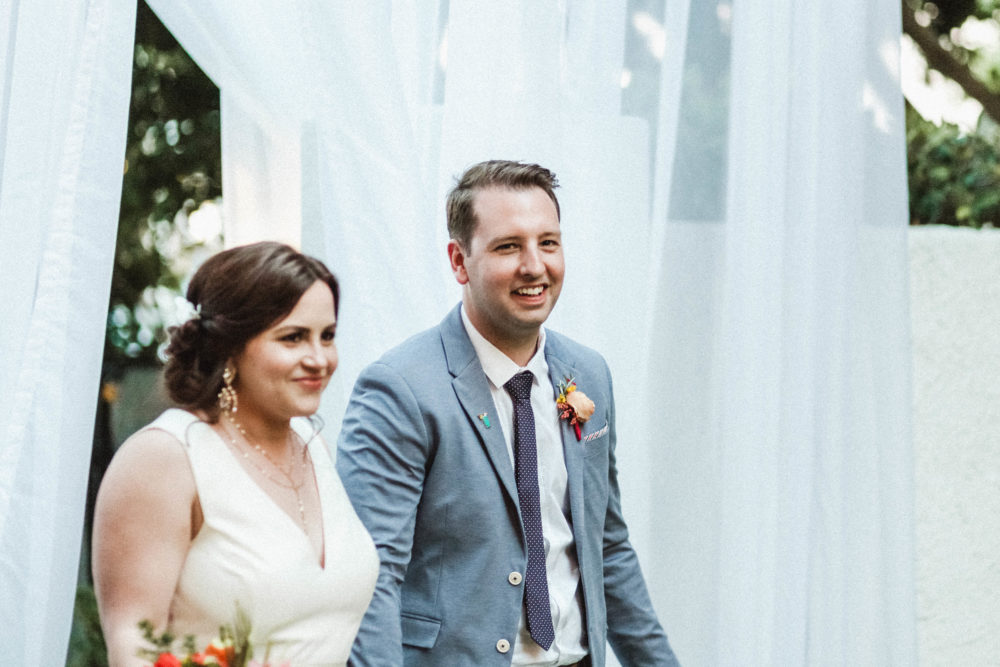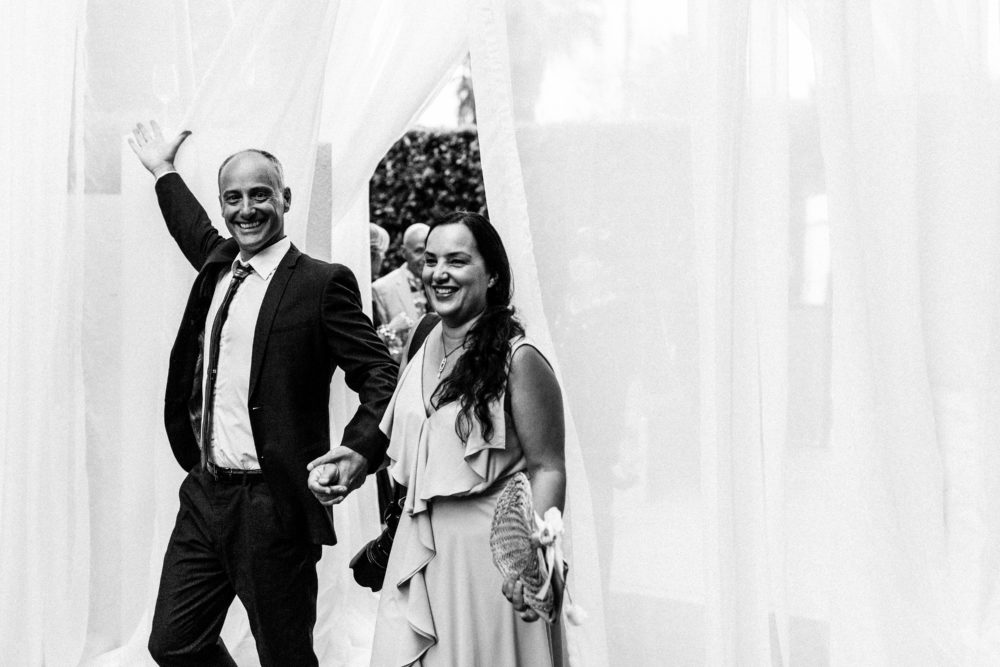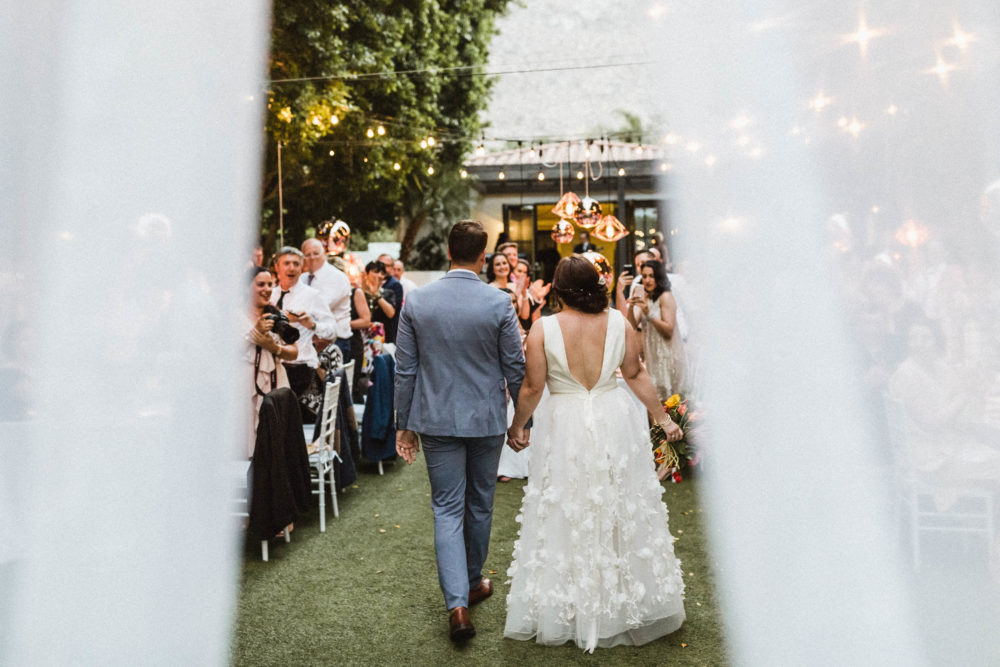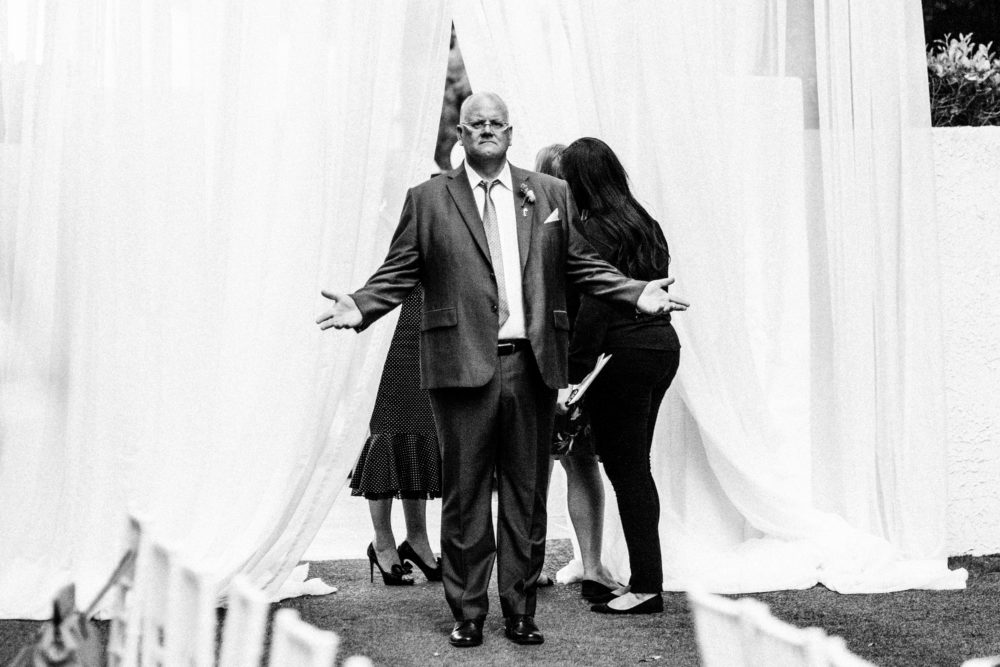 During dinner, the guitarist played a little instrumental jazz and such in the background. A table broke out to "Sweet Caroline" and everyone ended up singing along with the wave going. so much fun!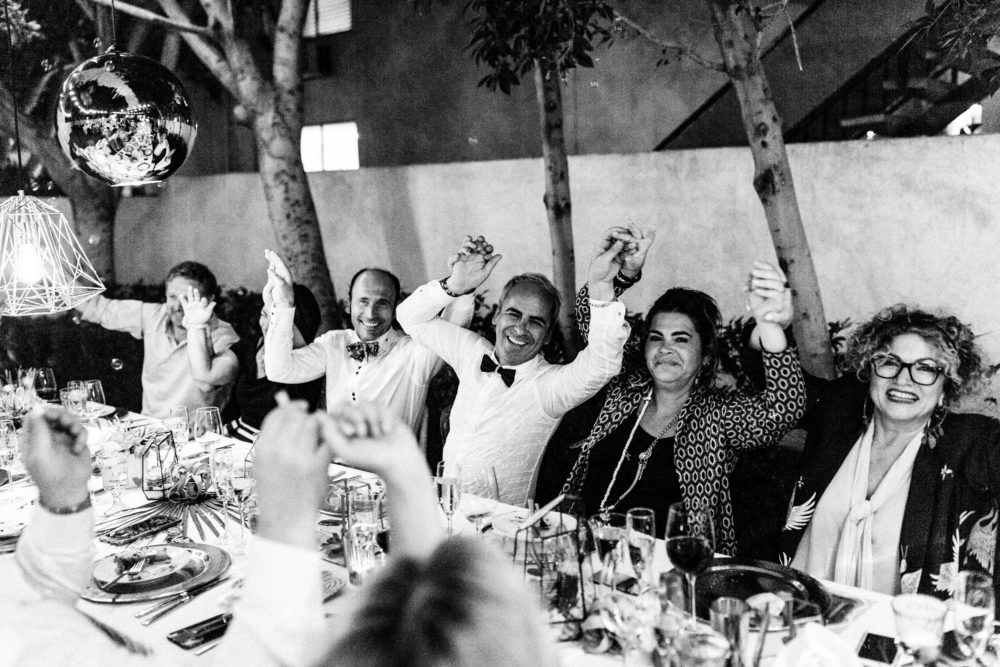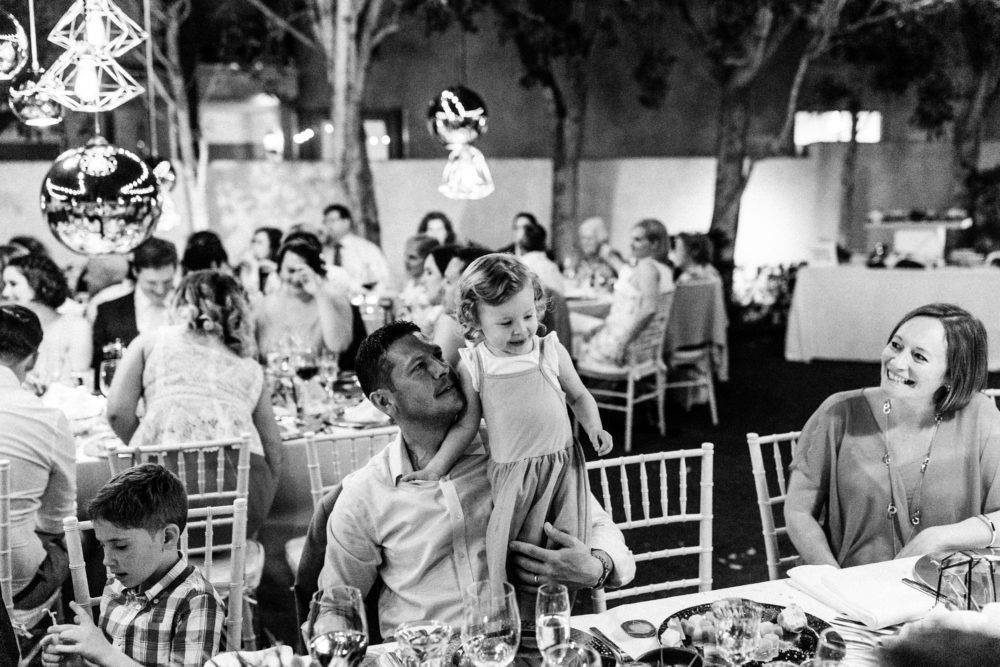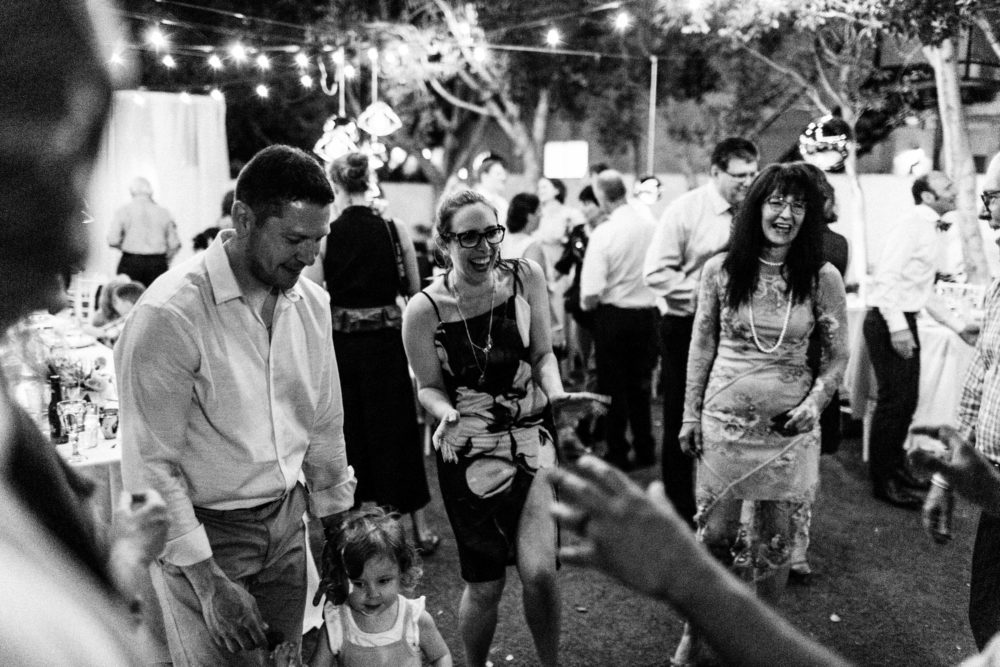 Speeches were made by my brother, sister, mother, father and the best man. Curtis cannot handle public speaking so he chickened out on his speech. Instead he went around to each person and personally thanked them. I would have preferred a little something in my direction, a declaration of his love haha but oh well.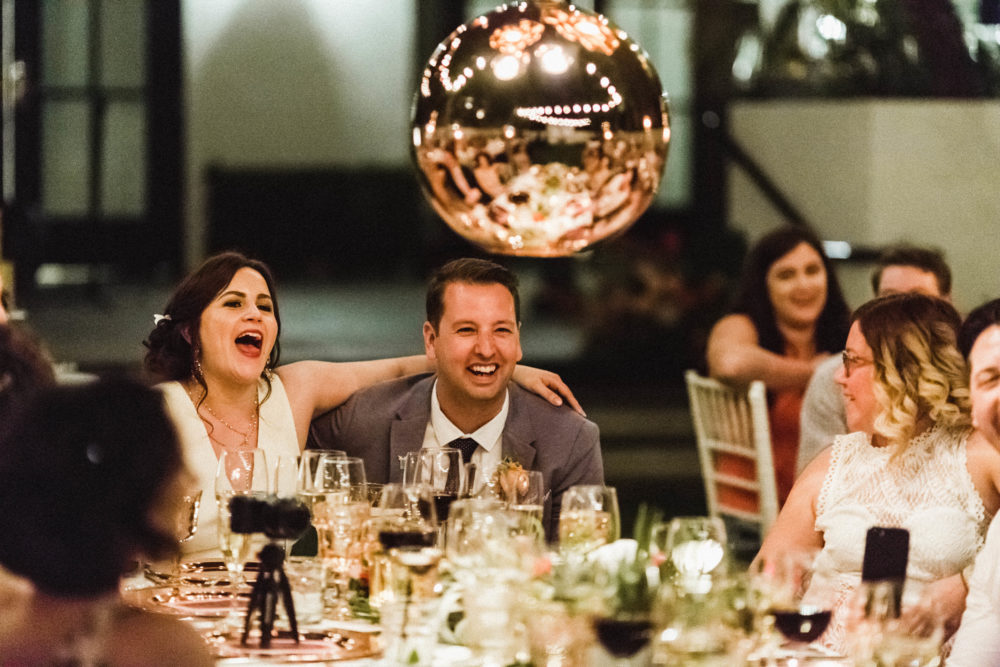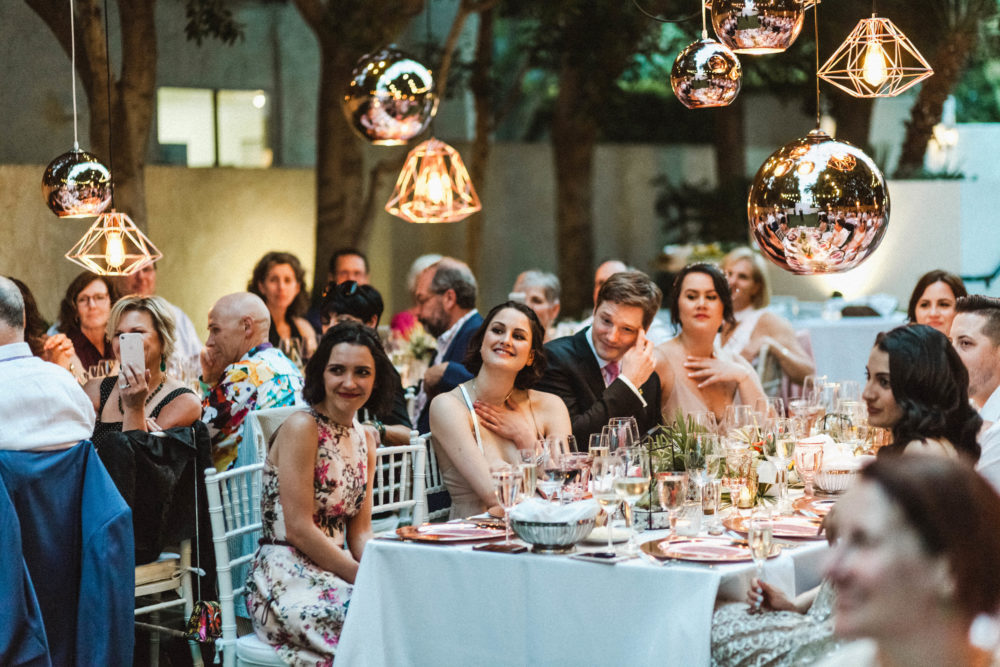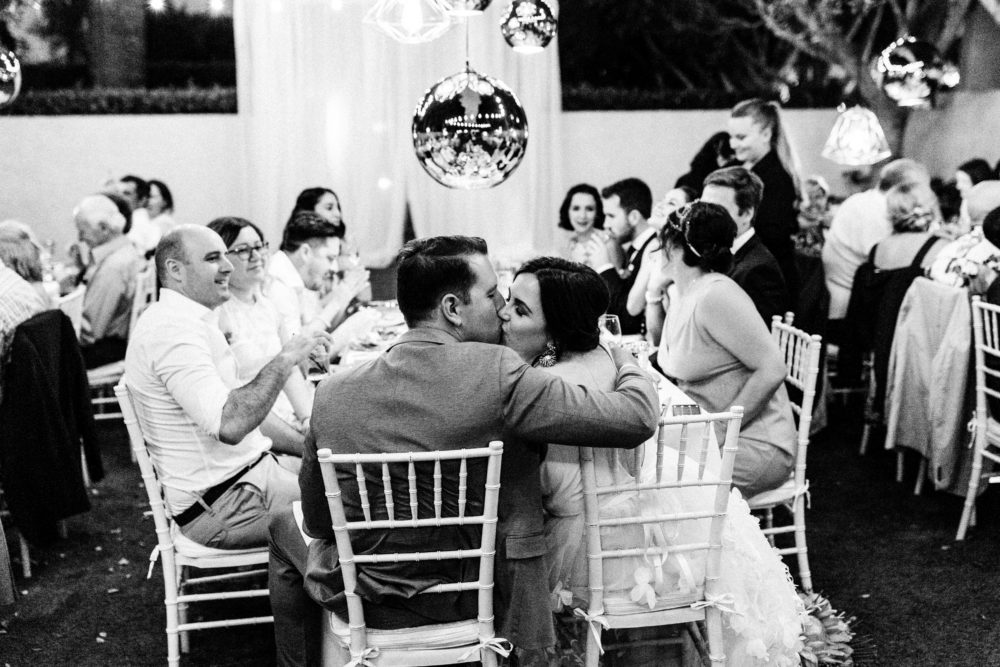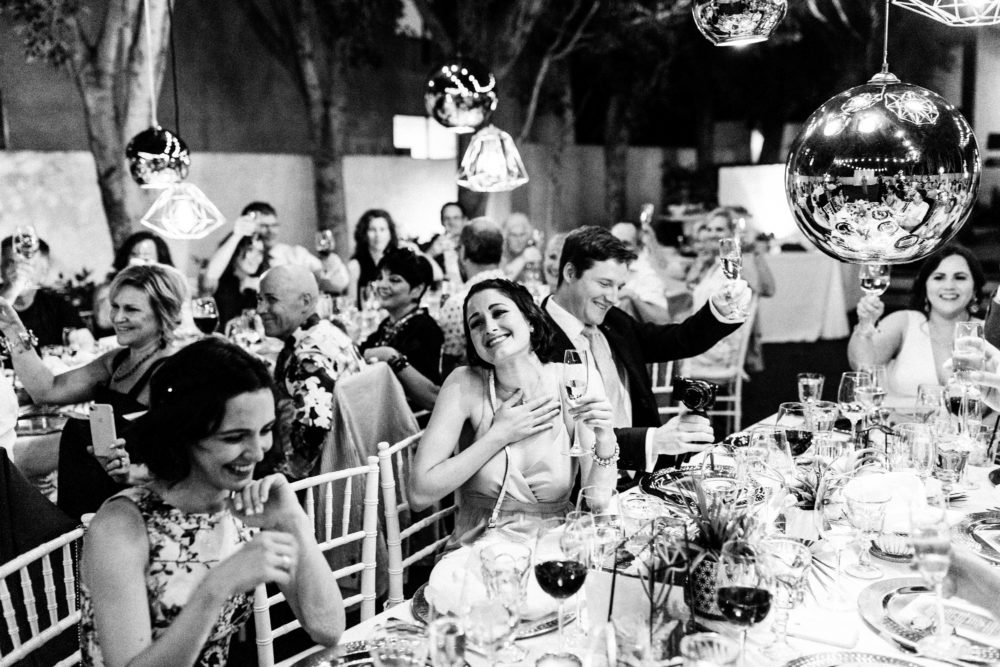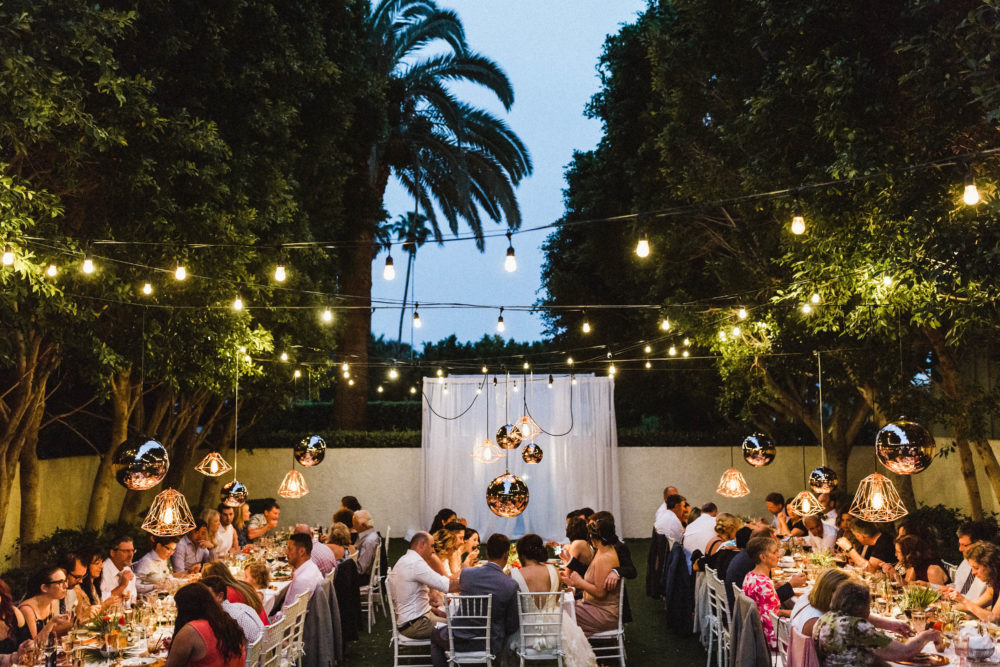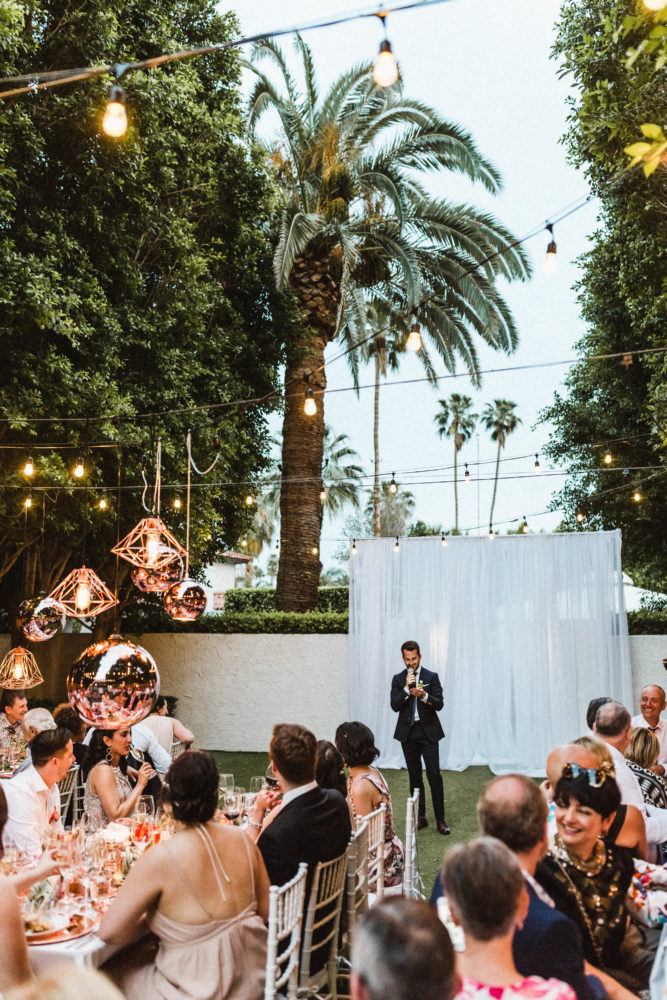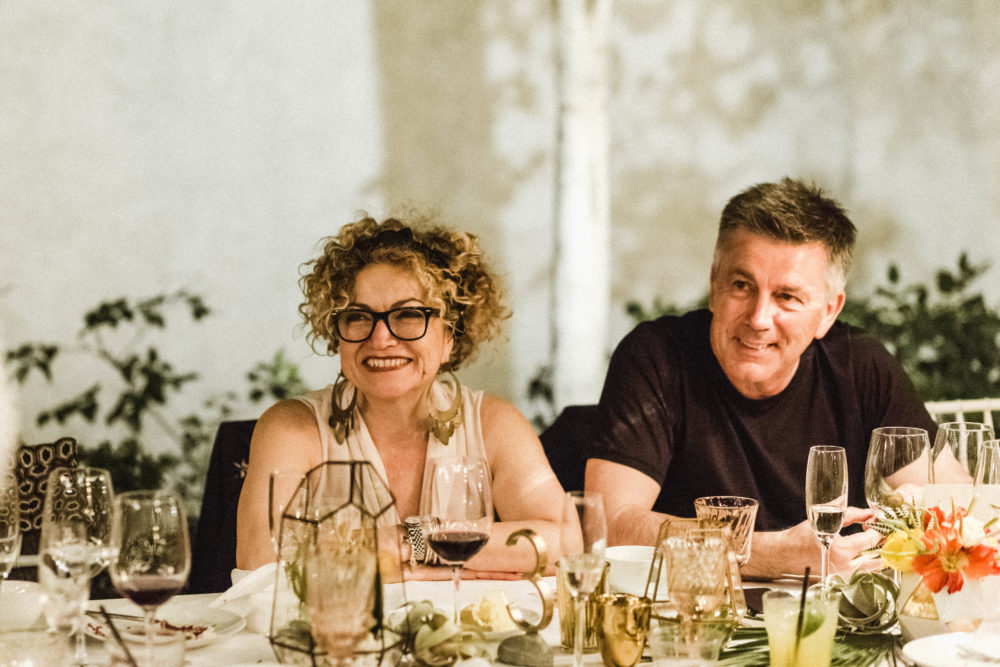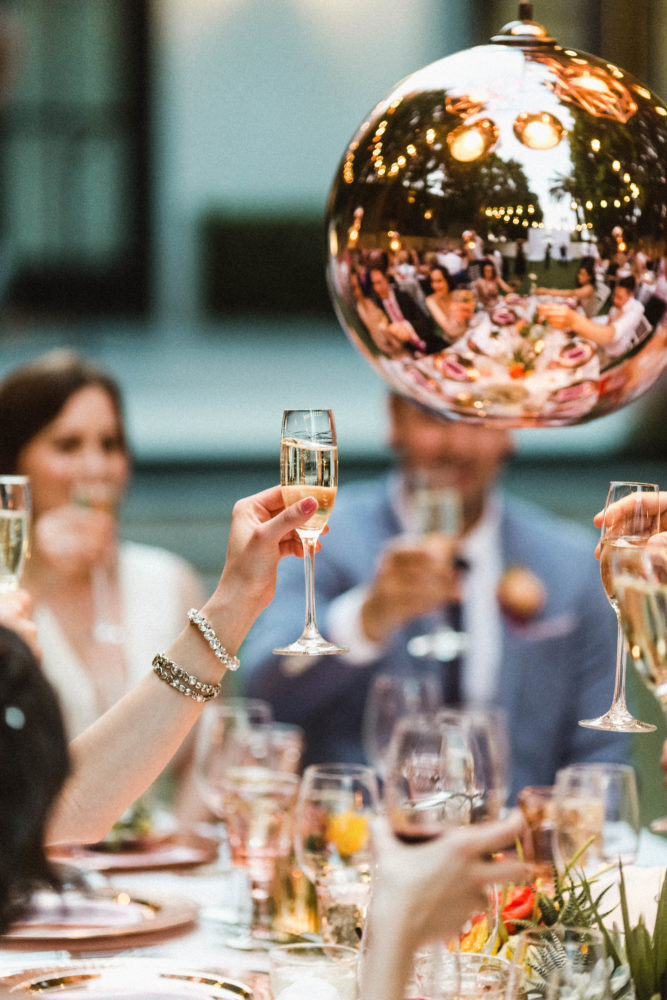 Dinner was delish! We served up feta and watermelon salad to start, the mains were oven-roasted sea bass (cara cara oranges and frisee salad, smashed purple potatoes and a citrus and thyme beurre blanc) or boursin topped petite filet of beef (braised carrots, beet, potato and au jus with salad of raw candy can beets and celery leaves) along with a mezze platter (hummus, tapenade, baba gannoush etc) and late night eats. One mishap occurred that the server spilled Curtis's dish on him, not the whole dish, but the juices from the steak. Thankfully our wedding coordinators had the bag for any mishap! First dances started to occur and we danced to "California Stars" by Billy Bragg & Wilco  I then danced with my dad to "When you need me" by Bruce Springsteen and then everyone started to get onto the "dance floor".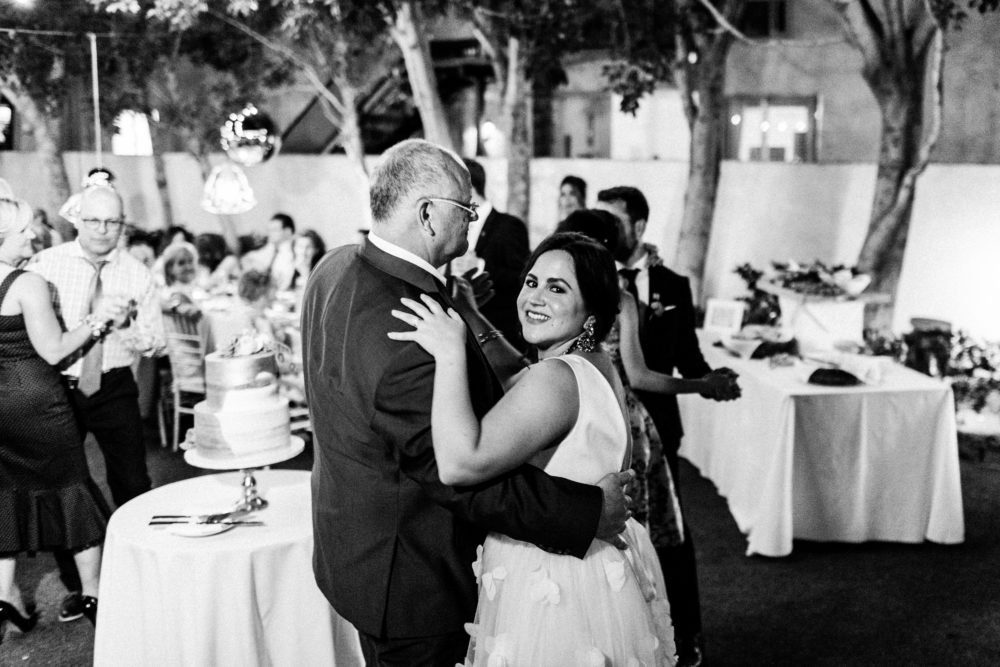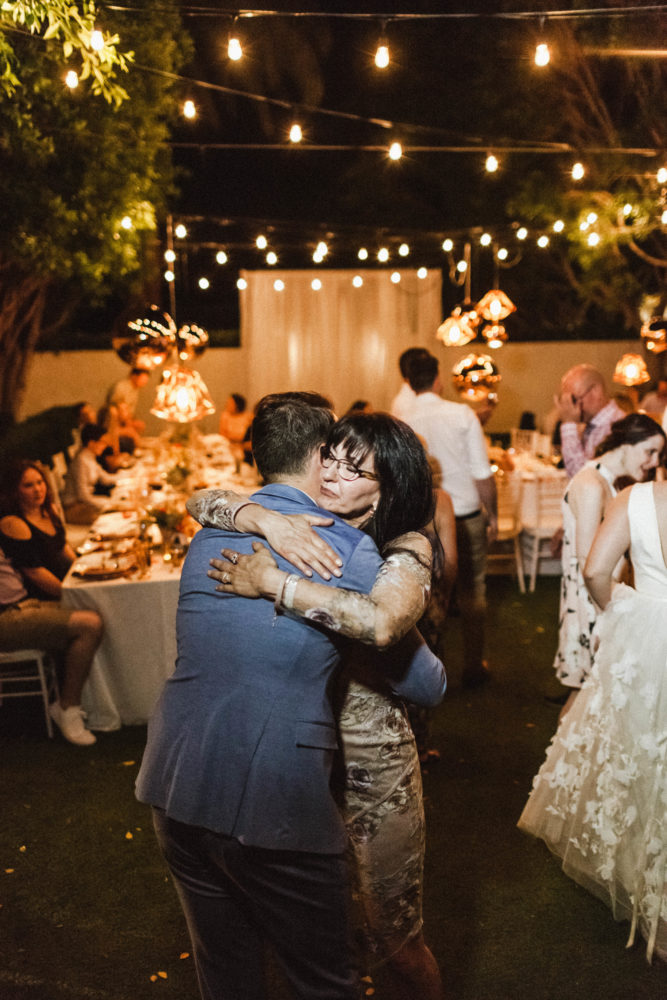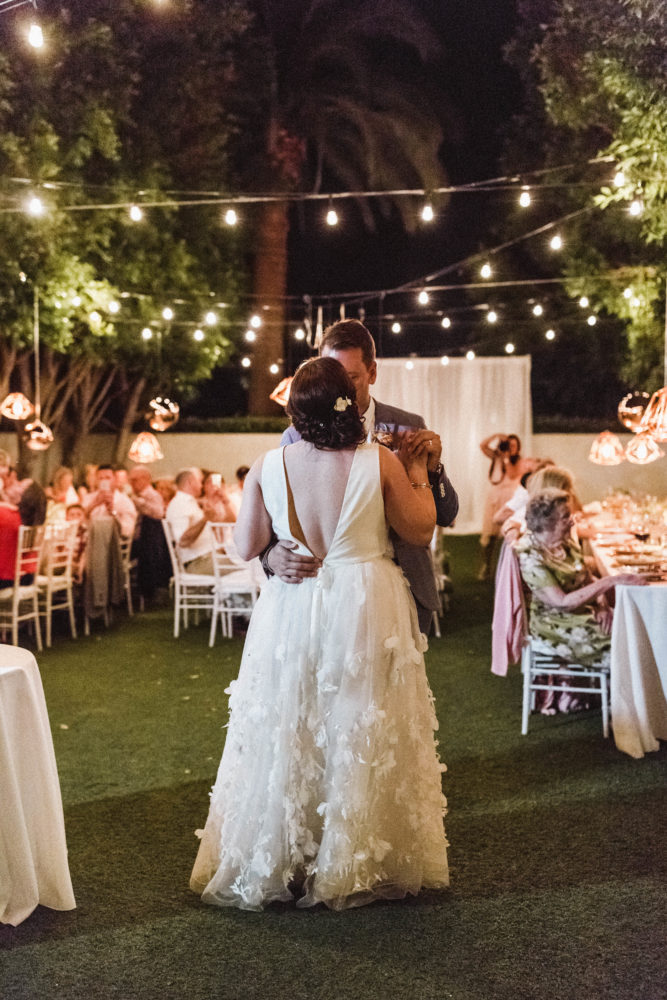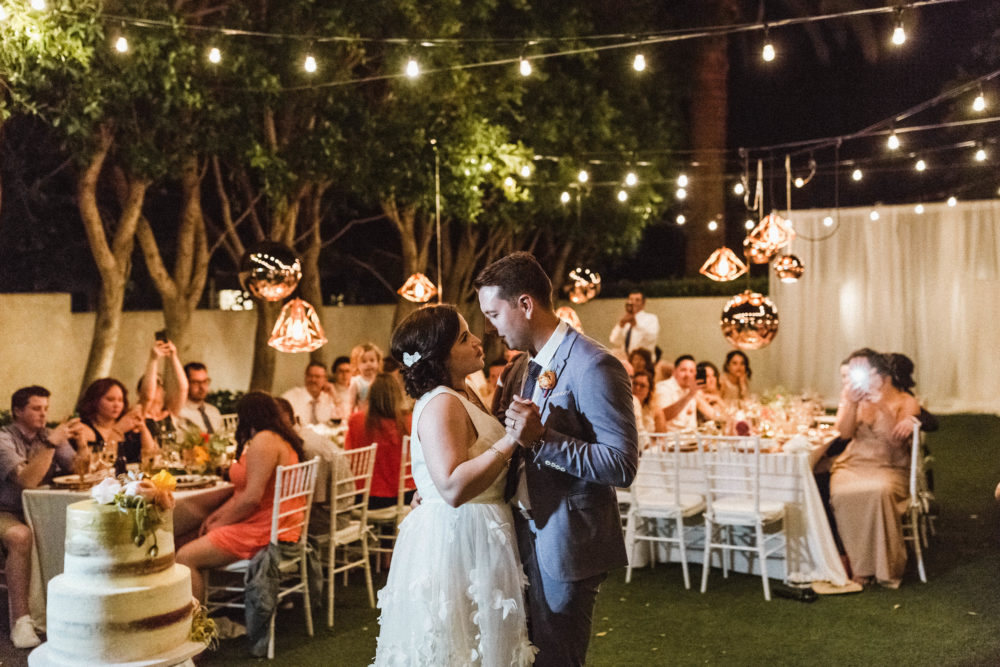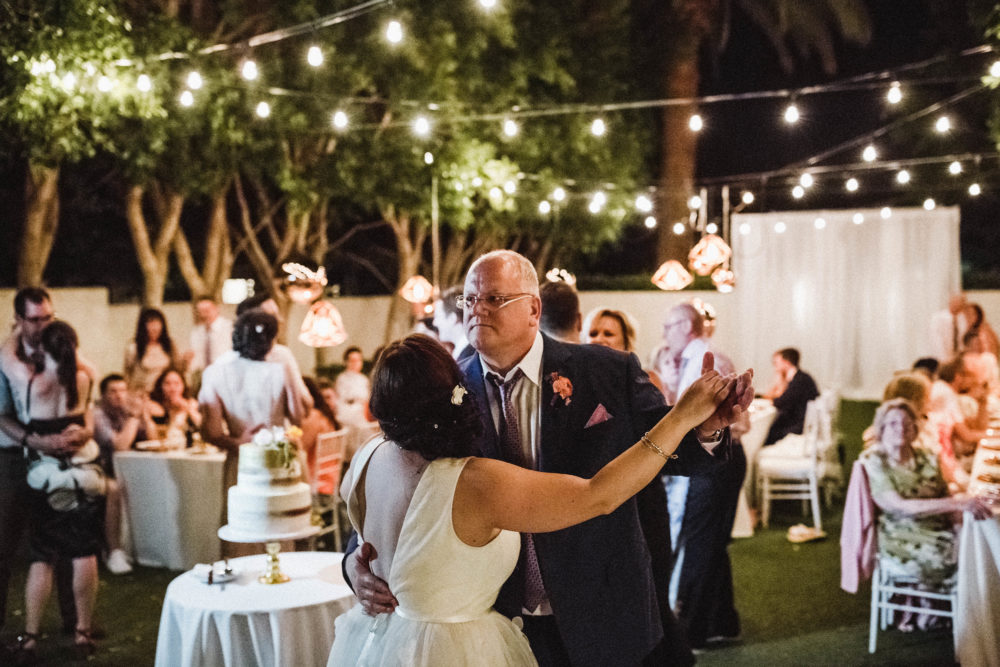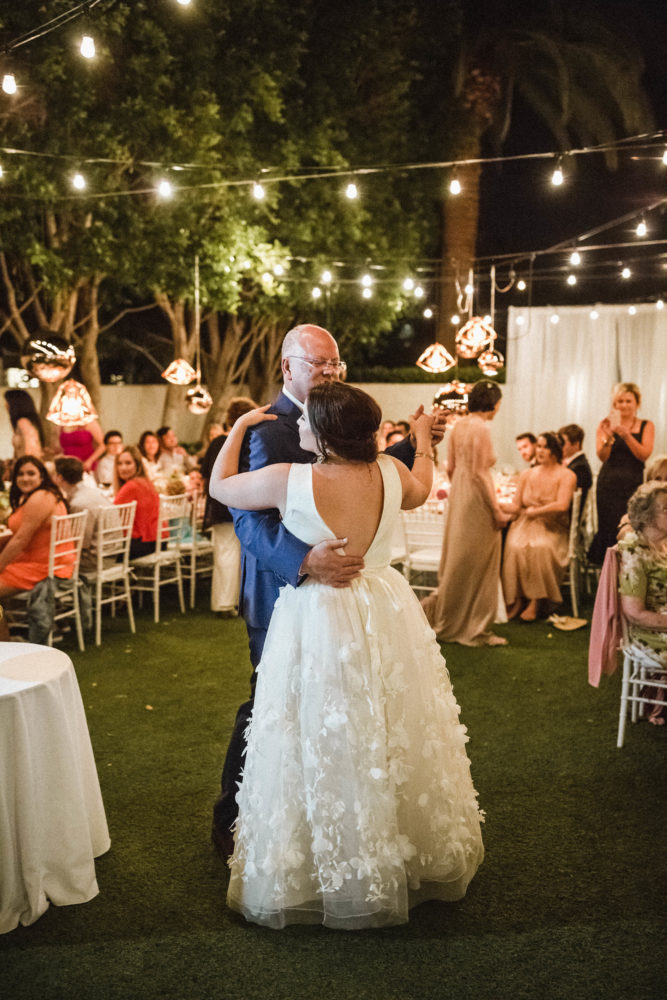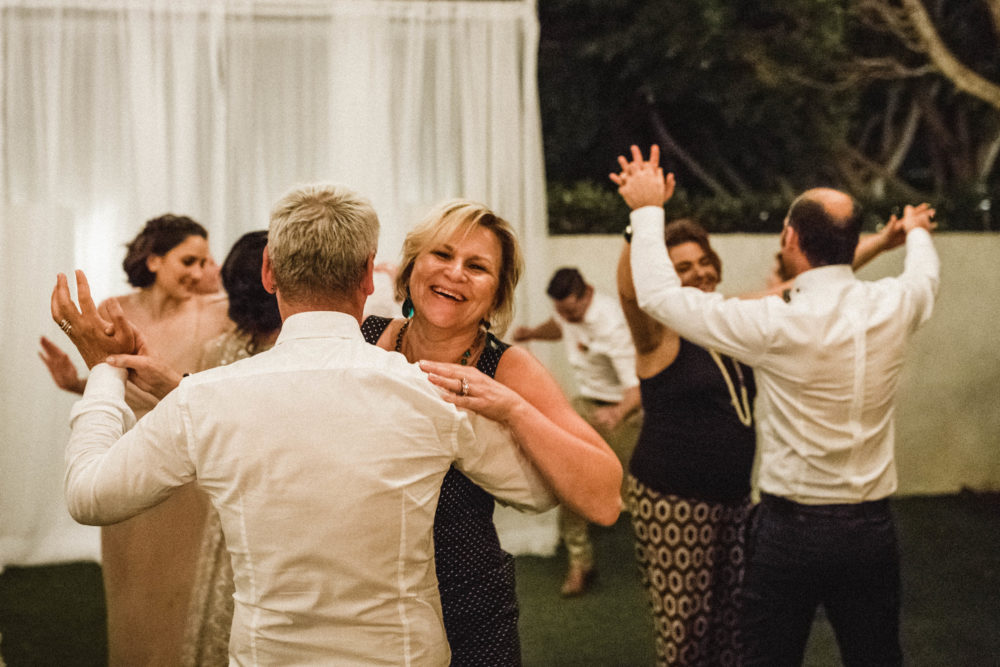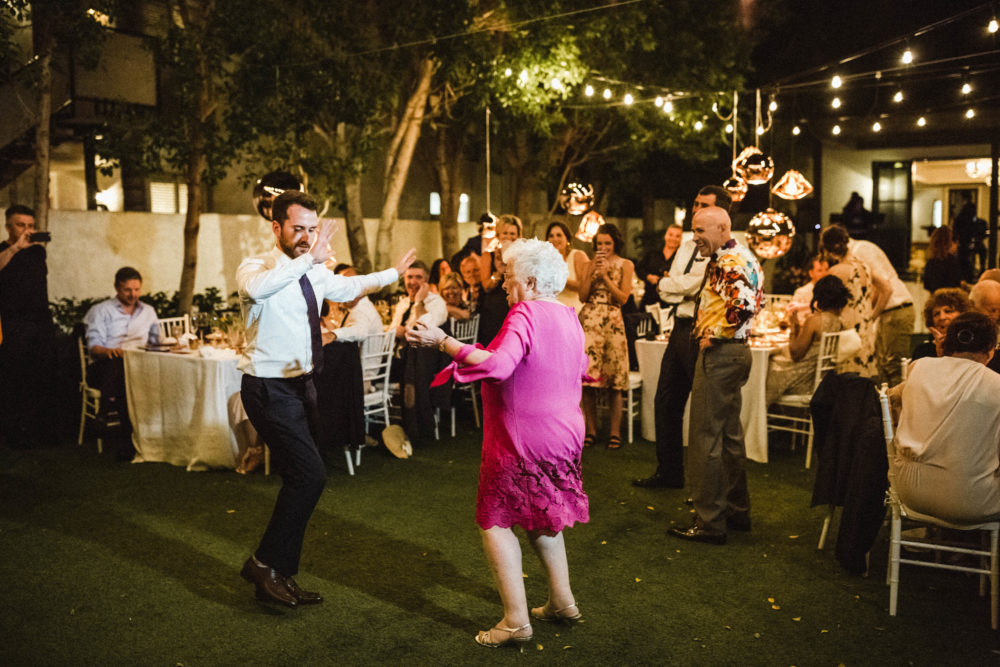 Then cake! We got ours from Over the Rainbow Desserts. We had one layer Red Velvet and another Lemon. Both were so yummy, except I wasn't finished mine but the wait staff were too efficient. So efficient, we didn't have any cake to take back to the house (insert eye roll here) Still bitter about that! But we did also snack on éclairs, cheesecake, fresh fruit from the dessert table.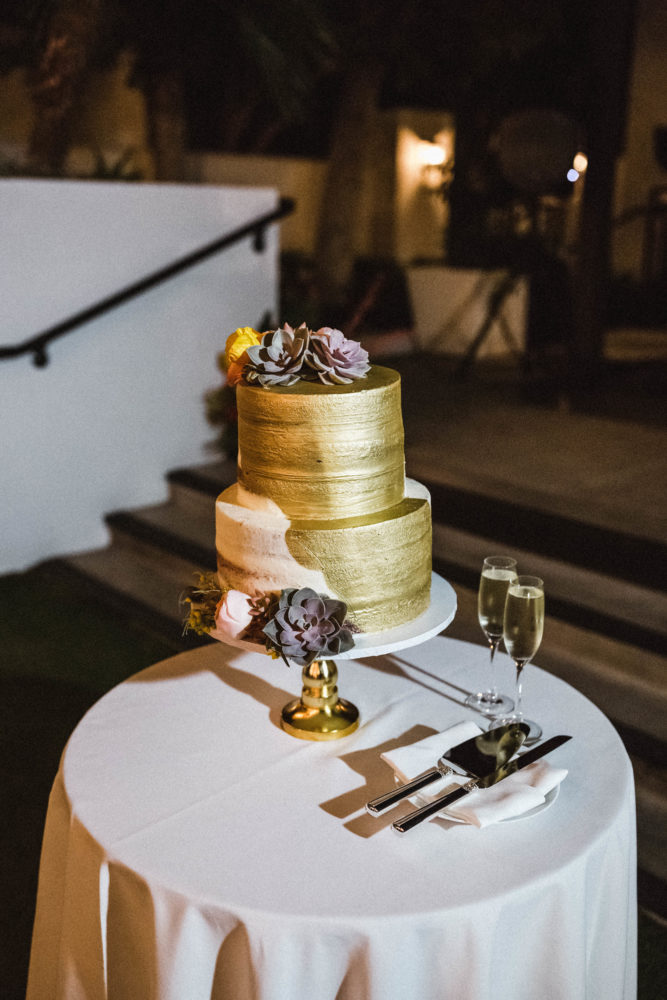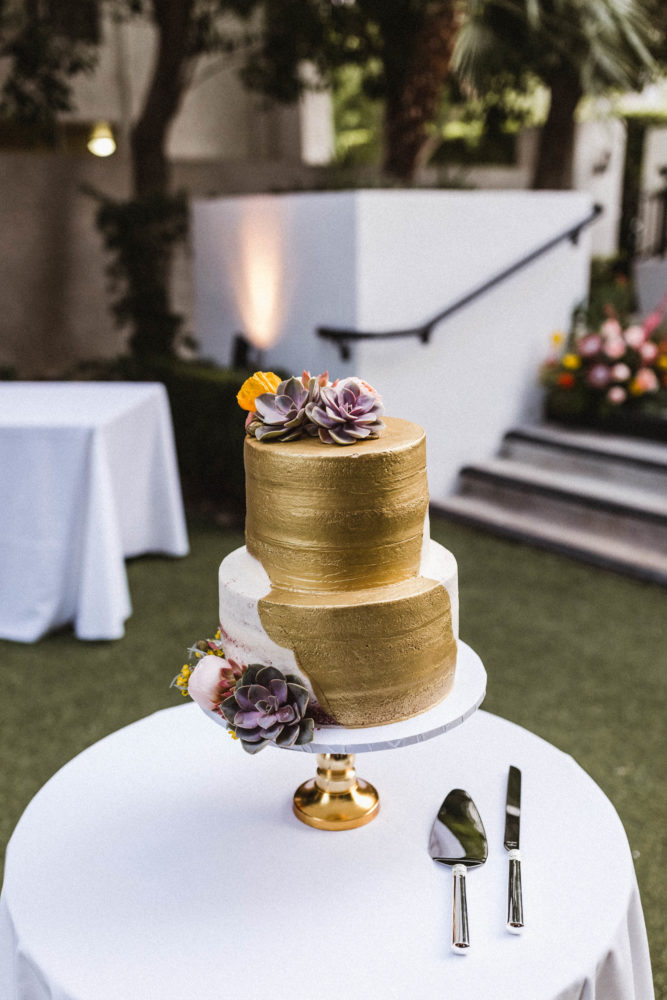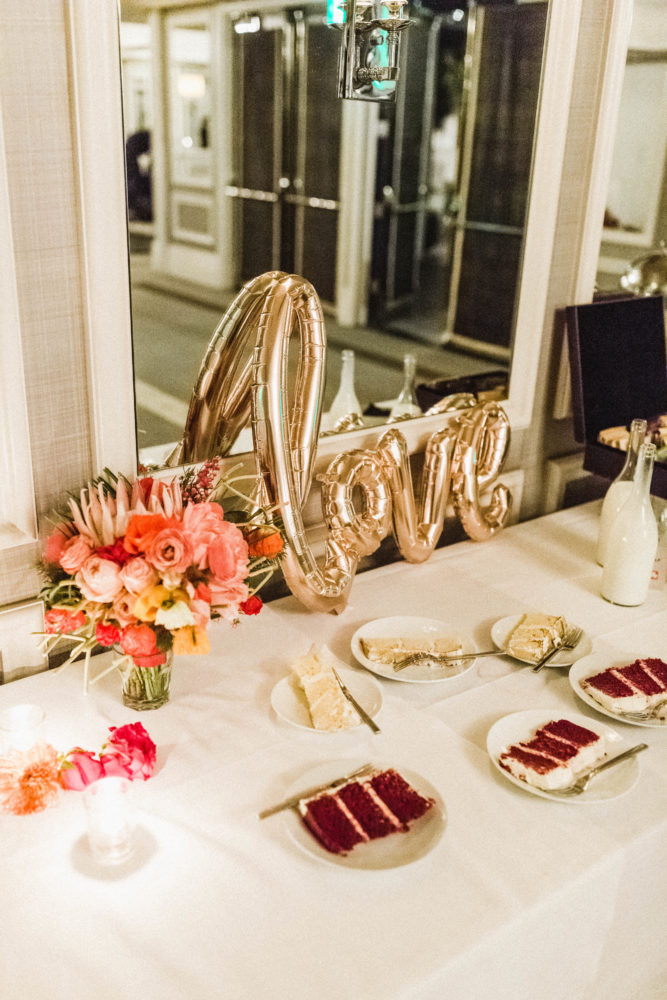 My sister popped confetti out when we were cutting cake to "Dancing in the Moonlight". And once cake was served and some mingling commenced, we moved the dancing into the ballroom. Guests were still able to hang out in the courtyard area and the bar was right outside with couches etc to sit at. I think I danced until the band stopped. My nana danced away, guests enjoyed late night eats of fries, grilled cheese sandwiches and mini sliders.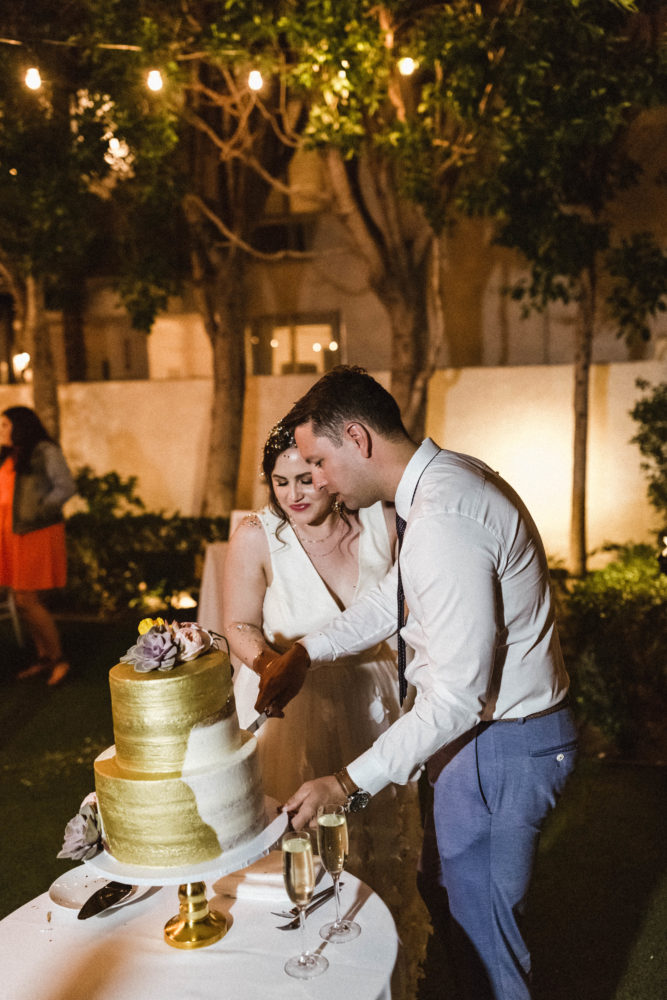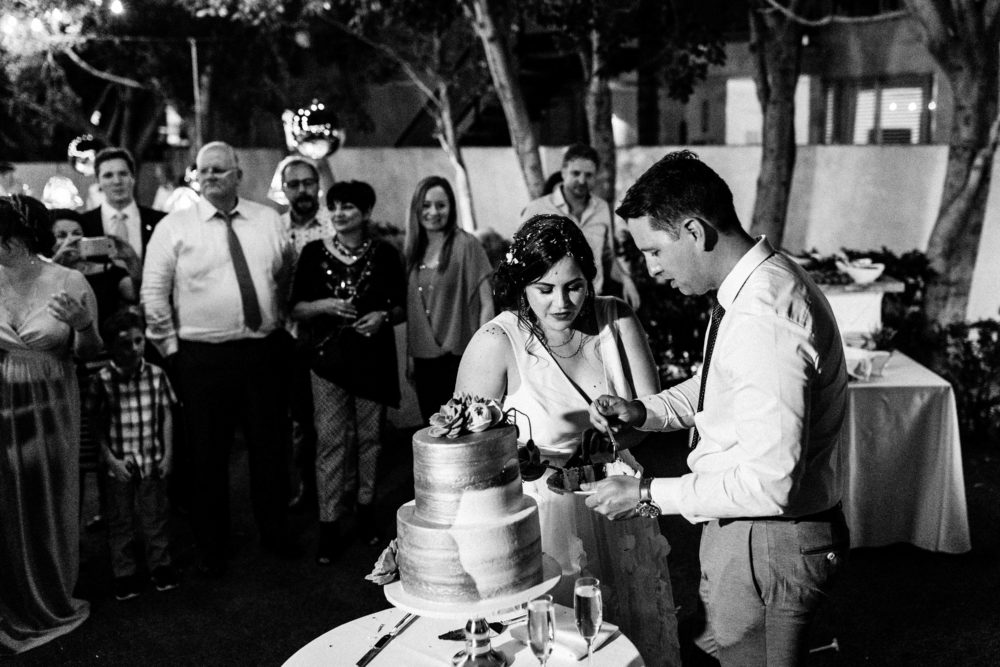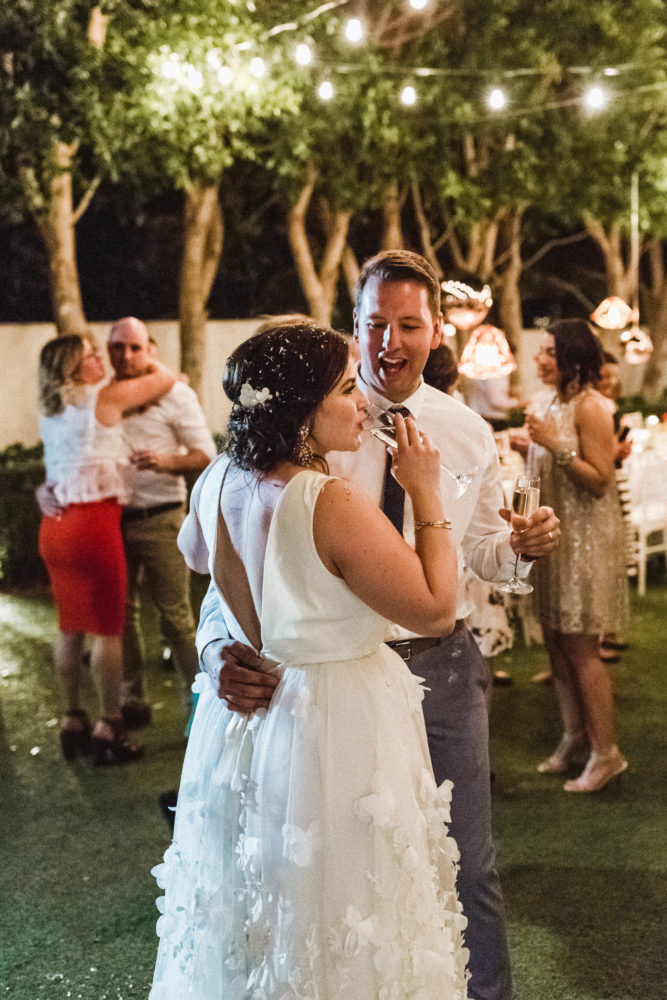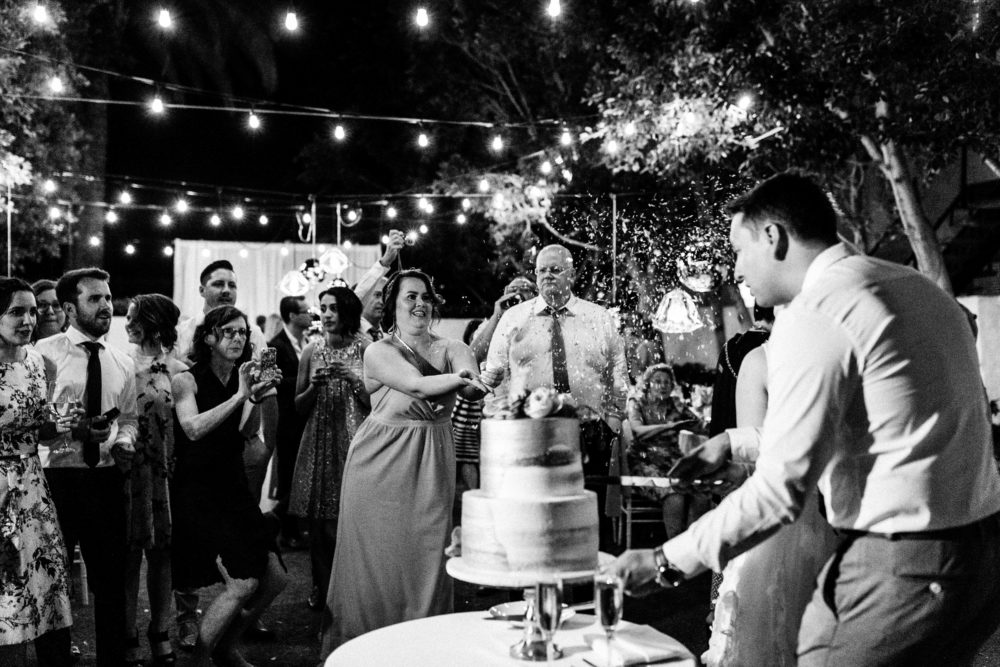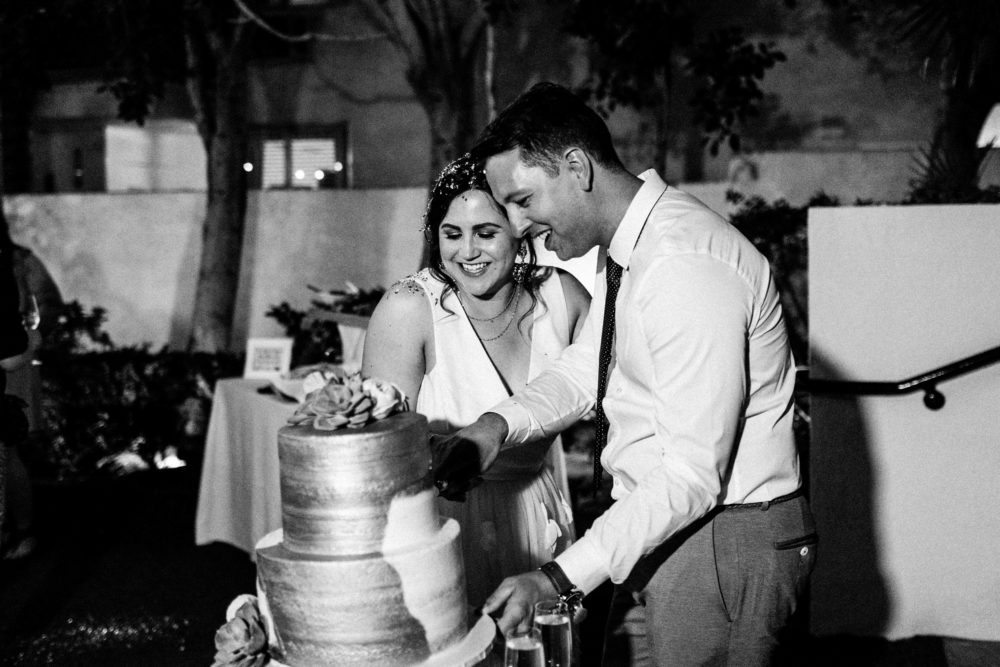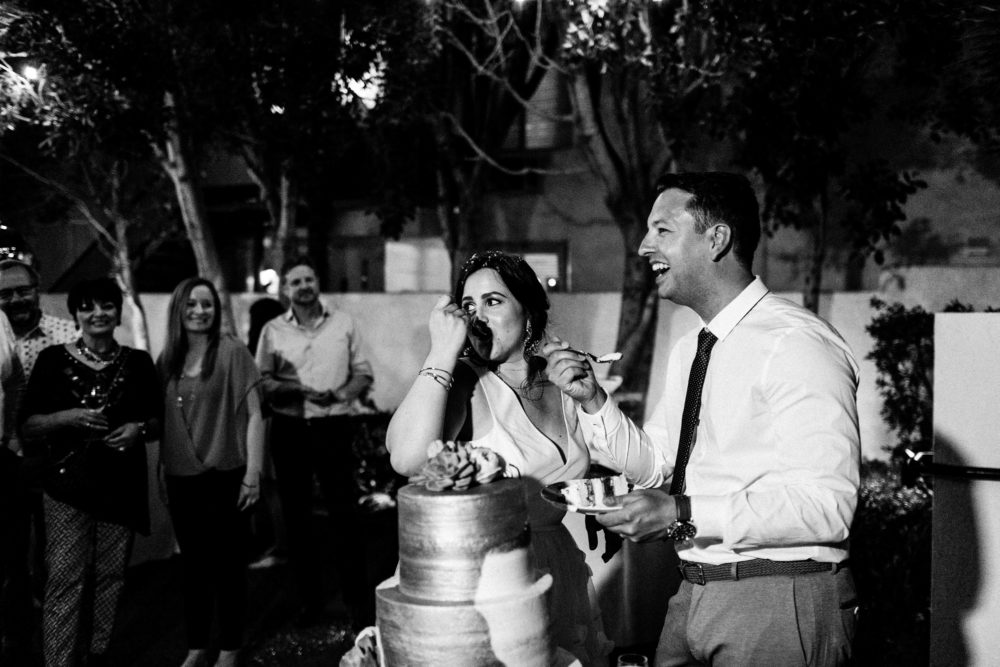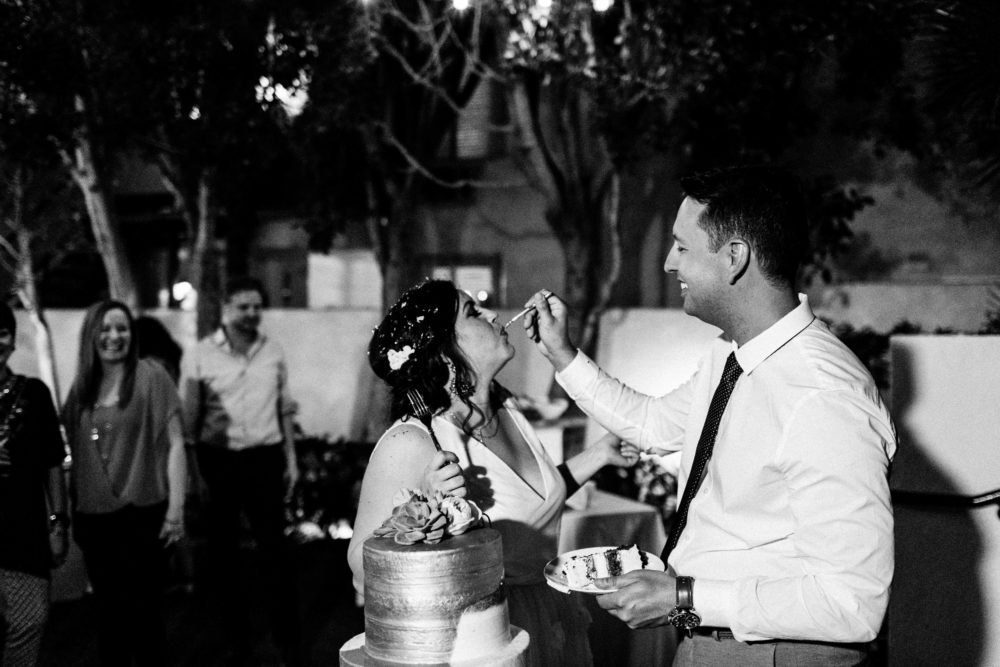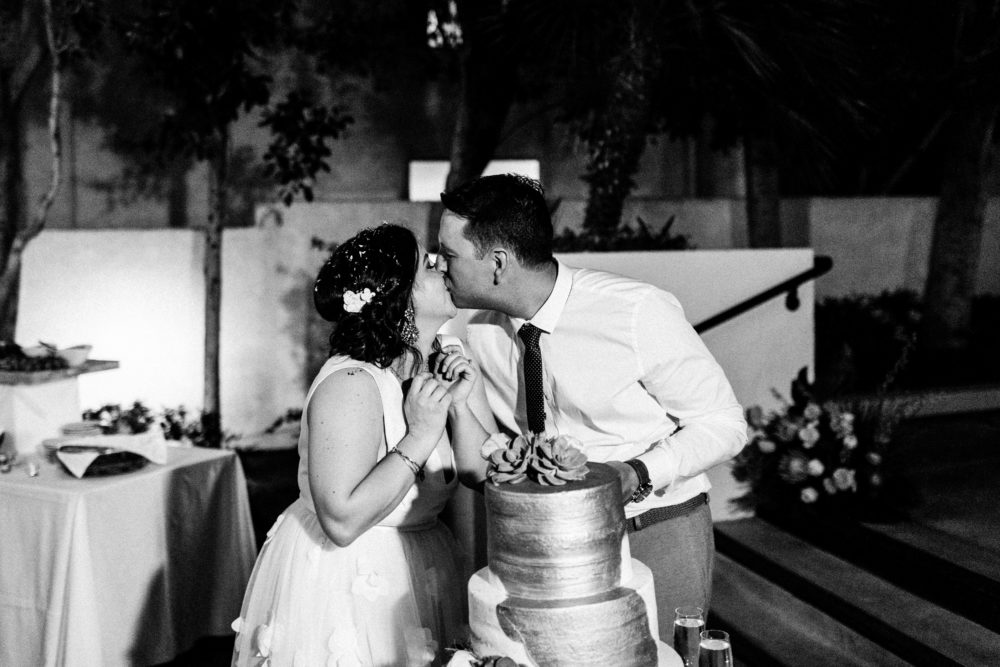 It was so fun, I felt the night didn't pass by in a blur. Curtis and I had moments to enjoy everything and chat trying to take it all in. After the last song "Fooled Around and Fell in Love" by Elvin Bishop and the last guest left, we quickly changed out of our clothes, grabbed our swimsuits and hit the pool with my cousin Claudia. Felt so nice going for a dip after the long night. And also felt amazing being able to do so in April! Definitely would not happen in Vancouver.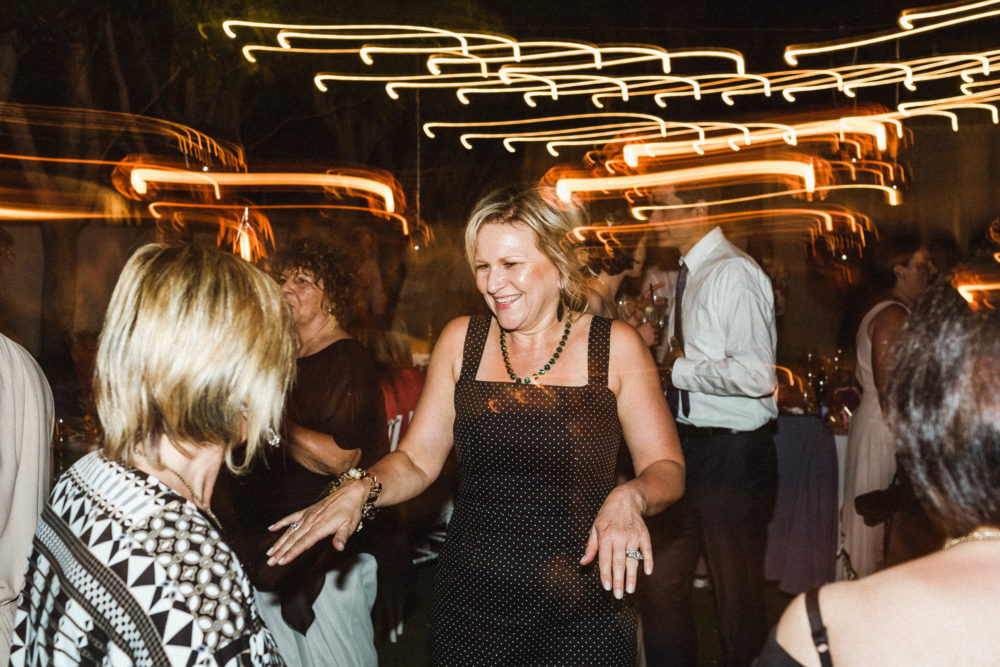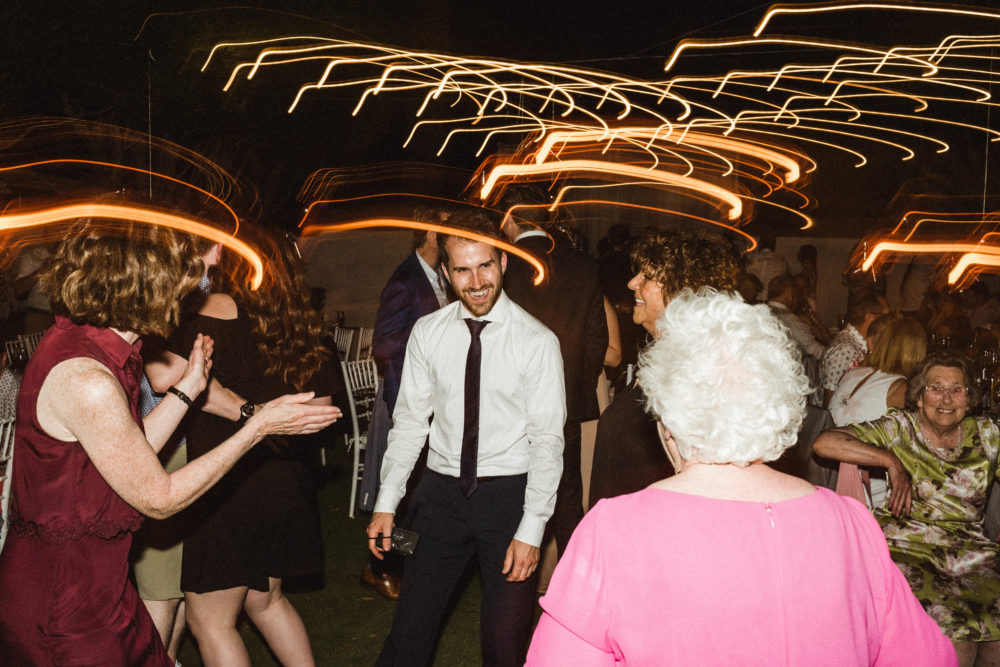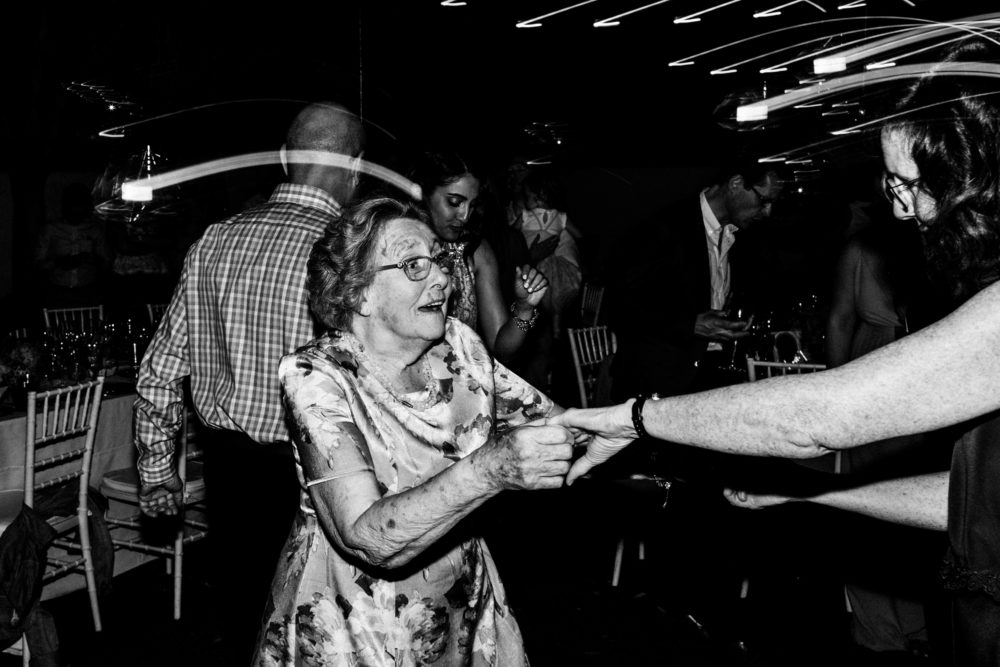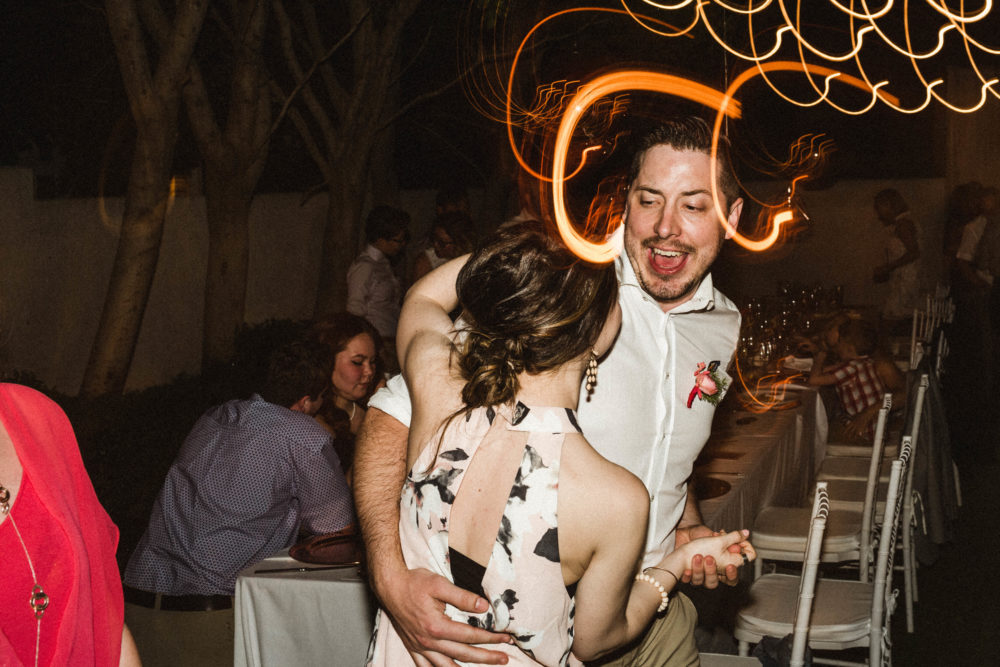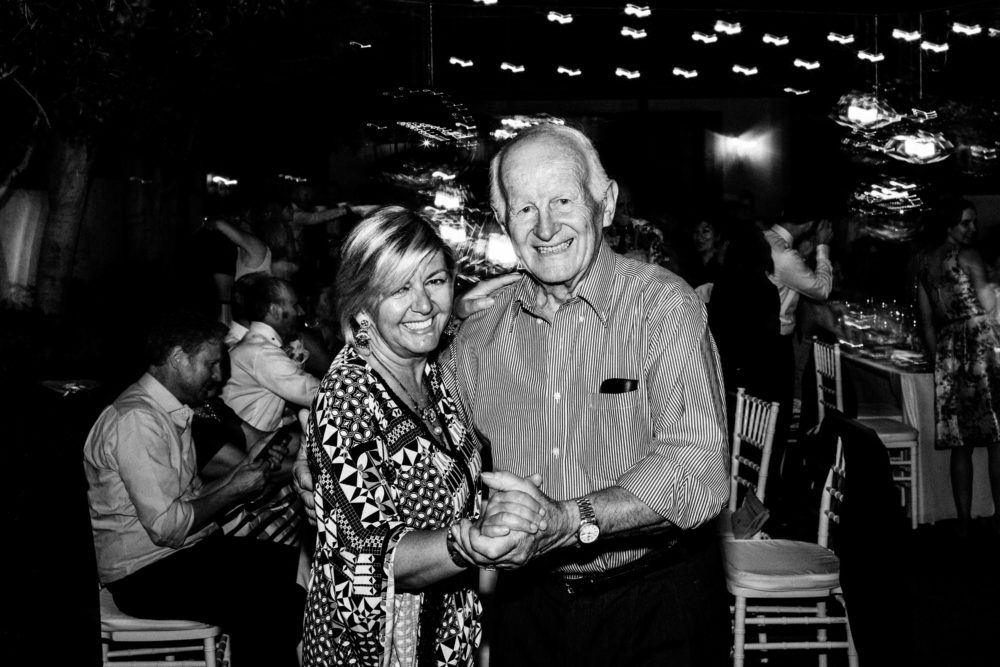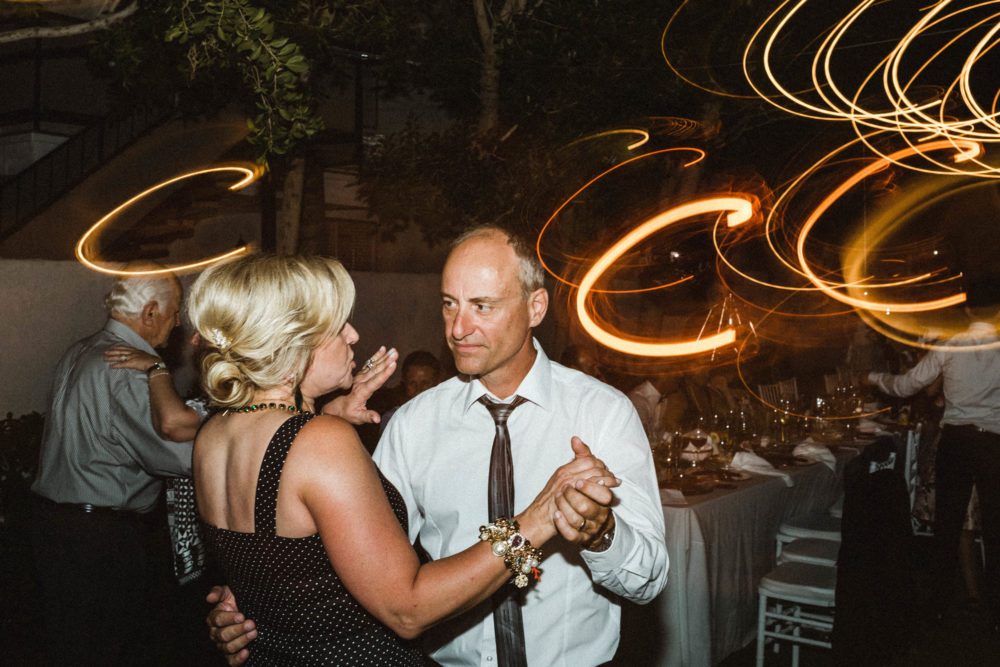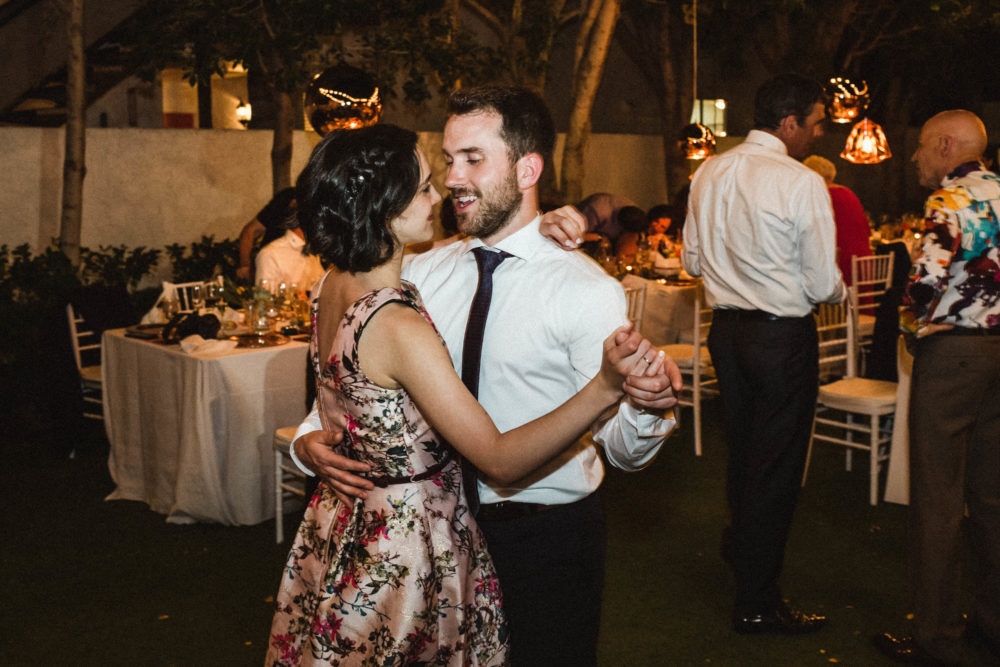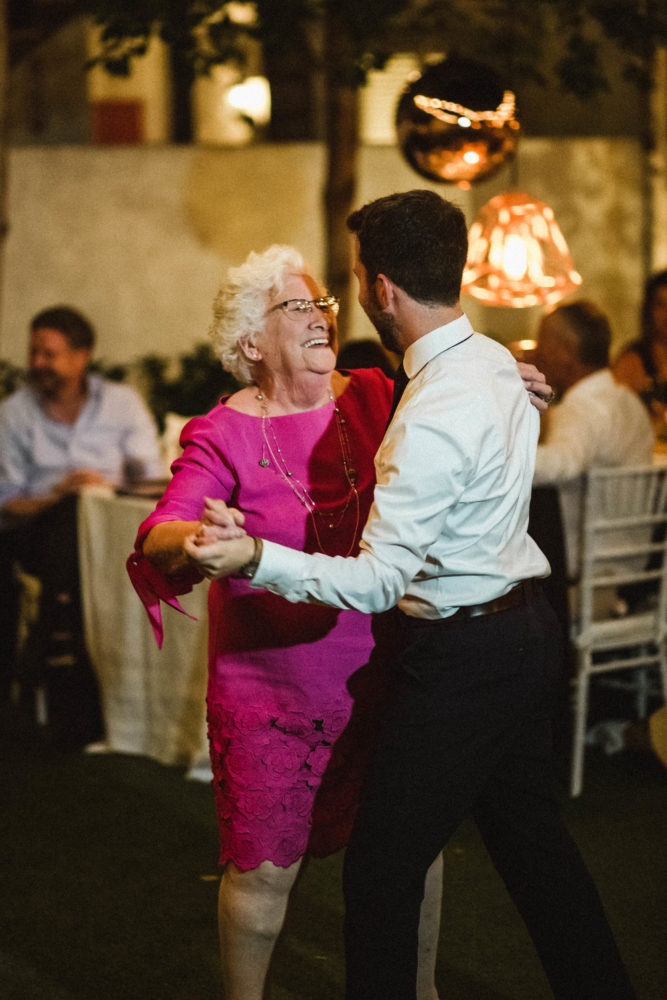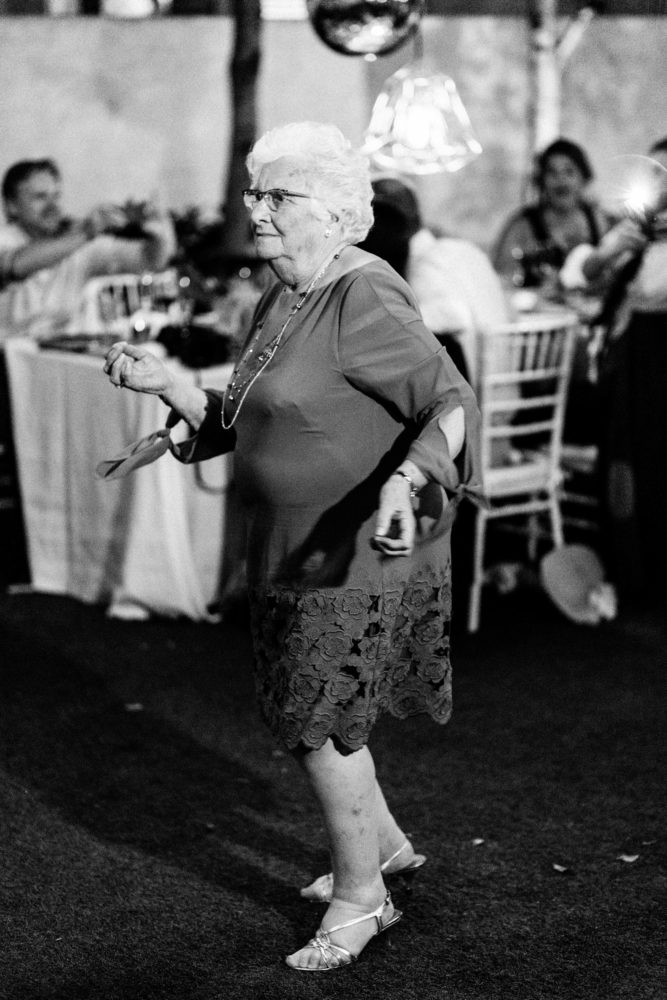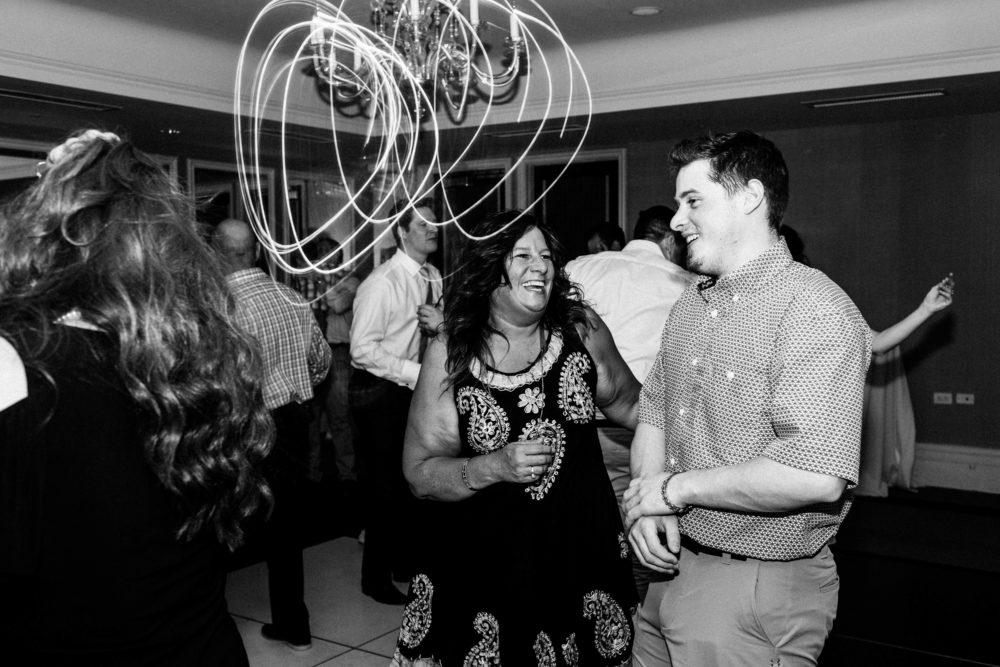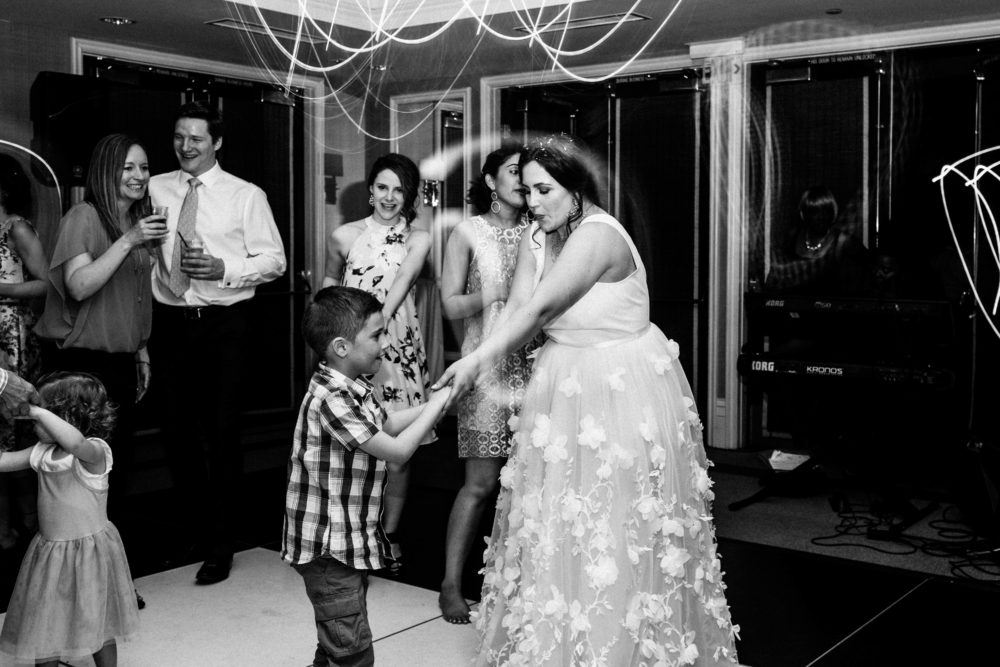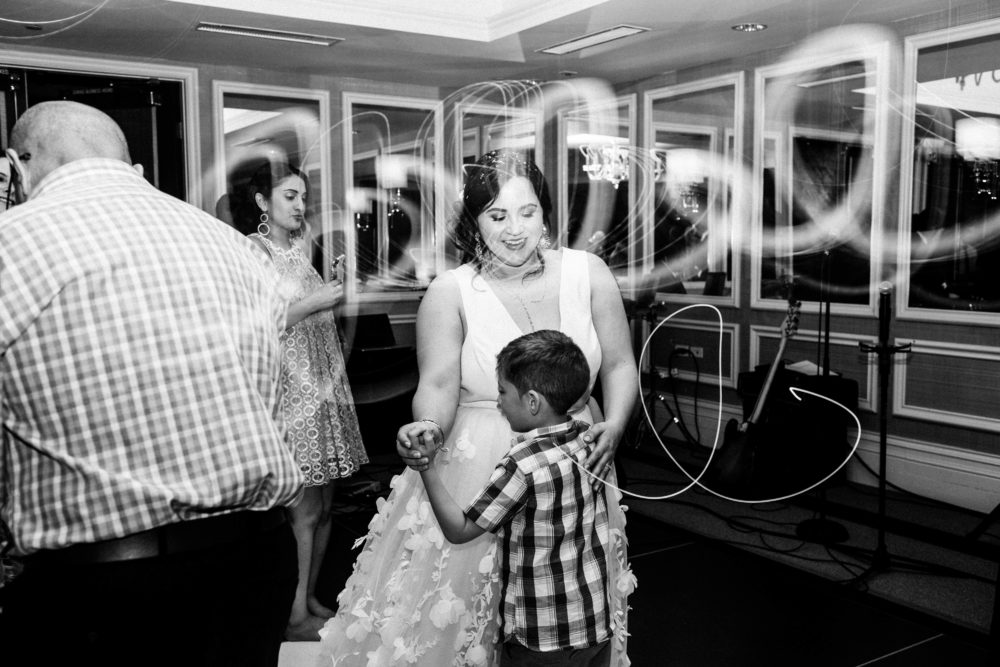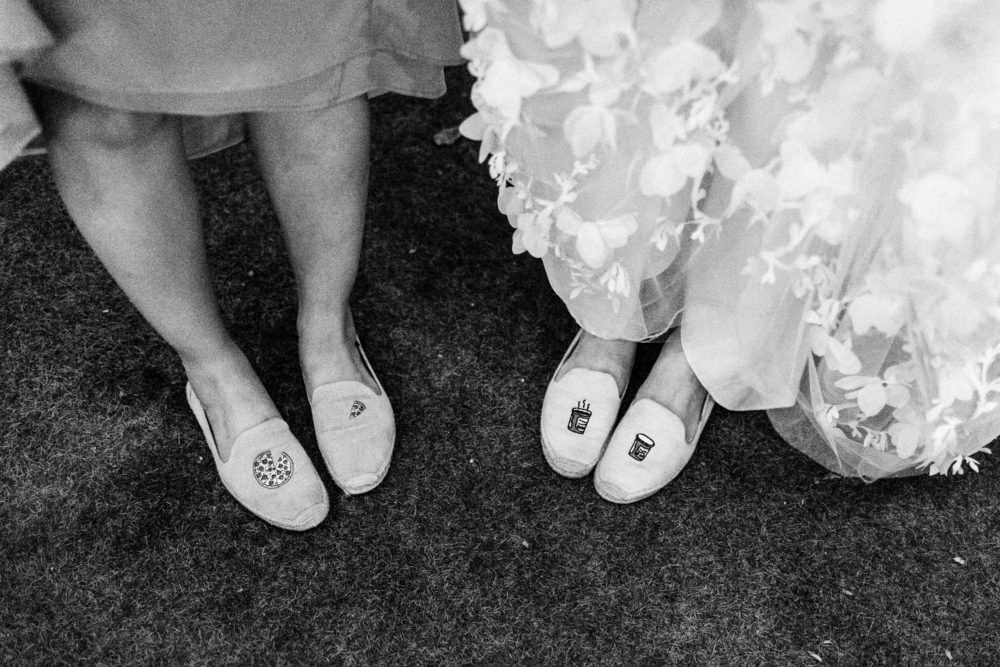 Our night ended with Curtis carrying me over the threshold of our bungalow, taking out all the bobby pins from my hair and washing the makeup off our face. So romantic haha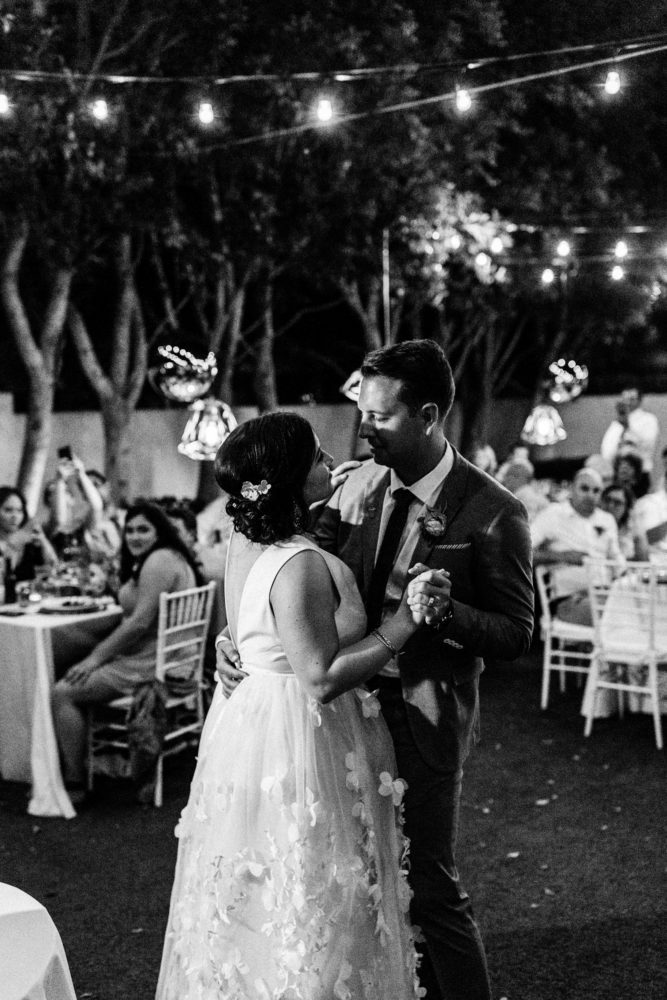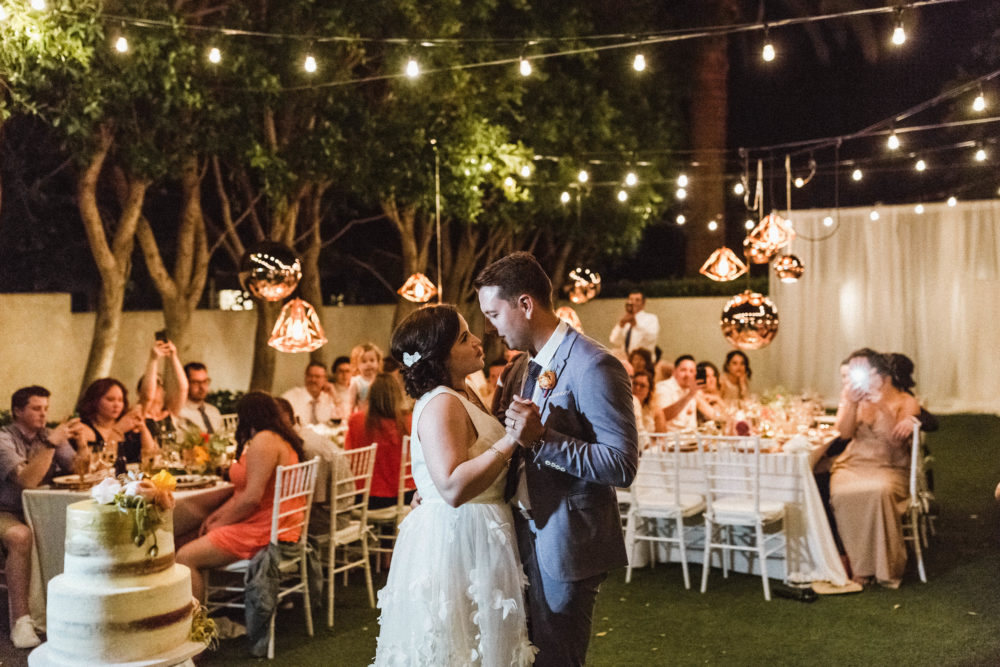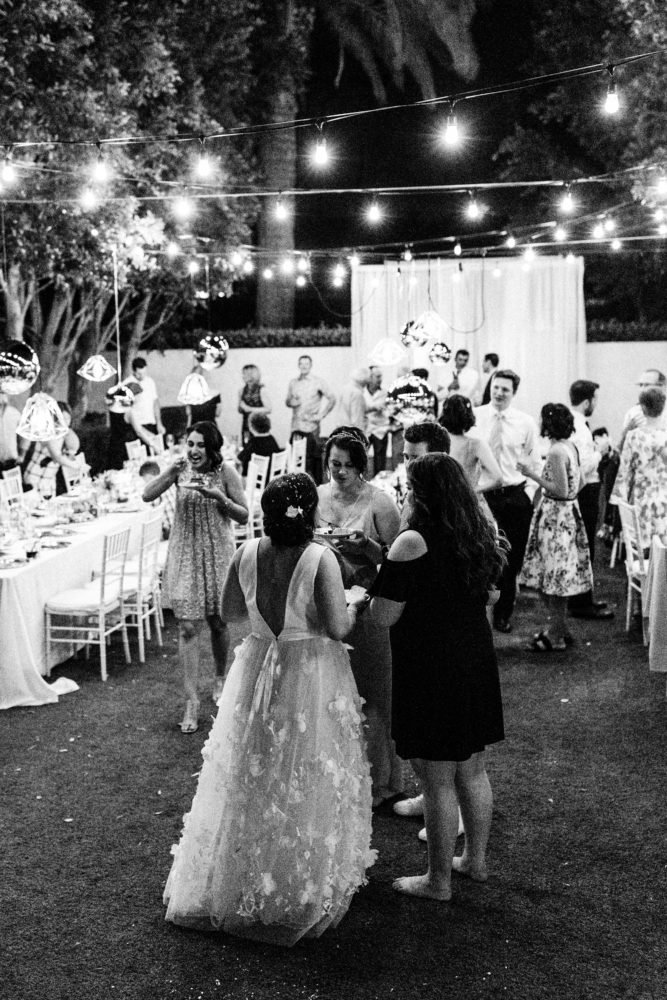 The next morning we had brunch at the hotel with a bagel station, brioche french toast, avocado and prawn salad, pork belly hash and more! Plus a mimosa bar! Can you tell we love to eat haha?
Again, thank you to Sarah for capturing these amazing photos of our Palm Springs wedding! Our DREAM wedding! It's fun to look back at that day and remember what a fantastic day it was!
All photos shared in this post are by Sarah Falugo. Please do not share these without her permission. I will share a post just of our personal photos and ones by our family and friends from the day later on. Including that bagel station and all the pool time we had!
Did you see Part 1, Part 2 and Part 3 of our Palm Springs wedding?

Our Palm Springs Wedding Vendors and Details
Venue: The Avalon Hotel
Day-Of Coordinators/Event Styling: Lucky Day Events Co.
Photography: Sarah Falugo
Florals and Decor: Arrangements Floral and Party Design
Event Rentals: Signature Party Rentals
Officiant: Richard
Band: Lucky Devils Band
Cake: Over the Rainbow Desserts
Dress: Union Bridal – Alexandra Grecco
Hair Accessories: Luna Bea at Union Bridal
Earrings, Necklace and Bracelet: Oscar de la Renta, Lana Jewelry, Alexis Bittar
Shoes: Tabitha Simons
Makeup and Hair: Nancy Z Beauty
Floral Silk Robes: The Bay
Bridesmaids Dresses: Park and Fifth Clothing Co.