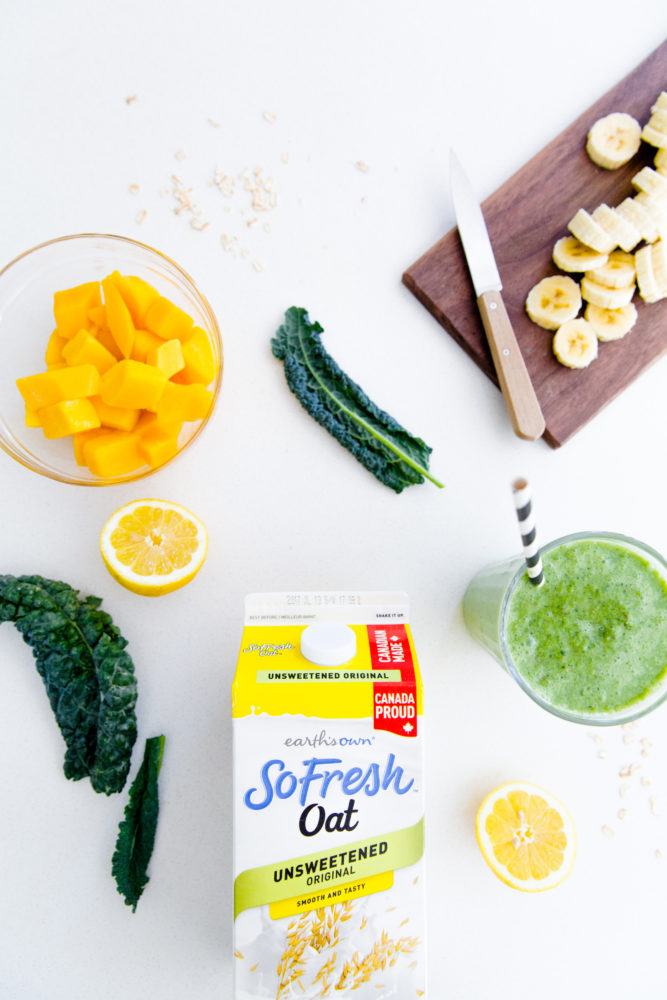 Over a month ago, I got a press release that Vancouver-based company Earth's Own announced a brand-new category of plant-based, non-dairy beverages. They were launching Canada's first refrigerated oat milk beverage, Earth's Own has added SoFresh Oat Unsweetened Original and SoFresh Oat Unsweetened Vanilla to their roster of popular plant-based products.
Before reading that press release, I don't think I have every heard of Oat Milk. It's new to Canada, but refrigerated oat milk is a popular staple in Sweden and South America and is known for being allergen-free, low in fat and sugar, high in protein, and providing seven essential nutrients including Calcium and Vitamin D. Made of 100% Canadian whole oats, SoFresh Oat has a creamy smooth texture and the natural sweetness of oats.
Quick Oat Milk Facts
low in fat and sugar
each cup is made from 1/3 cup of 100% Canadian gluten-free oats
has 4 grams of protein
2g of fibre
7 essential nutrients including Calcium and Vitamin D
I needed to know why choose oat milk over almond milk (see my nut milk recipe here) and sent some questions over to Desiree Nielsen, a Vancouver-based Registered Dietitian.
Desiree Nielsen, a Vancouver-based Registered Dietitian, author and host of The Urban Vegetarian, a cooking show on Gusto TV. She kindly shared the nutritional benefits of the new plant-based beverage and her favourite ways to incorporate oat milk into her daily life.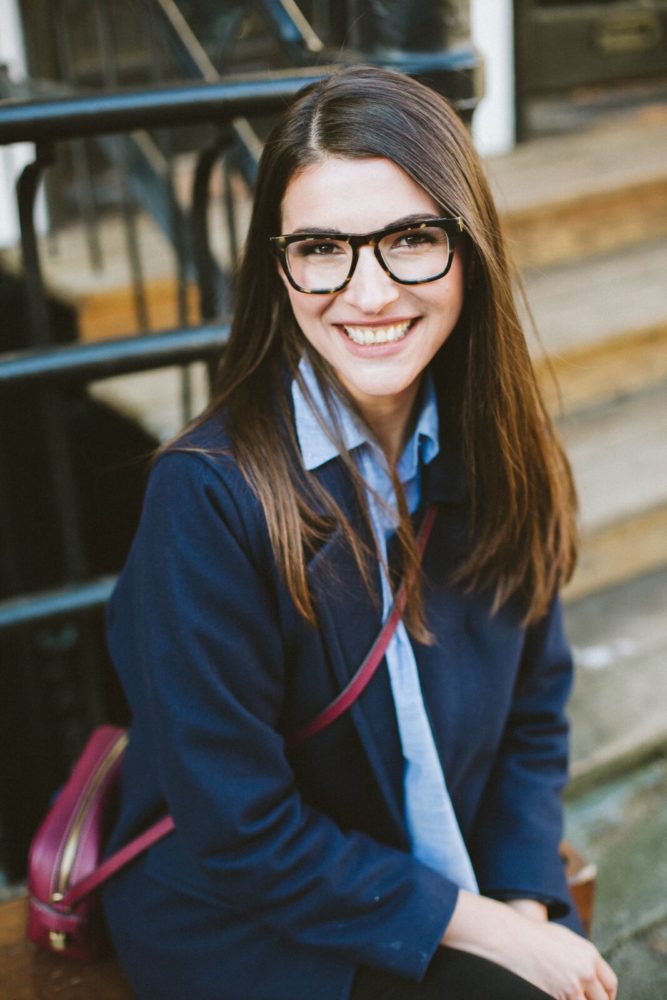 What is one benefit oat milk has over other dairy-free beverages?
As a dietitian, I love that oat milk is truly allergen free. No soy, no nuts and no gluten…so it's accessible to more people…and it's really delicious too.
Why choose Oat Milk over Almond Milk?
Oat milk contains four grams of naturally occurring protein per cup; many people expect that almond milk – coming from protein-rich almonds – contains protein but it only has 1 gram per cup. In addition, I absolutely love almonds but they are a water intensive crop so I like to eat them whole most often. On the other hand, SoFresh Oat is a Canadian grown product and I was super intrigued to learn that oats require nothing more than rainwater to grow!
One easy recipe using oat milk
Just how easy are we talking about? Because I am pretty attached to my oat milk lattes these days 😉 I also love the apple pie chia pudding recipe I created for So Fresh Oat. It's a comfort food spin on one of my favourite breakfasts for busy lives.
Apple Pie Chia Pudding
Serves One
Vegan, Vegetarian, Gluten Free, Dairy Free, Nut Free
3 tbsp chia seeds
2/3 cup SoFresh Oat Beverage, regular or vanilla
1/3 cup plain unsweetened apple sauce
½ tsp cinnamon 1/8 tsp nutmeg
1/8 tsp cardamom
1/8 tsp allspice
½ tsp vanilla
tiny pinch of salt
1-2 tsp maple syrup, to your taste
½ apple, diced
In a mason jar or resealable container, whisk together all the ingredients, except for the chopped apple, vigorously for about a minute.
Wait a few minutes and repeat stirring session for chia pudding perfection. You do this to ensure that the chia doesn't clump together as it hydrates.
Place in the fridge, covered for at least two hours or overnight. Top with the chopped apple and you've got breakfast, to go!
From start to finish, what would be your ideal food day?
Did I mention my oat milk lattes? I would pair them with a tofu scramble, absolutely packed with veggies and served with roasted baby potatoes. For lunch, Buddha bowl, always with something green, something roasted, something pickled (I am a kraut addict!) and perhaps a miso-tahini gravy. An afternoon cup of tea, with the Earl Grey tea loaf I created for So Fresh, makes a healthy comforting snack. And for dinner, maybe a pumpkin barley risotto since it's fall, served with that insane kale caesar from Heirloom Veg.
Earl Grey Tea Cake
Makes one nine-inch loaf
Vegan, Vegetarian, Dairy Free, Nut Free
2 ½ cups spelt flour (I used Anita's Sprouted Grain Spelt)
2 tsp baking powder
¼ tsp salt
2 bags good quality earl grey tea (I used Numi Aged Earl Grey)
1/3 cup extra virgin olive oil ½ cup vegan cane sugar 2/3 cup SoFresh Oat Beverage, plain or vanilla 3 tbsp freshly squeezed lemon juice
1 tsp vanilla
Preheat oven to 350 degrees Fahrenheit.
Lightly grease a 9-inch loaf pan with extra virgin olive oil. Cut a piece of parchment into a long rectangle that fits down the centre of the pan and up the sides and place onto the oiled pan. This will make removing the loaf easy!
In a large bowl, mix the spelt flour, baking powder and salt. Cut open the tea bags and empty the tea into the flour mixture and stir to combine.
In a small bowl, mix the remaining ingredients and then add the wet ingredients to the flour mixture. Stir until combined, taking care to avoid over-stirring.
Bake on the centre rack for 45-50 minutes or until a toothpick inserted in the centre of the loaf comes out clean. Let cool in the pan for five minutes, then using the parchment, lift and remove loaf to a rack to cool completely.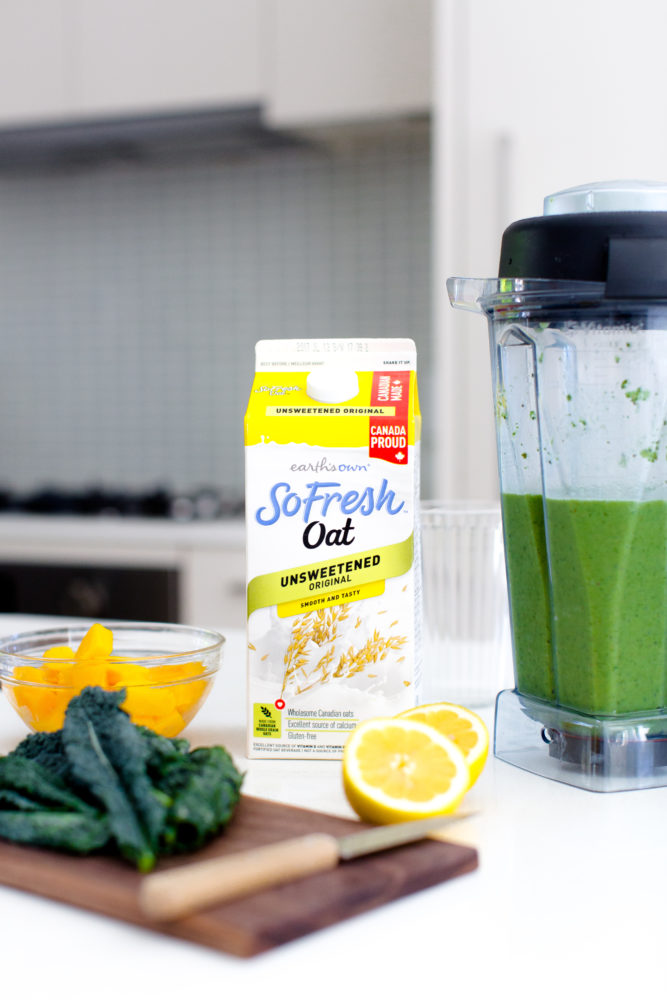 Are there any foods you eat a lot of and any foods you particularly avoid? Why?
I have been vegetarian for a long time – for my health, and the health of the planet, it just feels right to me. However, as I get a wee bit older, I find that my body craves way more vegetables and more moderate portions of grains. No giant bowls of pasta for me anymore! In my 20s, I could eat anything and feel great. Now, I have to make a few adjustments.
I try to ensure that half my plate is filled with veggies at mealtime, and try to eat green vegetables every day…they are more of a craving that something I just feel I 'have to' eat.
I love legumes, and I put hummus on practically everything! And after a couple of vegetarian decades, I feel like I've finally kicked my cheese addiction. I love creamy textures, so between plant-based milks, cashews, tahini and hummus, I can make that magic happen, sans dairy. Eating a largely plant-based diet has really helped me feel a lot more energized, which is great because I've got a lot on my (non dinner) plate!
What do you always like to put out when hosting a dinner party? What do you usually bring to one as a guest?
If I'm hosting, I love to serve really decadent tasting dishes, like a cashew alfredo, mushroom cassoulet or a rich, tahini-spiked risotto, that surprises people…plant-centred eating is not all rabbit food!
As a guest, I love bringing really flavourful salads for the same reason, and in part, because I like to know that there will be something super healthy on offer! Even a decadent meal for me needs a hearty dose of veg to be truly satisfying.
What would your last meal be and who would it be with?
I would want to recreate the incredible multi-course veggie tasting menu I had recently at Quintonil in Mexico City…it absolutely blew me away. And I would share it with my favourite dinner companions: my husband, son and daughter. And maybe a few of my fave veggie-focused chefs, because if it was my last meal, maybe they would share their secrets with me: Amanda Cohen (Dirt Candy NYC), Joshua McFadden (Ava Genes Portland), and Yotam Ottolenghi.
After reading this, will you try oat milk? Have you drank any nut milks or other non-dairy milk?